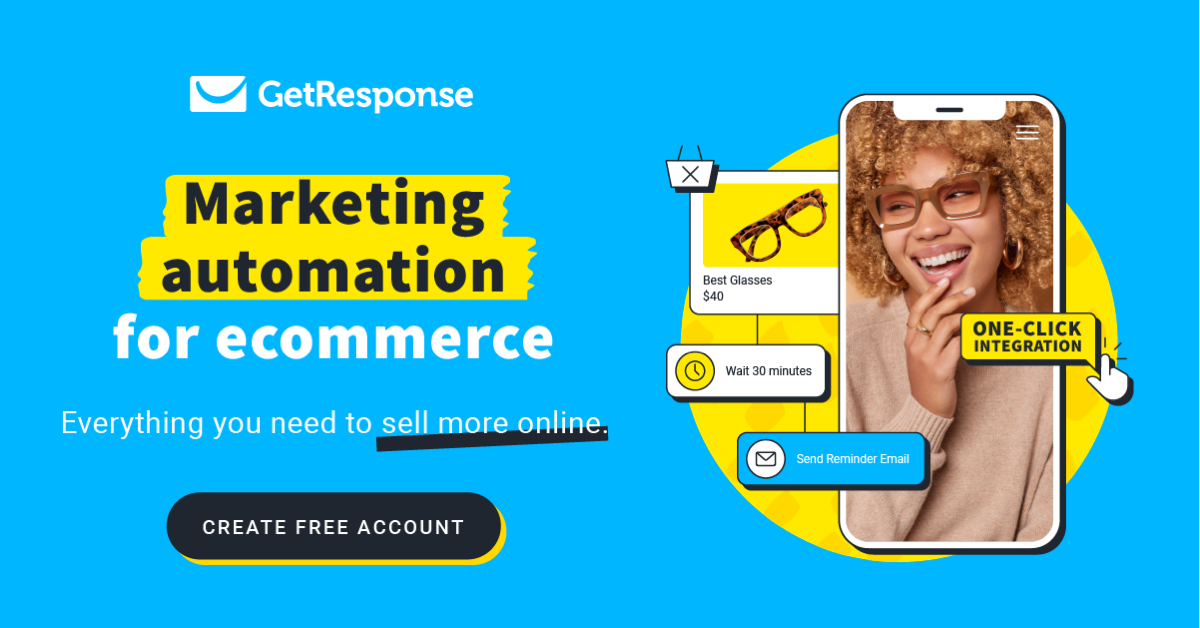 ---
---
Ecommerce is all the rage these days. The influences of big brands that have established and penetrated the online selling and digital payments scheme redefined digital stores and contactless shopping.
With this change, awareness and promotion of eCommerce stores shift into a more advanced and seamless form of marketing techniques and activities that are fitting to how eCommerce trends are set and evolving today.
For total solutions in Ecommerce promotion and marketing, there are available products that anybody in need can rely on created specifically for total automation and seamless flow of the said process.
For the eCommerce world, the need for getting the appropriate and complementing solution to elevate the marketing, sales, and other factors needed to establish a brand online can be quickly sought out with GetResponse.
GetResponse features help businesses of all sizes and industries build a database of contacts using landing pages and subscription forms, create effective mailing lists, automated email series and triggers, generate leads, build auto sales funnels, and host webinars.
Key features of GetResponse:
Email Marketing and Automation
Landings
Webinars
CRM
With GetResponse new e-commerce features, anybody can efficiently and quickly establish their store or brand online, create a community by growing audiences and reach, engage with potential leads and customers to be able to convert them eventually, and continue on to grow a strong and heavily sought out a business empire in the eCommerce digital market and sales space.
GetResponse Ecommerce Features
Before heading off into the new features of GetResponse, it is best to take a look at its main existing features and capabilities for a quick refresher.
Email Marketing
With this feature existing in GetResponse, users can now have a free marketing software for emails that have pre-loaded and readily available templates that have guaranteed open email rates, clicks, and sales conversions.
Conversion Funnel
Another available feature is the conversion funnel that allows users to automatically capture leads, promote, sell and even grow their email database for more chances of sales conversion.
Marketing Automation
This software feature is available for users in need of taking care of customer experiences. It enables abandoned carts to be reached and personalizes marketing campaigns for new subscribers or prospects and existing ones alike.
The Newly Developed Feature for GetResponse: Website Builder
Now that some of the features have been shared, a few of GetResponse New Ecommerce Features that is deemed to be a game-changer in the world of eCommerce promotion, conversion, marketing, and sales will be thoroughly discussed.
The very own website of the digital store. With the use of GetResponse New Ecommerce Features, this can be quickly done and achieved without having to transfer to a different platform, which tends to be a hassle to users, eCommerce stores, and brand owners.
Website Builder
The very highlight of the GetResponse software now is this new feature.
Creating a legitimate and visually appealing website for better brand and eCommerce store promotion and marketing is now made more accessible and convenient for everybody.
This website builder has options for the user to address their preferences better, such as having readily available design templates or a custom design maker for those who prefer to express their distinct brand feel or directly on the website.
This tool in the GetResponse software has no codes needed, enables design freedom for the user, and has a complete  online marketing   suite that is all in the platform.
This tool is compatible with business pages, websites for events, and portfolios needed for the business and can be used on multiple types of devices available.
The Plan and The Price: Subscriptions and Etc.
To start off, the lowest available rate or price plan for this tool is a remarkable 13.30USD per month cost. It includes the minimum needed features and existing capabilities readily available for the user.
Basically, GetResponse has 2 (Two) available options: one is preferably for veryone,' and the other is for Mid-Large Companies.
For Everyone
For up to 500 contacts, a free starter subscription can be availed. This plan has inclusions in it already that can be the planned strategic options to address what is needed.
12-Month subscription
For this plan exactly, Email Marketing with a capability of storing 1000 contacts with inclusions available is set, and freebies of tools accompanied to it. It is basically 15.58USD per month.
For top choices of the software plan or subscription, which is heavily oriented in marketing automation, it comes to an amount of 48.38USD per month.
Ecommerce Marketing plans to come out to 97.58 USD per month.
The GetResponse New Ecommerce Features of the Website Builder are already included in here as well but only for the Email Marketing pack.
24-Month subscription
For the same amount of contacts and inclusions of the email marketing tool of the software, this subscription plan comes out to 13.30USD per month, which is a good deal.
Marketing automation tool plans come out to 41.30 USD per month with the same inclusions and freebies seen in the 12month plan.
Ecommerce marketing comes out as 83.30 USD for a 24-month subscription.
Again, the GetResponse New Ecommerce Features of the Website Builder are already included in here but only for the email marketing pack.
GetResponse pricing plans
The Final Say
With the existing available tools in the GetResponse software and the incorporation of the additional tool of the website builder considered as the GetResponse New Ecommerce Features for the total software, this takes the eCommerce marketing and promotion to different heights.
The Website Builder as the GetResponse New Ecommerce Features will definitely bring forth users a hassle-free and cohesive interpretation of their brand and products in the online and digital space due to its highly adaptable and compatible interface for a better user experience.
By maximizing the available inclusions and freebies that come with the full features of GetResponse, the user experience and data generation of all eCommerce digital store owners that need a boost in the sales and marketing of their business can quickly achieve it.
The all-in-one solution that enables users to get appealing impressions for leads, make strong sales conversions, create personalized customer experiences, and a cohesive community and audience can be reviewed and tracked in real-time with GetResponse.
★★★★⋆
GetResponse New Marketing Features
 For the eCommerce world, the need for getting the appropriate and complementing solution to elevate the marketing, sales, and other factors needed to establish a brand online can be quickly sought out with GetResponse.
GetResponse Marketing Automation is here | E-commerce
---
---
---