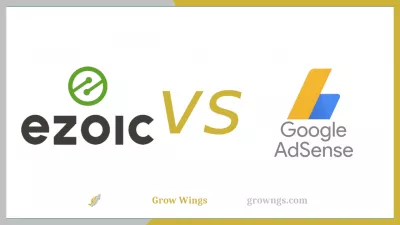 ---
---
In this article, we have bumped our heads against two ad platforms. Ezoic vs Adsense - Differences, Features and Benefits
Ezoic vs Adsense - differences worth exploring
Ezoic can become a dangerous tool for those who have never encountered it and do not know all its intricacies. For example, automated advertising on a given platform can lead to huge problems if you start doing it without knowing the platform. If you have never worked with Ezoic before, we advise you to read this article to the end. We will analyze all the details necessary for starting work in the format of comparing the platform with the more popular one - Google AdSense. And also you can read the opinion of an expert with whom we managed to talk on this topic.
Content:
What is Adsense Auto Ads
This is a new service in AdSense that aims to automatically insert your ad creatives into your content. Why is this done? It's simple - to make as much money as possible from the ad unit.
Sounds pretty good at first glance. But do not rush to run and enable this option, first, let's find out a little more. After we connected this service and gave it the green light, we realized that not everything is so smooth. But let's start in order. We had Adsense ads that we placed manually, they brought in the most revenue.
We did not plan to give away all our earned funds from our site to Adsense. If a platform wants to test its new services on our content, let it feel like a guest. You may have thought that this procedure is similar to testing an advertising campaign, but this is far from the case. At its core, AdSense is just pushing more ads into your own content without any optimization (revenue, user experience, etc.).
This is the essence of the Ezoic vs Adsense comparison. What is  Ezoic,   you ask? Let's figure it out.
Google AdSense - Earn Money From Website Monetization
Ezoic is a robust platform that allows you to test almost any type of ad. You can test size, color, placement and compare networks (including Adsense) with each other. The main feature of Ezoic is that the platform studies the behavior of visitors and analyzes itself based on this data. That is, you can improve various factors on your site using automated behavioral analysis. This process involves testing tens of thousands of different types of ad creatives, placements, site layouts, and more.
For example: you use both Adsense and Media.net. You have the opportunity on your site to test them against each other through the Ezoic system. When you do the test, the above two platforms become regular ad networks. And while working with several of these, it is very convenient to be able to compare and analyze them. In simple terms, Ezoic will simply tell you which of these networks is right for each individual site visitor.
In fact, this is a short description of Ezoic. Yes, they have very good reporting capabilities, so you can see how much revenue each URL is generating across different devices. This is one of the main benefits.
Comparison of the two systems - Ezoic vs Adsense
Let's put the two platforms head-on and compare: Ezoic vs Adsense.
We wanted to get to the bottom of the most important thing in detail, so we started a serious analysis.
It is clear that Ezoic is interested in using its reporting system to analyze what is lacking in AdSense Auto Ads compared to them. We managed to get in touch with one of the representatives of Ezoic and get sensational information.
The expert had something to say and something to share. He believes that automatic advertising is very problematic in all directions of the field.
Earnings Ezoic vs earnings AdSense: 5 times more with Ezoic
If we compare more than one million visits on the same websites that are monetized both with AdSense and Ezoic monetization systems (remember, they are not exclusive, on the contrary!), we can see that AdSense has a revenue per mille or RPM of about $1.15 while Ezoic has an earning per mille visits or EPMV of about $6.18, or in other words, Ezoic earnings are more than 5 times higher than AdSense for the same websites and approximately the same amount of visits!
1 million web visit earnings on AdSense analyzed
Having a deeper look at more than one million website visits that have been monetized with AdSense auto-ads product, from January 2021 to September 2021, we can notice many peculiarities.
First of all, the web earnings from AdSense have wildly increased from the month of August, from an RPM as low as $0.01 to a little more than $2 in September, an exceptional increase.
However, the revenues are still low, and more than one million visits only brought about $1200 of revenue overall.
2 million web visit earnings on Ezoic analyzed
On the contrary, with  Ezoic,   analyzing a little more than two million visits from January 2021 to September 2021, the EPMV went from more than $4 in January to more than $7 in September, a lower global difference, but in general far higher earnings.
The earnings have also started to increase in August, a standard seasonality for web earnings, as the end of the year approaches, with the Black Friday, Cyber Monday, the Cyber Week, and Christmas around the corner.
Anyway, more than two million website visitors have earned more than 12 thousand dollars with  Ezoic,   vs AdSense and its 12 hundred dollars for half the amount of visits.
Generally speaking, earnings with Ezoic vs AdSense counterpart can easily be as high as 5 times higher!
Adsense auto ad problems that Ezoic solves
Ezoic has provided very valuable insight into the problematic nature of automated ads. Let's go in order:
Potential for Violations, Bans and Blocks
If publishers use any other ad networks, providers or affiliates, AdSense Auto Ads will not be able to track the placements of those ad providers. This may result in additional Google ads appearing. One way or another, they will definitely not be taken into account. This entails the following:
Reducing the cost of advertisements;
The publisher leaves itself open to blocking ads in Chrome, excluding other ads;
Finally, this means they won't know if they are actually showing 5 ads or potentially 11, 12, 13 ??? This is terrible for the UX and a huge flaw in the tool.
This could violate Google policies.
Expert Commentary: A dangerous thing. I use ad networks in addition to auto advertisements on my site. Items 2 and 4 are news to me. In fact, point 4 should not be news to me, but it is. Given that I use 2 ad networks in addition to Adsense, points 2 and 4 suggested that I enable auto ads for now. I will track changes in income accordingly.
RPM versus session income
Auto Ads uses RPM as the main metric for revenue optimization. This means that even with a very rudimentary understanding of UX, they will end up trying to optimize pages for session revenue: this almost always means lower overall revenue.
Expert Commentary: Ezoic is the company that got me thinking about ad revenue based on revenue per session rather than pageviews. It makes a lot more sense to use per session because for most cost calculations, especially when buying traffic, you pay per session (i.e. a click to your site) rather than per pageview.
Plus, Ezoic is great for optimizing revenue when combined with a user experience that requires the use of revenue per session. In many cases, you are better off optimizing financials to increase page views per visitor than to increase revenue per pageview.
How I Septupled AdSense Revenue For 1000 Visits?
Lack of Control
Automatic ads try to maximize the value of the ads themselves, not the amount of revenue the publisher receives.
The service simply pushes ads wherever they find a place for them. The publisher has no control over this process. This remains on the conscience of Google, which speaks of hundreds of warnings and caveats during implementation.
Expert commentary: I knew that once I entered, I would not be able to control myself. This is why I have used other ad networks and manual placements in addition to auto ads. As for too many ads, this was not a problem. My content on my sites is very, very long. However, if you have shorter content, I might see how auto ads can flood your site with too many ads. I think you just need to browse your site and rate yourself.
Download speed
For implementation, a JS script is used, which leads to a drop in the speed of the site and the loading of advertising creatives. As a result, this can affect the behavioral factor and the income from advertising campaigns.
Expert commentary: This is a really important point in my experience with auto ads. I have had many cases of empty spaces on my site where automatic ads were supposed to load, but this did not happen.
Optimization
DNS-level data is not taken into account, as well as visitor behavior. Although it is on these data that you need to learn. This is what ensures that UX and income will go for the better over time.
Google bases its UX decisions on industry standard data that doesn't have much objective evidence. They have not released any data on how automated ads affect objective user experience metrics such as page views per visit or bounce rate (but we know they have this data).
How To Load Web Pages 31% Faster?
Expert general comments:
I'm glad I got in touch with Ezoic about auto advertising. At first, I liked auto ads. They put extra income into my pockets — $ 20 to $ 40 a day — using only in-article ads. I thought it was great.
However, Ezoic's investigation, especially the potential for adsense violations and Chrome ad blocking triggers, forced me to rethink their use. In fact, I turned off Auto Ads on my highest traffic site because I have other networks that I am not going to remove at this time.
Conclusion
If your choice is Ezoic and AdSense, then the former claims that most websites get a 50% increase in revenue from at least applying the improvements it provides.
Indeed, Ezoic is a comprehensive platform that provides publishers and bloggers with a complete set of options to monetize and improve their websites. The best-known and most important variant of the platform is the ad test variant from Ezoic.
Only this platform will allow you to test placements, ad sizes and publishers to find the perfect combination that will bring you the most money.
If you need to analyze post-ad data and compare different ad networks, welcome to Ezoic!
Google AdSense Account Optimization | Ezoic
Frequently Asked Questions
Where is the best income for Ezoic and AdSense beginners?

If you compare Ezoic revenue vs AdSense revenue, then Ezoic revenue will be significantly higher. For start-up publishers, this is important, as the income will be higher provided that the number of site visits is approximately the same.

What is AdSense?

Google AdSense is a good way to make money from your site. The essence of the work is in the selection of advertising, taking into account the content of the site and its audience. These ads are created and paid for by advertisers to promote their products and services. Different ads have different costs and bring you different income.
---
---
---