A review article on the GetResponse service, which automatically sends emails to inboxes to customers and potential buyers.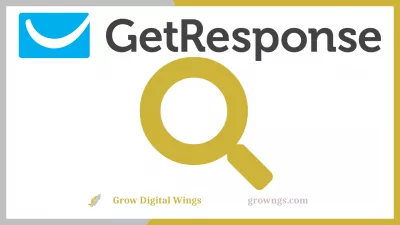 ---
---
A Complete Review of GetResponse Transactional Emails
A review article on the GetResponse service, which automatically sends emails to inboxes to customers and potential buyers.
A Complete Review of GetResponse Transactional Emails
GetResponse is a comprehensive marketing platform that helps empower entrepreneurs. It is a modern email marketing tool designed to automate your email activities.
Some GetResponse reviews:
this is not just an email marketing service, but a comprehensive automation tool with landing pages, e-commerce tools, which is necessary for a successful business;
it is the leading internet marketing platform for large and small businesses;
it is a very profitable and customer-oriented service that gives the best support for users.
GetResponse platform was created to automate routine office processes, namely for sending notifications, emails to customers, receipts. The convenience of this platform lies in the fact that all mailings are in one platform, and they are very easy to manage.
Using this platform, you can send reminders to potential customers that they have not finished ordering or have forgotten about an item in their shopping cart. For such mailings, the platform offers to use ready-made templates, and you do not need to buy them additionally.
You have probably come across transactional emails in your life. For example, you have registered on the site, a registration notification has been sent to your e-mail - this is a transactional email. Or when you made a purchase on some site, and a notification was sent to your mailing address that the order was paid and will be delivered on the specified date - this is also a transactional email. Also, transactional emails include advertising mailings, post-purchase polls, in general, any mailings related to the client's interaction with the site.
GetResponse provides analytics views to help you make decisions about your company. In this panel, you can see how many people from the mailing list opened the email, how many mailings were not delivered due to errors, how many clicks were made.
GetResponse Review
Features and Benefits of GetResponse over Other Companies
Since the 21st century can be considered the century of the internet and social media, the GetResponse platform offers tight integration with social services. This is very convenient, because you cannot guess in advance what service the client uses and where it will be more convenient for him to receive mailings.
The main advantage is that in addition to the desktop version of the platform, there are applications for smartphones. This is very convenient, because they are designed to simplify campaign management - now you don't have to carry a computer with you to launch mailing lists or check statistics on active campaigns.
Each new user is given a whole month for free - you can try the features and understand exactly what your business needs from GetResponse. In addition, users have access to stock photos for mailings and ready-made templates, which all need to be designed for their company and the purpose of the mailing. This can also be done via the smartphone app.
Disadvantages of GetResponse
No matter how well the company has established itself on the market, there are also drawbacks that can completely scare off new users.
The very first step in getting to know GetResponse is registering. You need to fill in a lot of fields, confirm the postal address, phone number and even send a scan of the document.
There are no SMS mailings in the service, this is not suitable for everyone, because it is easier to view a notification about a discount on a product immediately in the message than to go into the mailbox and open the email there. But this is already an amateur.
The platform naturally has support, but it is in English, and only at a certain time other languages are available. It is not very convenient if the user does not know the language.
Registering with GetResponse: a couple of clicks and you're signed in
In principle, there is nothing complicated about registration actions on this platform. All points are divided into blocks, which makes the process not annoying at all. For successful registration, you will need to send scanned copies of documents. This is necessary in order for the system to make sure that you are not going to engage in spam attacks. If you do not send documents, your account will be deleted without even waiting for the end of the free period, and then it will be problematic to register with the same data.
Interface and buttons
Although GetResponse support is in English, the app has  been translated   into several languages, including Russian. This is very cool - because thanks to this, you do not have to study a bunch of manuals and videos to use any function, everything is intuitive.
There are 7 buttons on the main panel:
Contacts
Webinars
Forms and polls
You can also add buttons to the main page that will lead to the necessary functions, this is very convenient.
Importing a Database into GetResponse
If the contact database is in an Excel file, or in some other application, you can very easily set up the import. True, it doesn't matter in what form your base is and on what service - in any case, the moderator will analyze your base within 7 hours. But as soon as the moderator approves the transfer of data to the GetResponse database, you can immediately start using the service.
Types of emails in GetResponse
This service has quite extensive functionality. This includes event tracking, automation templates, abandoned cart, and tags. There are a lot of settings - you can set up a campaign for almost any action on the site. Due to the fact that the service has a convenient mobile application, now keeping track of all this is not a problem at all.
Analytics and statistics in GetResponse
Through the Reports button, you can see everything that email marketers focus on. You can check the deliverability, how many people from those to whom the message was sent opened the email, items with the location are also available - where the user who received the email lives, his gender and age.
In addition, there is a convenient function - you can compare the statistics of two companies, which, for example, are engaged in sales in the same segment.
Integration of GetResponse with Other Services
GetResponse integrates 112 services at once! And for this you don't even need to pay for the PRO version to use all this! Among the services for integration are available such popular services as Facebook and Twitter.
Subscriber scoring
Based on the data on subscribers, you can create a loyalty program for each individual client, see those who are starting to freeze and offer a service or product at a bargain price. It's very convenient, and what's more, GetResponse's competitors don't have similar features.
GetResponse rates
This service is beneficial in that it has a free trial version for a month. Further, the size of the tariff will depend mainly on what kind of base you have - how many contacts there are.
Tariff Basic
What it includes:
Email marketing
Website builder
Autoresponders
Landing pages without limits
1 sales funnel
Integration with Facebook
Chat rooms
The cost of the basic plan for 1000 contacts per month is $ 15. For 2500 contacts - $ 25 per month. $ 5,000 - $ 45 a month. For 10 thousand contacts - $ 65 per month. For a database of 25 thousand contacts - $ 145. For 50 thousand contacts - $ 250, and for 100 thousand contacts - $ 450 per month.
Tariff Plus
What it includes:
All functions of the basic tariff
Marketing automation (5 processes)
Webinars for 100 participants
Contact scoring and tags
5 sales funnels
Collaboration for 3 users
Cost per month for:
1000 contacts = $ 49
2,500 contacts = $ 59
5,000 contacts = $ 79
10,000 contacts = $ 95
25,000 contacts = $ 179
50,000 contacts = $ 299
100,000 contacts = $ 499.
Professional rate
What it includes:
All functions of the Plus tariff
Marketing automation without limits
Web push notifications
Webinars for 300 participants
Unlimited sales funnels
Unlimited webinar funnels
Collaboration for 5 users
Auto webinars
Cost per month for:
1000 contacts = $ 99
2,500 contacts = $ 119
5,000 contacts = $ 139
10,000 contacts = $ 165
25,000 contacts = $ 255
50,000 contacts = $ 370
100,000 contacts = $ 580
★★★★⋆
A Complete Review of GetResponse Transactional Emails
 GetResponse includes many interesting features to automate email marketing with any email list size, the pricing is adaptative as well. With a 30 days free trial, trying them out is riskless.
---
---
---