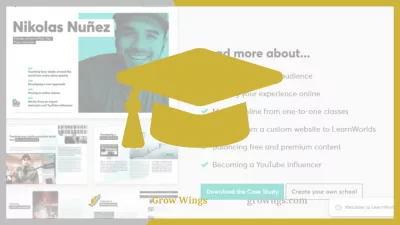 ---
---
Online education has long ceased to be something outlandish for a modern person. More and more people decide to study without leaving home. Demand is growing, so is supply. Millions of people  make money online   from educational course creation. Why can't you be among them? Creating an online course will not only help your audience learn a new skill, but it will also help you make good money. And depending on the quality and usefulness of your product, it will help you make VERY good money. A quality product does not immediately mean that it is expensive. Launching a Successful Online Course can be done easily even with minimal investment. In this article, let's figure out how to start developing your info business.
Which theme should you choose?
It is worth choosing a topic where you feel like an expert, or you want to become one. The desire to learn should be so strong that weeks spent studying various materials, books, expert opinions are a joy, not a burden.
There is no need to hammer something like TOP of the most popular online courses in 2020 in a search engine. It is important to choose a niche that is close and understandable to you. An online course can be created from anything. Better to be a good knitting expert than a bad rocket expert, isn't it?
The topic of your course can be related to any area of ​​life. This could be:
Your professional activity, education. (E.g. Course on Advertising in Social Media, Course on C ++ Programming, Course on Posing in Front of the Camera)
Your hobbies. (Dog Training Course, Greek Cuisine Course for Beginners)
Any additional skills from personal experience. (Course on basic asanas in Ashtanga yoga, Course on breastfeeding for expectant mothers)
Where to begin?
So, let's say you've decided on a topic in which you are an expert. Getting started is always the hardest part. Therefore, in order to simplify your task as much as possible, you should take a large A1 filter paper and start writing down all the information that you have for the chosen topic. It is important that all this amount of information stored in your head is in front of your eyes.
For example, write down what exercises you can give for your future student. What strategies, models, formulas or tricks will help to solve this or that problem. Write down examples of stories from your students, clients, or personal experiences that will validate your teaching methods.
When the drawing paper is completely written down, take several colored markers and divide the entire amount of information into several parts:
Information that you will give for free. (in commercial articles, your course announcement, on Youtube);
Information for selling a product. (let's say webinars);
And, in fact, the information that you will give on your course. (should be about 80-90% of everything written on filter paper).
How to pack knowledge into a finished selling product?
With all the information gathered, it's time to create the structure of your online course.
Step 1. Introduction
First, tell us briefly about yourself. About your activities, about your personal achievements, about the achievements of those who studied with you before. Introduce yourself as an expert. Build loyalty and trust around you.
Step 2. Determine the main needs of your target audience.
Next, you need to put yourself in the shoes of your student, and highlight what problems your course will help solve. To do this, you need to clearly understand who your target audience is. How can I lose those extra pounds? How can I become president? If only I could play guitar. If only I could make a cake. Your task is to voice this problem and briefly describe how exactly you are going to move your student from where he is running to where he wants to go.
Step 3. Division of information into lessons.
Scientists have long proven that when listening to lectures, no matter how hard a person tries, he can maintain concentration only for a certain amount of time. As a rule, no more than 20 minutes. Therefore, your lessons should be, firstly, compact, and secondly, retaining attention. The latter is achieved by introducing students into the process using all kinds of exercises, interactive videos, Quiz tasks. Whenever possible, try to defuse the situation with stories from life, or, say, funny incidents. So as not to give exclusively raw machine knowledge.
Choosing a platform for creating an online course. Learnworlds
You don't have to get too overwhelmed with the design of the course itself. It is not necessary to buy expensive equipment and hire a professional operator and editor. (Unless of course you are going to launch an online course on designing for online courses;). Of course, all this will not be superfluous, but first of all, the content and usefulness are important.
There are many platforms on the Internet today that help create an online school. You can choose one of them according to your color and taste. Each service offers convenient solutions for creating the highest quality and selling product. Let's consider what features will be available to you using the example of one of such platforms,  LearnWorlds.  
| LearnWorlds online school creation packages (price per month, annual subscription) | Image | Price | Register |
| --- | --- | --- | --- |
| 30 Days trial | | $0 !!! | |
| Starter: for Newbie course creators,1 admin, $5 fee per course sale | | $24 | |
| Pro Trainer: For professional trainers, 5 admin, unlimited courses, no other fee | | $79 | |
| Learning Center: For serious schools. 20 admin, all functions unlocked | | $249 | |
 Learn Worlds   is the best platform for anyone looking to create interactive learning using questionnaires, tests, and more.
You can use their website builder without even having any programming knowledge. All you have to do is choose a suitable design from the many available templates and styles. In the editor, you can change the color scheme as needed. You can also add additional pages such as About the course, Prices, Reviews and so on.
Ready-made catalogs will be available to you to create a successful online course. Interactive video player, interactive e-books and attachments, online test creation. These expensive, complex features are just a few clicks away thanks to Learnworlds.
Hosting webinars right on your website.
They also offer a unique analytics program to help you optimize your sales.
Your students will be able to take notes online right on the site. And after graduation, get an online certificate.
Alternatively, you can turn to Learnworlds to create your own customized mobile app to further enhance your student experience.
In addition, Learnworlds is adapted to all popular payment systems of each individual European country. Which will help all your students to purchase the course without hindrance.
With this platform, you can create coupons and discounts for your students.
And, of course, at any time, day or night, you can contact 24/7 support if you have any questions.
The price of the issue varies, based on your needs and the desired toolkit, in the region of $ 24 -249 per month.
And this is not the only service helping to develop the info business. Platforms like  Thinkific,    Teachable,    Kajabi,    LearnDash,    Academy Of Mine   and many more are great solutions too.
Online school prices comparison
Let's quickly compare the different plans these schools are offering, which are not exactly the same, but pretty similar: most of them have a basic, a professional, and school offer that can be compared, and they all offer a free trial or at least a demonstration on request.
Online schools basic packages price comparison
| Online schools basic package comparison (price per month, annual subscription) | Image | Price | Register |
| --- | --- | --- | --- |
| LearnWorlds starter, for newbie course creators | | $24 | |
| Teachable basic: Create your first online course | | $29 | |
| Thinkific basic: Start your course creation experience with the basic features and tools you need to launch your first course | | $34 | |
| Kajabi basic plan | | $119 | |
| LearnDash basic plan | | $159 | |
Online schools pro packages price comparison
| Online schools pro package comparison (price per month, annual subscription) | Image | Price | Register |
| --- | --- | --- | --- |
| LearnWorlds Pro Trainer, For professional trainers | | $79 | |
| Thinkific pro: For course creators ready to build a successful online course business, a complete suite of tools to create an amazing student experience. | | $79 | |
| Teachable Pro: Their most popular plan | | $99 | |
| Kajabi growth plan | | $159 | |
| LearnDash plus package plan | | $189 | |
Online schools learning centers packages price comparison
| Online schools learning centers package comparison (price per month, annual subscription) | Image | Price | Register |
| --- | --- | --- | --- |
| LearnWorlds Learning Center: Their most popular plan | | $249 | |
| Teachable Business: Experience the best of Teachable | | $249 | |
| Kajabi Pro plan | | $319 | |
| Thinkific Premier: For advanced customers ready to build an education empire, get all the Thinkific features + the Growth package. Designed for delivering online education at scale. No limitations - one flat fee. | | $399 | |
| LearnDash Pro package plan | | $329 | |
| Academy of Mine | | $833 | |
Creating a WOW effect
Online education gives you the opportunity to learn from those who are geographically far from you and at any time. Thanks to him, you can find a course of the right level for you and the right author - the choice is huge.
Online education is suitable for motivated people - here no one will stand over you with a stick and force you.
A Successful Online Course is not only about expert knowledge, but also about building your personal brand and increasing sales. Give your students more than they expect. Create additional lessons that were not mentioned earlier in your announcement. Your task is not so much to retell your knowledge as to help your student achieve the desired effects. Indeed, in today's world of oversupply of advertising, nothing else helps sell as well as recommendations.
If your course helps your student in his problem, he will certainly want to share his impressions among his acquaintances, among YOUR POTENTIAL CLIENTS. Plus, he is more likely to want to buy your future products.
---
---
---