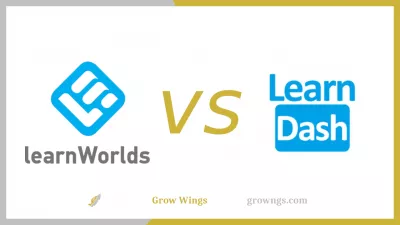 ---
---
Each course has quizzes and questions designed for students to assess their knowledge. Consider LearnWorlds vs. LearnDash!
LearnWorlds and Learndash Benefits
LearnDash and LearnWorlds belong to the category of online learning platforms. Let's compare and contrast these two platforms with some good features to get an idea of ​​what LearnWorlds and LearnDash have to offer ...
LearnWorlds vs LearnDash: Which to Choose?
LearnWorlds overview
LearnWorlds e-learning platform invites professionals, entrepreneurs and trainers to customize them. It creates knowledge, communities, and helps the audience achieve their specific needs, and educators or group experts to achieve their goals.
LearnWorlds provides sales engines, analytics, and income. Provides a comfortable learning area and completes commendable content delivery assignments.
LearnDash Review
Learndash is a simple yet powerful plugin for creating an educational wordpress website that can be used without programming skills. In fact, this is an LMS - Learning Management System out of the box, which operates on the principle of Plug and Play.
In order to finally decide what you choose - study all Learndash pros and cons.
The structured design and delivery of the course depends on the audience of the company and is really convenient for the audience. Learnworlds and LearnDash provide many questions and quizzes at the end of each course session. There are many common features as well as unique features they provide when comparing the two, some features show that Learnworlds is the better option, while some features make LearnDash the better option.
Features of LearnWorlds and LearnDash
Each course has quizzes and questions designed for students to assess their knowledge. Consider LearnWorlds vs. LearnDash!
Learndash
To better use the platform and attract more users, Learndash offers a very attractive feature - extended quizzes. This feature provides you with many options for constructing questions and ways of conducting the quiz.
The platform provides the function of displaying random questions, as well as limiting attempts to pass a certain quiz. Adding video, audio and images to keep users interested makes it more than acceptable and understandable for you.
LearnWorlds
As part of checking your level of knowledge after completing the lesson, LearnWorlds offers 3 types of tests - quizzes, exams and assignments. You can answer the questions of the assignments that you have received from the teacher by saying that you understand what it means that the questions have an open end.
Content delivery
The way you teach your lessons proves an important point about platforms. Content delivery is carried out in different ways.
Learndash
Saving their content in the order in which it will be presented. A challenge that creators often overlook. Learndash helps make content simple and straightforward for you.
LearnWorlds
Students tend to study their courses by participating in better segmentation of instructional information. Organizing information helps them learn the subject at their desired pace. By holding it at a certain pace, you can skip the part of the lesson you want to learn.
Verdict:
When you look at the content delivery section of both of these platforms, they both accomplish a lot of commendable tasks. But, if you are asked about LearnWorlds vs LearnDash - LearnWorlds helps you create a better content structure thanks to its segmentation feature.
Unique Features of LearnWorlds
LearnWorlds has many unique features listed on the website. Provides digital download: The platform provides an excellent content download capability. They contain features like e-book, videos, blogs, summary notes and more.
Built-in social network.
This feature is one of the best updated so far. It includes student participation and develops interactive learning between them, and provides daily news updates that provide an excellent platform to view the entire platform in one go.
Pixel conversion.
It seems like the dream of many online educational institutions has become a reality, this platform gives you the ability to transform the pixels of your content, making it compatible with other social media platforms. It helps redirect your audience and draw attention to your work.
Gamification.
Everyone loves to be rewarded for their hard work. The gamification feature engages students by awarding badges for their performance during courses.
Free lessons.
Various free lessons are held on the platform, thereby engaging the user, and if the user is impressed with the quality of the work, which is obvious in the case of this platform, he subscribes to his further courses.
Custom domains.
The platform provides a great choice as you have your own domain where you can use your domain name to start your school or classes.
Page constructor.
LearnWorlds is good because there are several ready-made page blocks. They can be used:
to display a section,
course curriculum, reviews,
frequently asked questions,
price tables,
email forms, etc.
Internet community
If you are looking to create an active community for your students, you will be pleased to know that LearnWorlds comes with built-in social networking features. The community tool is pretty robust and has all the basic features.
Unique Features of LearnDash
Drag and drop course builder. Building a course from scratch can be a tedious task, and platforms make this feature easy. The drag and drop feature allows you to add content, headers and footers, and even manage all previous content with a single click.
Focus mode.
A better way to avoid distractions than to close all notifications and advertisements that come as a gift for different platforms.
Customizable quiz.
Learners tend to be skeptical about some parts of the lessons they never understand, no matter how much they read, this platform offers a feature to reduce stress and customize quiz lessons so you can practice more in your weak spots.
Integration with media.
This is the best example of learning made simple, accessible and personalized, where you can use any media like Youtube, Amazon and many others.
Video support.
Has a unique feature that allows you to include both homemade and external video content, videos are also customizable, and you can add questions between them so students pay attention to the video.
Both softwares have great customizable features, but they differ in meaning, giving the user a different feel.
Platform vitality is also an intuitive feature that draws attention to it, although with some common platforms they have separate operating bases (LearnWorlds vs LearnDash), making them an ideal place to interact with a wide range of people.
Benefits of LearnWorlds vs Learndash
LearnDash and LearnWorlds belong to the category of online learning platforms. Let's compare and contrast these two platforms with some good features to understand what LearnWorlds and LearnDash have to offer:
Performance and speed
LearnDash
Learndash tweaks speed and performance and has increased your download speed by almost 75 times. This enables database operations to exceed the speed of 150 seconds.
LearnWorlds
LearnWorlds has increased its speed by about 5x its original speed and improved its performance by adding features that can maintain platform integrity even with heavy use.
Safety
LearnDash
LearnDash has advanced content protection, which is used by the system to mask content used within the platform.
LearnWorlds
LearnWorlds is pretty strict when it comes to the security it uses, the platform provides protection against data loss and data corruption at the application level, including passwords, data center security in accordance with GDPR standards.
Verdict: When it comes to security, Learnworlds is the clear winner as it delivers well-managed security and takes into account that all data and content is protected.
Customer service
LearnDash
The platform has decent user support, has the necessary tools to navigate the website, and provides excellent quality database knowledge. He does not offer any telephone advice, so you need to contact them through a request.
LearnWorlds
One of the best features of LearnWorlds is its 24/7 customer support that works with every user request without any time limit.
Verdict: LearnWorlds, with 24/7 customer support, has won the hearts of many users by providing fast and efficient responses to their queries.
Ease of use
LearnDash
When it comes to the user's point of view, Learndash provides a very intuitive and user-friendly platform as it is integrated with  the WordPress   platform.
LearnWorlds
LearnWorlds prioritizes this feature and includes a very user-friendly platform that guides you through the course seamlessly and also has a built-in cross-platform interface.
Verdict: In terms of ease of use, both platforms have a similar interface, so it's difficult to pick a winner as both provide excellent navigation.
LearnWorlds vs Learndash pricing
Learndash offers its users three pricing options as shown below:
| LearnDash plans | Image | Price | Register |
| --- | --- | --- | --- |
| Basic package: $ 159 per month. | | $159 | |
| Plus package: $ 189 per month. | | $189 | |
| Pro Package: $ 329 per month. | | $329 | |
LearnWorlds offers four pricing options and also offers discounts when using discount codes.
| LearnWorlds plans | Image | Price | Register |
| --- | --- | --- | --- |
| Free 30-Day Trial: Free! | | $0!!! | |
| Starter package: $ 24 per month. | | $24 | |
| Pro Trainer: $ 79 per month. | | $79 | |
| Training Center: $ 249 per month. | | $249 | |
| Corporate package: individual prices | | $?! | |
LearnWorlds vs Learndash pros and cons
LearnDash Pros:
Great tools for student engagement.
Fully customizable
30 days money back guarantee.
LearnDash Cons:
Free trial is not available.
The prices are expensive.
LearnWorlds Pros:
Advanced features to enhance integration.
Tools for interacting with students.
Prompt customer support.
Setting up a mobile application.
LearnWorlds Cons:
Expensive.
To use it, people need to know technical skills.
LearnWorlds Vs Learndash reviews
Bottom Line: LearnWorlds is a great, easy-to-use learning tool for individuals and businesses. You can easily customize courses to train your employees and customers. LearnWorlds allows you to take courses as well as create courses that you can sell to a huge audience. The features offered by LearnWorlds versus LearnDash are much better than  LearnDash,   making LearnWorlds a better choice!
LearnDash vs. LearnWorlds | G2
---
---
---