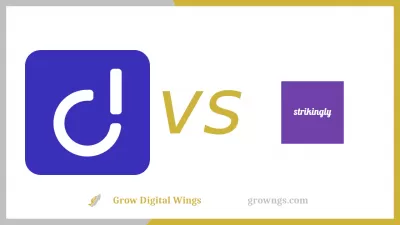 ---
---
There are lot of good reasons to create a website in our tech-centric world, but the idea of having to learn coding or hiring someone who does can be a real impediment to people interested in creating a substantial web presence.
Fortunately, there are plenty of website builders out there which can help people with limited experience develop their own fully fledged web pages. Two of the most popular builders are known as Dorik and Strikingly.
While both services have their own pros and cons, Dorik is definitely the better choice.
In What Ways Is Dorik Better Than Strikingly?
In a dorik vs strikingly comparison, Dorik most certainly wins out; here are some of the most important reasons why.
When the two are compared, Dorik has a lot more choice when it comes to using the service's user interface. When building and perfecting a website's layout using Strikingly, you have a pretty limited range of web page sections you can manipulate, leading to a somewhat clunky experience.
Dorik, on the other hand, has more than 100 UI sections you can manually change using the website builder (read our full DORIK review), allowing you to pursue your website vision much better.
One definite advantage Strikingly has as a website builder is that it's very beginner-friendly and easy to use (read our full STRIKINGLY review). However, one major downside to this is that Strikingly is heavily, heavily streamlined, to the point where there's a sizable dearth of customization options. The builder is designed to not be overwhelming for people who don't know very much about website creation, but that also reduces the ability for people to customize their websites to an advanced degree.
Dorik is very beginner friendly as well, but it doesn't go too far in its streamlining process, so there's a lot of room for making higher-level changes when you get a better sense of how websites work. With Strikingly, unless you're content with always having a really basic website, you'll probably have to move on to using a different website builder later down the line.
Good Load Speeds
Dorik is a website builder that's known for having really short load times for the web pages of its users. Load times are a very important consideration when trying to develop an impactful web presence as websites that take too long to load are going to be looked upon negatively by visitors, and search engine algorithms tend to de-rank content that doesn't load quickly.
Strikingly's load times aren't necessarily bad, but they're not particularly outstanding either.
Better for Online Businesses
One of the most common reasons why people create websites is for business purposes, most often relating to ecommerce. Between Dorik and Strikingly, Dorik tends to be more business friendly for a couple of reasons.
First off, its more expansive list of customization options means that a website can better match the preferences of certain clientele. If you own a business, it's likely that the bulk of your customer base belongs to a very specific set of demographics. Regardless of age, gender, culture, or geographic region, you'll be able to easily match your website's layout to whoever is interested in your services.
Secondly, there are a few restrictions Strikingly places on product links. If you want to sell items through an online store, you're going to run into a few issues with Strikingly as they limit the number of items you can link through their website builder.
Superior Customer Support
Strikingly has some pretty limited customer support when compared to Dorik. Not only do they only have customer support available in a limited number of languages, but representatives tend to not be the most knowledgeable.
Dorik's representatives, though, are a bit more multifaceted in their makeup, which allows them to come up with better solutions (and more quickly) to user problems when they arise.
Making The Right Choice
If you're interested in using a website builder, the good news is that you have a lot of options, but the flipside to that is you still need to pick one. If it eventually comes down to using either Dorik or Strikingly, then you should definitely consider using the former as your experience is likely to be better.
Frequently Asked Questions
What is Dorik?

Dorik is a website builder that is known for its users' very short web page load times. It has over 100 UI sections that you can modify manually with the website builder, allowing you to better implement the concept of your web site. site.
---
---
---