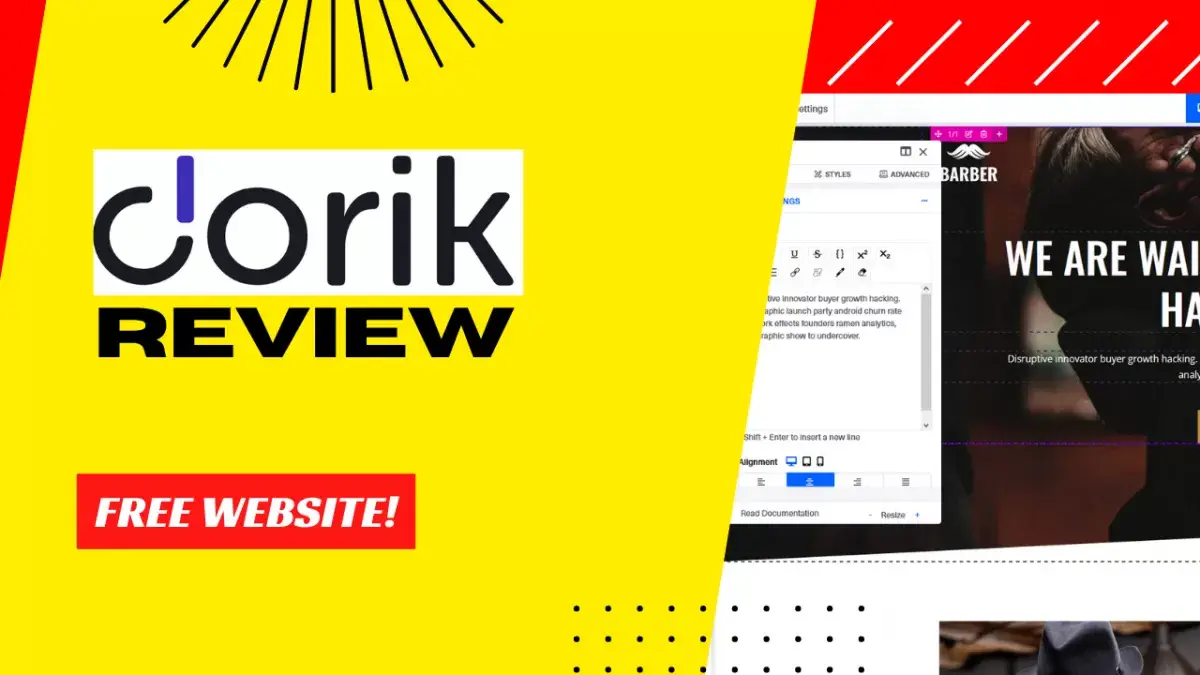 ---
---
Building a website involves an extensive understanding of its inner workings. HTML, PHP, & MySQL databases are among the first to address this. Therefore, you must spend a long time learning to code or spend a fortune on a developer. Or so you have been informed.
What if I told you, You can construct a stunning, scalable website without any complicated code or technical jargon? This may sound too wonderful to be true, yet it is possible with no-code website builders.
It is beautiful, efficient, and inexpensive. It just released version 2.0, which includes several intriguing features. Doesn't it make you question whether there's a catch? In this Dorik review, I will walk you through its performance & help you determine if it's a good solution for your projects.
Dorik is the ideal website design, development, and theme creation platform. You will have everything you need to develop a stunning and engaging website with Dorik. Dorik provides pre-built templates as well as a robust website builder that make it simple to design a site that is ideal for your business.
When I began my career in website building, it was challenging to design a website without understanding codes and functionalities. So I utilized Dorik to develop dynamic websites. It is simple to construct a whole website without spending time. I used every feature & advanced property to rapidly build and tailor the website's layout to its intended purpose. This program saved me a great deal of time while making the website model, and I am pleased to provide comments on it.
Popular, today in website creation are several platforms. Some Tools give the possibility to create code, while others provide stunning web page templates without requiring any code. Dorik is also one of the top website construction tools, comparable to the Wix platform. Multiple websites must be developed for clients. When we discovered specific needs for website creation on the Dorik platform, we discovered that developing a website on a live page is straightforward. No texting is required on the local host server. In our firm, SEO analysts can also handle meta tags without touching a single line of code.
I have observed Dorik's development from the very beginning. The makers of Dorik continually enhance their software, but they do not add unnecessary options and features. I cannot help but observe the user-friendly and uncluttered page editing interface. Currently, it is a worthy rival to well-known mastodons. However, the costs are relatively reasonable, which is excellent news. I am pleased to utilize this service, and thus far, the quality has exceeded the cost.
I always explore fresh ideas and put them through a landing page smoke test. I must produce useful, easy, one-page websites fast, efficiently, and affordably. Dorik is now my principal tool in my business, a decision I do not regret.
Dorik builds & hosts websites without using any code. We all agree on this point. But… What else? Well then, before we get into the nitty-gritty, let's explore the essential characteristics of a website-building service. Thus, you may judge if it is appropriate for you and if my perspective on it is reasonable.
Most of the time, the finest no-code website builder for your needs will be more subjective than objective. This is because each tool has its own set of features better suited to certain workloads than others and vice versa. For example, WordPress is a suitable platform for blogging. On the other side, Shopify will provide you with an exceptional online store experience.
Do it yourself!
You can get it to accomplish precisely what you want for your own website if you devote the time to learning it. This is my internet résumé, presenting all I desire without difficulty.
My Dorik website allows me to create a quick and aesthetically pleasing website to promote myself, which I feel I have accomplished. It facilitates linking my work to those of others.
I really appreciate their user-friendly and straightforward editor. Additionally, Dorik permits extensive style adjustment for websites. It is optimal to create a landing page and a multi-page website.
It allows me to create landing pages and websites without producing and writing a single line of code. In addition, it allowed me to launch the website without worrying about hosting.
Frequently Asked Questions
Is it difficult to create a website on Dorik?

Dorik is also one of the best website building tools comparable to the Wix platform. Developing a website on an active page is easy. No text messages are required on the local host server. There are SEO analysts on the platform, where they can also work with meta tags without touching a single line of code.
---
---
---