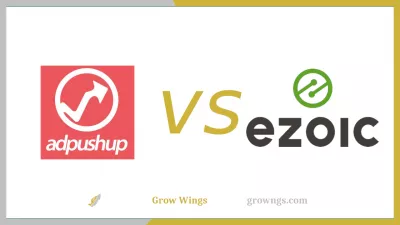 ---
---
In this article, we analyzed two advertising platforms AdPushup versus  Ezoic,   analyzed the pros and cons, and made a conclusion
AdPushup vs Ezoic
Whether it's iOS vs. Android, Mac vs. Windows, or Chrome vs. In addition, there are always two (or more) industry players competing with each other to deliver the best value to end users. The same is happening in the adtech world.
When our team was active in blogging, we also tried our options, hoping that these tools will help us increase ad revenue, as they promise. In this article, we will share our experience with Ezoic and ADPUSHUP ad revenue optimization platforms. We will also tell you why we switched from Ezoic to AdPushup.
Both platforms have their own strengths and weaknesses. However, we know many bloggers who use Ezoic to a large extent. Well, we're here to state our case for AdPushup and explain why it's better for us.
Note: This post is based on our personal experience, using these services is a purely personal matter.
Let's get started - AdPushup vs Ezoic
Easy to set up
AdPushup revenue optimization platform helps you create high converting ad layouts with automated A / B testing. The feature set also includes header inserts, innovative ad formats, ad mediation, AdBlock recovery, booster converter, and active ad preview update.
Ezoic claims to offer a similar value proposition. But AdPushup became our partner because it is more user-centric, flexible, reliable, and most importantly, easy to use. We've been using Ezoic for about four months now, and while we did see a surge in our gross income, the overall experience didn't work for us.
Not every publisher is tech-savvy. From our experience with multiple platforms, we can say that AdPushup is keeping the layman in mind. It took us over a week to get started with  Ezoic,   while setting up AdPushup took less than two days.
Ezoic server integration
Ezoic knows how to maximize your money by split testing many placement ads at a time, due to multiple ads on your page. By comparing all the ads on the same page at the same time, you see how much money that entire visit is making.
Only after studying the Ezoic dashboard, we can understand that the process of integrating with the server during installation is quite laborious.
Ezoic requires a nameserver implementation at install time. This means that you must change your CNAME records and create a domain alias from your primary domain. For example, if your domain is abc.com - you need an alias, let's say abc.net and you will need to point it to the main domain, abc.com.
Through this process, Ezoic has unlimited access to your entire site. The technical dependence on the CNAME change and the time it took to do so didn't seem to be worth it. In any case, we had to continue. In contrast, AdPushup uses basic JS integration, which requires adding one line of code to the site header. In no time, AdPushup was up and running successfully on our website.
While Ezoic also supports JS based integration, they recommend using a nameserver implementation process. We do not understand why they insist on a more complex and less secure installation.
In addition to insisting on DNS integration, Ezoic has been seen manipulating A / B testing results to convince users that the platform is delivering good revenue growth. One Reddit user said the following:
"I'm not sure if this is an isolated incident, but for me this behavior is considered a huge red flag."
Ezoic asking DNS access?
However, it is not necessary to give them DNS access. It is only required to speed up your page speed delivery with their free  Site Speed Accelerator   functionality, the exact same way that CloudFlare – their partner – does so, by optimizing a local version of your site closer to the visitor, instead of upading page content through Javascript after delivery.
As they are fully integrated with CloudFlare, you will enjoy all the same benefits from their CDN as you would do from CloudFlare, plus speeding up your webpages at the same time, by removing unused content, optimizing images, and more.
Ezoic Integration Guide (How Much Does It Cost? 0!)
AdPushup vs Ezoic: Comparison of Other Features
For us, customization is one of the most important parts of working with a new technology supplier. How easy or painful the customization process will be will usually also indicate what the overall experience of subsequent collaboration will be. But when your income is at stake, there are other things to consider:
Neutrality of the ad network
In our experience, AdPushup is more demand driven. Depending on the publisher's requirements, they focus on either optimizing your Adsense account, customizing AdX and headline bids, or both. AdPushup treats all demand partners (including our Adsense) equally and sends traffic to whoever performs better on demand. Ezoic focuses on generating income with AdX and headline trades.
Ezoic users may notice that the platform does not optimize or incentivize their Adsense accounts. This might be good for publishers already running AdX. However, some sites may be better off using AdSense optimization alone, as the CPM model in AdX and bid titles may not be the best fit for them. It's also interesting to A / B test AdSense vs. AdX on Adpushup.
We can say that Ezoic is a more AdX-compatible platform, while AdPushup is good for both AdX publishers and non-AdX publishers, knowing that not all Adsense publishers are active AdX publishers.
Data and reporting
Ezoic shows EPMV ("revenue per thousand visitors") as the main metric in their reporting. They're trying to push this metric a lot, and while it's useful, the rest of the reporting system is pretty bare. It was difficult for us to compare our existing metrics with their new ones.
This metric was in beta in AdPushup reporting; therefore, new publishers should be able to fully utilize this metric over time. One thing that Ezoic does on its own is Google Analytics integration, which is currently a manual process in AdPushup. However, the AdPushup reporting system has 9 dimensions and 8 filters, while Ezoic has only two.
As users, advanced report filters help us view custom reports based on exactly what we need to know. For example, if we want to analyze the performance of demand partners, it's easy to create an online earnings report in AdPushup. Getting a report on a specific use case in Ezoic is challenging.
Advertiser demand
In our opinion, one of the greatest strengths of AdPushup is their industry relationship and the bring your own demand option. Their Demand Network helps publishers access over 50 demand partners and over 30,000 advertisers.
She works with top networks and exchanges including Google AdX, AppNexus, Rubicon and Criteo. They also help publishers connect their existing demand partners to the AdPushup platform. Ezoic also has some great partnerships to showcase. However, the flexibility of AdPushup in that it can work with existing demand partners gives it an edge here.
DIY versus managed
The DIY model may sound interesting. But with something as complex as ad technology, users usually need human help at some point. For us, AdPushup has become the best player in their support game.
Their ad ops team is practically available 24 × 7 to address any request. We were assigned a dedicated account manager who did all the work for us with the utmost experience - preparing settings, creating ad layouts, optimizing Adsense, submitting performance reports and consulting as needed.
Another thing is Ezoic. It is a self-service platform with limited support. We can't help but mention how important it is to get help from a real person when you're struggling with a problem.
What is more convenient for the Publisher?
In this section, we will highlight a few brief points that describe our view of the usability of both platforms.
User interface and convenience:
Both Ezoic and AdPushup offer dashboards to help publishers manage their ad stack, but AdPushup has a more publisher-friendly interface. We found the platform, especially the layout and report editor, to be easy to navigate and understand.
User experience:
Too many or thoughtlessly placed ads can affect the end user's experience. The ops team at AdPushup is certainly experienced in creating the best and most effective ad layouts with user experience in mind. In fact, we found many publishers who openly resented Ezoic's impact on their site layout and UX.
Monetizing AdBlock:
This means the ability to recover ad revenue lost due to ad blockers. AdPushup pro-user ad-reinsertion technology is unique among comparable solutions on the market. Most platforms, including  Ezoic,   do not offer this option at the moment.
Data and reliability:
AdPushup provides headline partners and ad network partners earnings reports, while Ezoic's reporting on them is very simple. Also, in our experience, AdPushup never missed any payments, while Ezoic had consistency issues.
Educational material:
For publishers like us who love to troubleshoot themselves, AdPushup has a great blog that covers a lot of topics in the adtech space. While Ezoic also has a comprehensive blog, it lacked the variety of topics, frequency and reach that the AdPushup blog has for us.
AdPushup Vs Ezoic: Pricing & Transparency
AdPushup follows a revenue sharing model in which they charge a certain percentage of the revenue from the publisher's total profit. On the other hand, Ezoic's subscription-based pricing model raises some questions.
Ezoic's pricing is simply based on the publisher's revenue slab. So what's the catch?
Case 1 → Publisher Revenue = Up to $ 1000 per month | Ezoic payout amount = $ 49 per month
This is the baseline against which Cases 2 and 3 are calculated.
Case 2 → Publisher Revenue = Up to $ 2500 per month | Ezoic payout amount = $ 124 per month
EXPLANATION:
A 150% increase in publisher revenue ($ 1,000 to $ 2,500) translates into a 153.06% increase in publisher price on Ezoic ($ 49 to $ 124). However, if a publisher's revenue is only $ 1,500 (the publisher will still have to enter the $ 2,500 block), he / she only has a 50% increase in revenue, but still has to carry a 153.06% higher cost, i.e. $ 124 per month for a website making $ 1,500 per month.
Case 3 → Publisher Revenue = Up to $ 10,000 / month | Ezoic payment amount = $ 498 / month
EXPLANATION:
A 900% increase in publisher revenue ($ 1,000 to $ 10,000) translates into a 916.33% increase in publisher price for Ezoic ($ 49 to $ 498). However, if a publisher's revenue is only $ 7,500 (the publisher will have to enter the $ 10,000 pricing table), he / she has a 650% increase in revenue, but still needs to carry a 916.33% higher cost, which is 489 dollars for a website making $ 7,500 a month.
Conclusion: AdPushup vs. Ezoic
Considering both features and cost, we were able to switch from Ezoic to AdPushup. Value additions like a dedicated account manager, affiliate custom reports, AdBlock recovery, and a clear revenue sharing model drove us to take this step.
AdPushup recently released version 2.0 after undergoing a product overhaul. This version has deeper reporting, ads.txt authenticator, adsense block automation and other improvements. All of these features make AdPushup a more reliable platform for optimizing publishers' revenue.
AdPushup vs. Ezoic Comparison Chart
Frequently Asked Questions
Which is better for pricing AdPushup or Ezoic?

AdPushup follows a revenue sharing model where they charge a certain percentage of revenue from the publisher's total revenue. And the subscription-based Ezoic payout model is not always convenient for publishers.

How much time does it typically take to see the full impact of Ezoic?

It will take you several months to see the full impact of Ezoic. But you will see the first results almost immediately. Ezoic's smart algorithms will immediately analyze the performance of your site and optimize it to improve revenue.
---
---
---