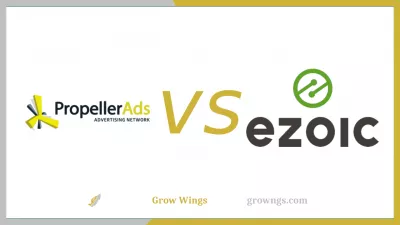 ---
---
In this article, we analyzed two advertising platforms PropellerAds against  Ezoic,   analyzed the pros and cons, and made a conclusion
PropellerAds vs Ezoic
For many, Adsense is the most recommended ad network that everyone is talking about. But as you know, any popular company always has alternatives. We will talk about two such services in this article. Here's a quick comparison of PropellerAds vs Ezoic. We will talk about each of these platforms separately, analyze their pros and cons, bump their heads together and summarize which of these is better, in our opinion.
Content:
Brief characteristics of PropellerAds
Founded in 2011;
Supported model: CPM, CPC, CPL, CPI and CPA;
Payment method: PayPal, ePayments, WebMoney, Payoneer, Skrill and Bank Transfer;
Payment terms: NET-07 (Every Thursday);
Minimum payment threshold: $ 5;
Supported language: English and non-English;
Reporting: Real-time reporting;
Live Publishers: 9017;
Minimum traffic: No;
Website: https://propellerads.com;
Number of employees: 201-500.
Propeller Ads Review:
Founded in 2011, Propellerads offers display, native, video, and mobile advertising along with partner services. With 8 years of experience and working with over 150,000 publishers, PropellerAds claims to offer the best CPM prices on the market.
PropellerAds is one of the largest ad networks and is the perfect solution for bloggers who want to monetize their blog. It is the largest platform in terms of pop-under traffic, and recently they have started buying and selling traffic from push notifications.
But before making a choice in someone's direction, you need to study the Propeller Ads alternative. Since each platform has its own special advantages.
The platform has developed its own algorithms to better match users and advertisers. PropellerAds is not only a publisher ad network, but also a standalone platform for advertisers to create and design their ad campaigns.
PropellerAds is easy to get started with, and publishers can create and insert ad codes themselves. However, for better support, the company also provides personal account managers.
Features of PropellerAds advertising
1. Global coverage:
PropellerAds claims to monetize 100% of web traffic through its huge pool of advertisers from around the world. This means that websites with non-English language content can attract advertisers looking to serve ads to a specific audience in their native language.
2. Pure advertising:
With the help of technology and manual automation, PropellerAds monitors the quality of advertising on the site. The same is used to filter ads with malicious and obscene content, showing users only high-quality and risk-free ads.
3. Compatible with Adsense:
Most publishers partner with multiple networks (including Google Adsense) to better monetize ad revenue. With this in mind, PropellerAds has developed their platform to run smoothly with Adsense on the publisher's website.
4. Adblock bypass:
Ad blockers cause publishers to lose revenue. Adblock Bypass, a solution from Propeller Ads, offers publishers a way to monetize ad unit users by replacing standard impressions with unobtrusive ads (like native ads).
5. Advertising OnClick PopUnder:
Also known as ClickUnder ads, these types of ads expand to full screen if users click on them. These ads offer more information to users with a link to the advertiser's website.
The format can help generate more revenue for publishers, and also gives a clear idea of ​​the user's interest in advertisers (this data can then be used for retargeting), thanks to the user's click on the page.
6. Publisher Community:
Propeller Ads has an online publisher community with frequent meetings to exchange ideas and help publishers grow their business.
7. Push notifications:
For mobile publishers, Propeller ads has a push notification service to drive more traffic. This is done by displaying on the user's screen a notification about the latest content or services of the site that may interest him.
8. Lower payment threshold:
The company recently updated its payment terms. With this new update, the minimum payment threshold has been lowered to $ 5. In addition, publishers' earnings are credited through an automated system to avoid manual errors and delays.
Like adsense billing, PropellerAds rewards publishers with traffic from top countries. However, it is also open to sites with non-English language traffic and content, for both desktop and mobile platforms.
9. Multiple ad formats
From standard banner ads to responsive rich-media ads, Propeller ads has a variety of ad formats for publishers to choose from. Its dashboard supports over 9 languages ​​to better understand ad revenue in their own language.
Types of high efficiency propeller units
Propeller ads are a worthy solution for bloggers looking to monetize their blog network. The ad network offers various types of ads, including:
1. Native Direct Advertising:
Native direct advertising is one of the most popular where you make money by driving traffic to a link. You can drive traffic through techniques such as social media traffic, internal pop-unders, link placement on your site, and so on.
2. Pop Under Ads:
This type of ad pops up in another window behind the original website. Pop under ads can usually be seen on viral sites that drive paid traffic to their site.
3. Push up advertising for mobile devices:
Push up ads is one of the most used mobile dialog boxes and is based on basic user engagement. A simple browser scroll or tap will activate an ad window for pop-up ads using CTA buttons.
4. Interstitial mobile advertising:
These are full-screen ads that cover the interface of the web page. They appear at natural transition points.
5. Banner advertising:
This form of advertising involves embedding a banner in a web page. Thus, these ads take up space in the site or app layout, or at the top or bottom of the device screen.
Ezoic Review
Ezoic is a platform that manages all advertisements on the website with the aim of increasing profits. Using machine learning and artificial intelligence, they can offer better ads, increase ad revenue, and slow down page load times.
This network has a number of special tools that help analyze ads and target audiences. Thanks to these tools, advertising on your site will reach the next level. You can only connect ads where you really need them.
Unlike most AdServer platforms, Ezoic's ad tester works using artificial intelligence. It can help make your site faster and generate more revenue.
The system is designed to increase the number of visitors who click on your ads. He will test different ads, different ad placements, and different ad densities for each ad campaign to figure out what works best.
It is a real-time mathematical optimization engine that can determine which ad configuration should be shown to which type of user based on how the user interacts with your site.
PropellerAds vs Ezoic
Comparing these two platforms, Ezoic can be considered an ad tester, and PropellerAds is a full-fledged ad platform. If we choose between services, we would give our preference to Ezoika, since it allows us to study advertising as much as possible and place it where it will be appropriate. Thanks to Ezoica's multifunctional tools, you can take your site to the next level and make it several times faster. This is true, we have seen from our own experience. Regarding the support of services, both there and there it works well, all the problems that we had during our work were solved quite quickly and efficiently.
Conclusion
In conclusion, I would like to say that the choice of an advertising platform is yours. Only you can decide which is the best fit for your site. We recommend that you read user reviews if you are still unable to decide. Thanks for attention!
Frequently Asked Questions
Are PropellerAds compatible with AdSense?

Yes, PropellerAds has designed its platform to run AdSense seamlessly on the website, which is very handy for monetizing publisher sites.

How does clickunder ads work?

Such ads will expand to full screen if users click on them. These ads offer more information to users with a link to the advertiser's website. The format can help generate more revenue for webmasters, and also gives a clear indication of the user's interest in advertisers, thanks to the user's transition to the page.
---
---
---