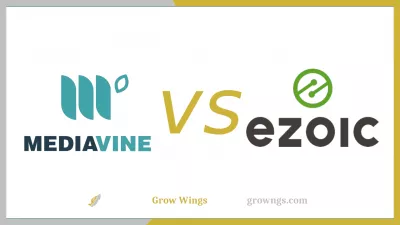 ---
---
In this article, we analyzed two advertising platforms Ezoic versus Mediavine, analyzed the pros and cons, and concluded
Ezoic vs Mediavine - Which is Better?
Advertising networks today are a fairly relevant topic for discussion. No project works without advertising, so it is everywhere. A competent advertising campaign can generate a lot of traffic. There are now many ad platforms that are ready to compete with the most popular Google Adsense. It is these platforms that will be discussed in this article. We will compare two popular services Ezoic versus Mediavine. We will look at the pros and cons of the platforms and figure out which of these tools is more suitable for making good money.
It is worth noting that we used both services and studied the features of work on our own experience.
Content:
What is Ezoic
Ezoic is a Google Certified Publishing Partner. It currently operates as an ad management platform for publishers.
This means that you can use this Google Adsense powered tool or any other ad-driven website to increase your current income.
Ezoic has many features that make this platform stand out from the rest. Some of them are listed below:
Analysis of advertising campaigns in order to increase conversion and increase earnings;
Lots of free features;
Fast and free connection;
Site speed. Most of the sites switching to work with this platform significantly speed up the loading of their pages.
Ezoic has been on the market for many years. That is why it is highly trusted by every publisher, just like the well-known Google Adsense.
Ezoic is the number one fully automated layout enhancement platform. Ezoic has firmly established itself as one of the best options for publishers when it comes to website monetization. In order to make sure of the above, study the Ezoic revenue calculator and then most of the questions will disappear.
What is Mediavine
It is also a  Google Certified Publishing Partner   and it is similar to Ezoic as well. Mediavine will manage every ad for your ad network account to maximize your site's revenue.
The functions of this platform are identical to those of Ezoic:
New advertising opportunities;
Playing video ads;
Health check.
Mediavine helps you build your website as a complete business. But, unfortunately, she manages display ads, which we personally do not really like.
What makes a big profit - Ezoic vs Mediavine
Let's take a look at two sites as an example. Let it be site A and site B. Mention the real names of sites will not be for security reasons.
Note: On the site that we used with the Ezoic tool, we named it "Site A". And on another site we used MediaWine, we called it "Site B".
This will help us understand the issue of comparing these services.
Ezoic platform
We recently tested the Ezoic tool on one of our sites (Site A) to see if it actually helps increase revenue. Yes, it helped us a lot to maximize our income.
Note: We have sent an email request to their support center to see if our revenue will increase in the same way in the future if we create a website / niche in a different category. In response, they said this tool plays an effective role on any website to generate revenue.
Mediavine platform
We then decided to use Mediavine to serve ads, just to see if it was better than Ezoic. We installed it on our other site (Site B) in accordance with the decision and reviewed it within one month. After seeing the result of Mediavine, we were just shocked!
Our revenue through MediaVine was only $ 369.39. It grew by only 56%, which is too little.
Get the calculator in hand and start counting to see the difference between Ezoic income and Mediavine's income. After counting, we got a difference of $ 225.61.
Approval requirement and quality
Both of these tools have their own specific requirements for website approval. Let's figure it out: Ezoic vs. Mediavine.
Ezoic requirements
Let's start with this platform. If your site is brand new and doesn't have enough traffic, you have no chance of getting approval from them. To get approval from  Ezoic,   your site must have at least 10,000 monthly visitors. It must also comply with Google's policies.
Keep in mind that you will not get approval for your predominantly corporate or e-commerce sites.
These are the basic requirements. If your site matches them, you can easily get approval within 1 hour or 1 day.
Mediavine requirements
Mediavine mostly only works for big bloggers and very few small publishers.
To get approved here, your site must have 50,000 sessions per month. In addition, it must have quality, sufficient and original content.
But make sure your current site ranks well on Google Adsense before applying.
Otherwise, you will not get approval from this service easily.
Plans and Prices
These 2 tools have a pricing system to better support their publishers.
Ezoic price
Ezoika now has 3 plans. No, you don't need to worry about their pricing system because you can use their free features for every site you have. Even we also use the free version for ours. In the free version they just include their brand name in a small size under each ad. And if you want to remove it from your ads, then you must give them 10% of your monthly income.
Let's do the calculation.
If you start earning $ 5,000 a month with it, you only have to pay 10%, that is, only $ 500.
We love the free version. This does not pose too much of a problem.
MediaWine Price
They only pay 75% of your monthly earnings. In our personal opinion, they cut too much in terms of fees.
Let's do the calculation again now.
If you make $ 5,000 a month through it, you only need to pay 25%, which is only $ 1,250.
Support System
Both tools have amazing support. But there are some differences between them. Ezoic vs. Mediavine:
Ezoic instrument
When using advertising platforms, we may at any time encounter technical or other problems for any tool. We also encountered certain difficulties.
We wrote to the support of the service by e-mail and told about our problems. Exactly 1 hour after sending the letter, they gave us an answer with the correct solution to the problem.
After that, we needed to send another letter to get additional information. But this time too, we did not have to wait long for an answer.
From here we understood one thing: they will solve any problem for you, and they will do it very quickly.
Mediavine tool
We weren't able to put their code on our website correctly. Because of this, we decided to contact them.
We wrote to them by mail, describing the problem in full. They responded exactly 9 hours after the letter. Yes, the wait is quite long, but the problem was solved the first time, which made us very happy.
But, unfortunately, we had to solve this problem very quickly, which did not happen.
From this we concluded: they, of course, will solve your problem, but in slow motion.
In terms of support, the two tools work well. But the difference is in the speed of their services. That is why in this challenge we declare Ezoic the winner.
Output
We tried to share our objective opinion on these platforms. We did not try to promote this or that service. Which platform to use is only your personal choice.
Which performs better, Google AdSense, Mediavine or Ezoic?
Frequently Asked Questions
How to start receiving Mediavine earnings?

To start earning with this site, your site must have 50,000 visits per month. In addition, it must have high-quality, sufficient and original content. Also, your site should rank well in Google Adsense.

Is Ezoic support effective?

Ezoic email support is very efficient and professional. If, while using advertising platforms, you encounter technical or other problems for any tool, then soon you will receive an answer with the correct solution to the problem.
---
---
---