The affiliate marketing industry has been developing for a very long time, during this time, with the joint efforts of webmasters, a huge number of Internet marketing platforms have been created, which are networks for promoting advertising campaigns.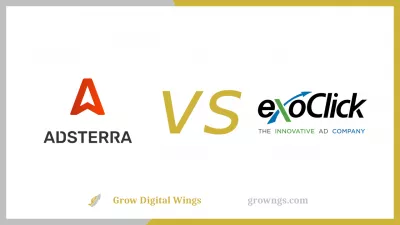 ---
---
The  Affiliate Marketing   industry has been developing for a very long time, during this time, with the joint efforts of webmasters, a huge number of Internet marketing platforms have been created, which are networks for promoting advertising campaigns.
Advertising campaign – Wikipedia
The advantage of such networks is that they are untwisted and have a lot of daily traffic. At the same time, such platforms are tailored for users of a certain level, they not only offer them a platform for forming campaigns, but also have certain functionality that makes it easier to work in such networks.
This article will compare two large and well-known sites representing domestic  Affiliate Marketing   networks - Adsterra vs Exoclick. They do not differ much in the idea and methods of work, but they noticeably differ in the available arsenal of tools for conducting an advertising campaign.
Adsterra - ad network overview
The site was created in 2013. Its founders are internet marketers and webmasters with twenty years of experience at the time of creation. Its peculiarity is that it is tailored to work with CPA campaigns. CPA campaign means a model in which network users are paid money for any actions on the advertiser's website (who created an in-network campaign with his own budget). Paid actions are designed to increase conversion - a value that shows, as a percentage, the number of site visitors, as well as their activity.
For people looking to make money on traffic for bookmakers, owners of mobile applications who want to promote their product, online giveaways, etc. - the Adsterra network is the ideal option.
The site's management is responsible for those who publish campaigns on their website; this approach has helped it become popular over the past few years, gaining the status of a reliable platform.
Figures showing the success of the network, as well as the level of user confidence:
Adsterra has 30+ billion impressions per month;
Has users all over the world (248 countries);
More than 100 thousand successful campaigns have been carried out since 2013;
Cooperation with advertising agents representing more than 8 thousand different brands, affiliate sites (according to assessors and search networks);
About 12 thousand partners who put traffic on offers (direct);
The site's management has developed an algorithm to help avoid fraudulent traffic;
Detailed targeting, up to the version of the operating system, user's browser, mobile operator and age;
Retargeting.
Managers work with clients on the network. Adsterra positions itself as a self-service platform, but its management realizes that many new clients need advice both on working with the network and on the advertising itself. Previously, employees undergo a special course designed to teach them how to correctly work with campaigns, prompting the user how best to do with his campaign to increase conversion and, accordingly, profit.
The company strives from the very beginning to create trusting relationships with users, to create a comfortable environment for working on the site. For this reason, there is an opportunity to work with your campaign yourself, without the direct involvement of the manager, while when questions arise, the client can always count on qualified assistance.
How to work within the network
As with all similar  Affiliate Marketing   networks, Adsterra invites its clients to create an account with a personal account.
Immediately after registration, the client can publish his first project.
To get started, you need to replenish the balance in the ways that are presented on the site's website: WebMoney, Yumani, Bitcoin Payment, Qiwi wallet, Paxum (the minimum deposit is $ 100).
The second step is to create a campaign under the guidance of a manager (the first time it is better to really do it with him) or on your own.
It is required to adjust the advertising parameters, high-quality settings will help to significantly increase impressions.
The manager's responsibilities include providing the client with information about profitable trackers (setting up advertising parameters for webmasters). Do not forget about the support tab, where you can find answers to all your questions about working in Adsterra. The menu also contains useful sections about statistics, tracking the tracker, individual settings - they will help you quickly understand how to work with the network.
Conclusion about the Adsterra service
For newbies working with low traffic, this network is the perfect choice for the job as it offers a number of benefits:
The presence of Adult traffic;
CPM cost starts from 25 cents, but can be equal to several tens of dollars;
Setting up targeting taking into account all the details;
Work all over the world;
Personal manager, high level of customer support;
Variety of methods for replenishing the balance.
A significant drawback, which was not mentioned above, is the quality of some sources - a parameter that determines the level of the partner network. Indeed, there are sources of low quality or with the presence of malware, but it should be borne in mind that no network is immune from this, and this drawback cannot be correlated with how anxiously the network management treats publishers.
Exoclick Review
ExoClick is one of the largest (if not the largest) adult traffic networks. It has almost all the fat adult sites, with the exception of sites with their own proprietary grids.
In addition, there are a lot of local sites in Exo that "shoot" in one specific geo or language. There is certainly no such choice in other grids. Therefore, cooperation and Ads by ExoClick are very profitable and interesting for publishers.
Live traffic system is the name of the Exoclick platform. In the battle between Adsterra and Exoclick, the latter network wins due to the fact that it was created in 2006, long before  AdSterra,   which makes it more respected among webmasters and internet marketers. However, it must be admitted that in terms of numbers, this platform is significantly inferior to the Adsterra network. Its monthly impression volume is 5 billion, which is half of the previous one.
But this is also due to the fact that the Exoclick partner network is focused on adult traffic and working with affiliate marketers. To optimize tracking, the site simplifies the input of parameters when creating a campaign, which is also very different from Adsterra. However, the simplification of input does not mean that it is easier to work in such an affiliate network than in the rest - rather, on the contrary, but first you need to familiarize yourself with how the site works.
Exoclick functionality:
Ability to implement 20 different ad formats;
Detailed targeting: the ability to select a platform (OS), browser, IP parameters, countries of interest (in which the publication will be shown), mobile operators;
When launching a campaign and setting up targeting, the client is provided with all information about the available traffic in the entire segment (based on the data entered by him);
Payment model CPM (per 1000 impressions) or CPC (one click) - from 50 cents. There is a function that allows you to see the maximum CPM value for a particular campaign;
The presence of tabs in your personal account, allowing you to see statistics, the value for the minimum bid;
Deposits differ from each other depending on the chosen payment method: PayPal, bank transfer (minimum deposit - 200 euros);
Adult traffic is a type of traffic that generates large revenues due to its demand and large audience. However, the content presented in the advertisement is of a specific nature, therefore, it is much more difficult to work with it. Advertising formats are mostly banners with huge resolution, but the competition is high, so you need to be able to calculate a strategy to drive traffic to yourself.
The manager can suggest the necessary offers, but the client will have to develop the strategy itself, so much here depends on experience. There is no work with managers, such as Adsterra for Exoclik.
Setting up a campaign implies not only the selection of parameters for targeting (including the type of browser and IP), but also adequate support of the campaign by the client himself during changes throughout the network. You will need to react in a timely manner to the selected segments, study the volumes of each site with a banner, watch reports and choose how much traffic you need to buy based on the data received. Hence the conclusion - such an affiliate network, due to its focus on the audience of affiliates, will not be comfortable for beginners, although earnings on it will be much higher than on  AdSterra,   which is, of course, connected with the type of traffic.
Comparison of Adsterra and ExoClik
In Adsterra's fight against Exoclick by numbers, the first network certainly wins. But this is due to how different the audiences of both networks are. In this case, volumes and payment do not decide anything, since their comparison is unacceptable.
And it is unacceptable if only because with one network (Adsterra) those who have just come to  Affiliate Marketing   work, or those who work with small volumes of traffic, and with the second (Exoclick) a special caste of affiliate marketers works, and it works with a certain type of traffic that is unique to this site.
In terms of functionality and operation, there are no major differences between these two networks - they work according to the same algorithm, they are designed to help the publisher increase conversion for a specific segment. However, even taking into account the fact that in Adsterra managers can accompany the entire campaign, there are already differences between them, albeit not very noticeable. And even such differences are due to the audience.
In  AdSterra,   targeting and its details are not as important for campaigns as for Exoclick, since the specificity of traffic does not require detail. For this reason, publishers working with Adsterra do not need to think about setting up and maintaining a campaign, medium settings will be enough to make a profit, taking into account that the profit will be high (relative to the invested funds). Even the minimum deposit for each network is determined by the level of experience of those who work for them - in Exoclick it is much higher than in  AdSterra,   which is associated with higher risks of losing money during the campaign.
Conclusion: Adsterra vs. ExoClick
In the Exoclick network, you can earn much more from running a campaign than in  AdSterra,   but it is worth considering that you will have to work with adult traffic and control the tracking of the campaign. In turn, much less money can be earned on the Adsterra platform, but at the same time, different types of traffic are available to the client, and control is not necessary to get high profits.
---
---
---