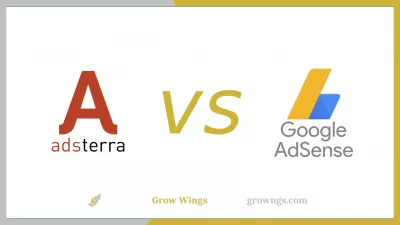 ---
---
There are many different ad exchanges in the world. The most famous are Adsterra and AdSense. Which one is better?
Adsterra vs. Adsense: A Review of Two Giant Services
If you have a site with which you want to start making money, or you have a product that you want to advertise on someone else's sites, then the question clearly arose before you, with which of the advertising exchanges to start cooperation. Today we are going to discuss the advantages and disadvantages of two monopoly giants in their field - this is the Adsterra vs Adsense review.
Two ad networks in brief
Adsterra is an ad network for technology publishers. The ad network provides the highest CPM and protection against malicious ads through its fraud detection systems.
This is an international platform where you can promote your products using teaser advertising.
AdSterra aims to transform digital advertising for web, mobile and social platforms and make it creative, unique and engaging with its own state-of-the-art optimization technology.
That is, the main goal of the site is to connect target customers through an intelligent advertising exchange in order to increase brand awareness around the world, increase ROI and increase AdSterra revenue.
In turn, Google Adsense is a program launched by Google. Website publishers on the Google Content Site Network display text, images, videos, or interactive media ads that target the site's content and audience. These advertisements are administered, sorted and served by Google. Google AdSense is free and requires no payment, while Adsterra is a paid ad network.
Google AdSense - Earn Money From Website Monetization
The main differences
Adsterra rules are much simpler than Google Adsense rules. With  AdSterra,   you can promote gambling, dating, cryptocurrency / binaries, utilities, and lotteries. It is unlikely that you will be able to pass Adsense verification with these topics. In addition, Adsterra has a variety of ad formats such as not only banners or links, but also pop-ups, native ads, interstitials, preview videos, social bar, web push notifications. They work better for many sites and sometimes provide 100% fill rates and higher CPM. It depends on your site and the technical capabilities of the program code for your resource.
Detailed overview
Let's take a closer look at the differences between the two advertising exchanges, and they, as you could already understand, are significant. Let's start with the benefits of Adsterra for advertisers.
Types of ads
You can advertise on Adsterra by CPM, CPA, CPI, CPL and CPO. Their high-quality traffic can generate a lot of sales, leads, visitors, or conversions.
Targeting
Adsterra works with smart targeting and can display your ads according to the following terms:
You can target your ads to a specific region, country, state, city, language.
You can target your ads to specific browsers like Opera, Mozilla, Chrome.
You can target specific keywords for your ad to get the most profit.
You can also display ads for specific operating systems such as Windows, iOS, Android, or other operating systems.
Adsterra also supports ads based on the device used, such as phones, laptops, desktops, etc.
Mobile integration
Adsterra has a simple integration process with HasOffers, Voluum, Tune, Cake, AppsFlyer and other partners through which they track all traffic sources.
Advanced optimization
You will find the best ad optimization on Adsterra. Here are their optimization features:
Frequency
Time
Rate recommendation
Adsterra benefits for partner webmasters
Adsterra provides one of the best features for its publishers, which are listed below.
High CPM rate
According to  AdSterra,   they provide the best  CPM rates   compared to other ad networks.
Safe advertising
Adsterra prevents malware or spam ads and only shows safe ads to your visitors (they can also be under the age of 18).
Ad formats
You can get almost all types of ads, including banners (all sizes), PopUnders, interstitial ads, and more.
Timely payments
Adsterra processes all payments on time and they even have a huge number of payment methods. Adsterra is the best  alternative to Google AdSense   so far.
In short: the Adsterra benefits
Adsterra: The best ad network to make more money from a blog or website Adsterra is a premium ad network that was published in 2013. This ad network serves both advertisers and publishers with greater benefits than all other ad networks. If you are a blogger, you can make money by placing ads with decent traffic on your website. If you are a webmaster, you can make money from advertising.
Adsterra has gained quite a few clients in a short amount of time, thanks to their brilliant approach and the services they provide to their advertisers and publishers. Just look at the stats below to see their popularity:
10 billion impressions per month
190 GEO covered
20,000 successful campaigns
6,000 thousand leads last month
By all this, we can say that Adsterra is the best AdSense alternative. It is also the best platform for advertisers looking to reach a wider range of their specific audiences.
Google Adsense is the market leader
The Google Adsense program has made a lot of money for many people around the world. Adsense plays an important role in just about any online business, especially in this day and age when advertisers and marketers use every forum available to connect with new potential customers. Many people still profit from this program even today with little or no effort. Several years ago, the world was taken over by this incredible opportunity for people to make money from this form of sponsored advertising. Despite the fact that many people use this program in questionable ways, it still remains a powerful tool for web businesses. Our Adsterra vs Adsense review continues. So, here are ten main benefits of using Google Adsense.
No product required
AdSense does not require the user to have a product to sell. A website or even a blog that just shares information is also good for making money with Adsense. This is a great way for anyone to have a steady source of income that doesn't require a lot of hard work or time.
Search options help keep visitors on the site itself
Google also offers web search with Adsense, which is a great addition to any site as it keeps visitors on the site. Thanks to this search option, many visitors do not feel the need to leave the site. Since getting clicks on ads is the essence of AdSense, users can easily get a few clicks using the search function.
Multiple websites from one Adsense account
One AdSense account can help serve up Adsense integrations across multiple sites. This is a great feature that many other pay-per-click programs lack. It's a great way to manage Google Adsense across multiple websites, and at the same time, simple activity reports are also instantly generated in a way that makes monitoring easy.
Easy to use
It doesn't require any major technical know-how, and just about anyone can set up and use Google Adsense. While this involves experimenting with ad-supported code, it is easy to use and has clear instructions. It's also very easy to understand, and anyone with a good command of a computer can master most of the necessary skills within the first 20 minutes of use.
Google offers more advertising options
Most sites or pay-per-click programs require the user to find ads and place them on their site. This is not the case with AdSense, as Google selects ads that are relevant to the website and presents the user with options. Ads also match the content on the site, making it a useful tool.
Customizable ads
The look and feel of a website is a very important thing, most good websites are well designed and this is the reason why people want to visit them. Adsense allows you to largely customize the advertisements it provides. The options provided to customize these ads are also straightforward, making it easy even for hobbyists.
A lot of help information is available on the Internet
Getting started with AdSense is easy too. Aside from the simple interface and easy setup, there are adequate resources on the internet on how users can best optimize their site with Adsense. As a user, you don't need to know much about codes, as quick guides will easily let the user know what they need.
Expandable sponsored advertising
It's not just about simple contextual advertising on websites using Adsense. It also allows users to go beyond simple web browsing by helping to place ads in search results as well as RSS feeds. This allows users to target visitors who have a viewing purpose.
Very little time required
AdSense requires almost nothing from the user. Once properly configured, it actually replicates itself and requires only regular registration from users. This is a great way to earn extra income for many people.
It's free!
The best thing about Google Adsense is that it's free. It takes almost no time to create a new account and all a person needs is a website or even a blog. The registration process is also not very complicated, and once set up correctly, it can easily become a permanent source of income for people from any area of ​​life.
Disadvantages of Google Adsense
The most obvious disadvantage is that Google may simply deactivate your account if it considers your site to be click fraudulent. Click fraud simply means that someone is making artificial clicks on your page.
This can turn out to be very bad, because it may not be you. This could be your competitors who just want to close your account, or your advertiser's competitor who wants to increase their marketing spend.
Another disadvantage is that Adsense earnings are volatile. In fact, in many cases, a mistake can be very costly. People with an Adsense account are often subjected to a lot of negative pressure for this reason.
Adsterra vs. Adsense: Key Takeaways
As we found out, each of the exchanges has both advantages and disadvantages. For some, the main factor will be the price of using the platform, for others - the availability of integrations with other services. The path of each publisher or advertiser is individual, it is impossible to generalize all possible scenarios here. A beginner will sooner understand how Adsense works, and a more advanced user can easily master Adsterra.
This review provides all the information about the two giant services with comprehensive details. Which one to use - the choice is yours. But remember that both of these platforms have been in the top for a long time and occupy leading positions, which means that the services they provide are still at a very high level.
Adsterra VS Google Adsense - Technologies Market Share
---
---
---