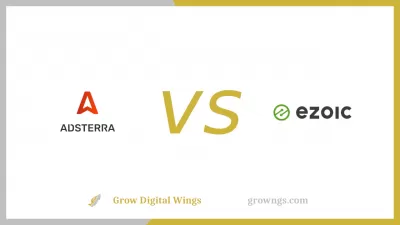 ---
---
Ezoic and Adsterra are two alternatives to Google Adsense. Both ad networks are actively used by site owners around the world. They allow you to profitably  monetize your website   and significantly improve its performance. However, any network has its own characteristics and nuances of work. Let's figure it out in each site. So: Adsterra vs. Ezoic.
Ezoic features
Ezoic is not just an ad network. It is a Google certified site. Therefore, it is most often used not as an alternative to Google Adsense, but as an auxiliary tool for increasing Adsense income. On average, income rises 1.5-2 times.
Ezoic services are used by millions of websites. The main feature of the network is smart algorithms that select the most effective advertisements and the most successful placement on the site. The AI ​​system analyzes the interests of a particular user, his location on the site, optimal pages for advertising, and thousands of other indicators. Based on this data, the algorithm selects the ad place and type, ad color and size, and the number and time of ad impressions.
Features of Adsterra
Adsterra is a Global Advertising and CPA affiliate network with a unique approach to partner support.
CPA ("Cost Per Action", cost per action) is an indicator that helps the company calculate how much it cost to attract 1 user who made the target action on the site. Actions can be different: calling a company, sending an application form, subscribing to an email newsletter, going to a business social network, and more.
They help advertisers reach their key performance indicators and increase the return on investment, and those who maximize eCPM for the help of our simplest and most advanced solutions for traffic and the best specialists we work with.
Adsterra is a slightly less popular ad network. However, it belongs to premium networks and is used by many site owners. It is the best choice for those looking to quickly monetize their website, blog or social media page. The main thing is to have a quality platform.
Suitable for sites in almost any language. Differs in a high price per 1000 ad impressions. Adsterra has one of the best performance among ad networks of this tier.
Ezoic Benefits
Why choose this particular network:
Ezoic also has a transparent work.
Adsterra advantages
Main advantages:
Another plus is a large selection of payment methods. The received income can be withdrawn in bitcoins, on Tither or Paypal, by bank transfer and other methods.
Requirements for sites
Ezoic is not intended for new sites with a small number of visitors. There are high requirements for the quality of the site and the volume of traffic. Your site must have at least 10,000 page views. It is also desirable that the site has a nice design, unique content and not too many outside advertising.
However, they have recently launched a new program called Ezoic AccessNow that allows smaller publishers, even with a very low traffic, to start using their technologies, such as website optimization CDN and display ads optimization for free and without any traffic requirement.
Ezoic AccessNow Review - The Most Important Thing To Know About Effective Website Advertising
Adsterra is simpler in this regard. There are no traffic requirements here. So you can connect the display of ads even with 5-10 visitors per day. The main thing is that the site has enough content. Also, the site should not be clogged with ads.
Important to note: Adsterra rules are much simpler than Ezoic and Google Adsense rules. With  AdSterra,   you can promote topics such as gambling, dating, cryptocurrency and lotteries. It is highly unlikely that Adsense and Ezoic validation will be possible with such topics.
Adsterra Review: How Much Can You Make From Their Ads?
Features and Capabilities
Ezoic features:
Adsterra features:
Comparing Adsterra versus  Ezoic,   you can see that the latter site is more functional.
Ad formats
Ezoic offers classic banners, video ads, native ads, as well as simple link blocks and interstitials. On average, there are 5-6 advertisements on one page of the website at the same time.
Adsterra serves popunders, interstitials, native ads, standard banners, links, push notifications, and video ads. There are also social bar ads on the net with a countdown.
In both cases, the ads work fine across all operating systems and browsers.
Income level
Ezoic statistics mainly analyze such indicators as CPM and EPMV.
CPM rates here are typically three times higher than Adsense's CPM. CPM is approximately $ 3. This is three times more than Adsense.
Adsterra uses several cost models at once: CPM, CPC, CPA, CPL and CPI. CPM is slightly less than Adsense. CPM is roughly $ 1-2.
Money withdrawal
The minimum threshold for withdrawing funds at Ezoic is $ 20. The funds earned can be withdrawn to PayPal or by bank transfer. Payments once a month.
In  AdSterra,   money can be withdrawn to bitcoin wallets, Tither, Paypal, bank transfer, as well as Webmoney and Paxum e-wallets. Payments are made automatically twice a month on certain days. The minimum withdrawal amount is only $ 5.
Summarize
Ezoic is not just an ad network, but a whole platform that manages all advertising on a website in order to increase profits. Using machine learning and artificial intelligence, the platform matches better ads, helps increase ad revenue, and speeds up page load times.
The main advantage of Ezoic is a huge number of special tools that help analyze ads and target audiences. Thanks to these tools, advertising on the site is taken to a new level.
However, to start working with  Ezoic,   you will have to take care of the quality of the site and have a high traffic.
Adsterra vs. Ezoic is a more democratic network. There are fewer analytics tools here, but you can start showing ads even with low traffic. After all, there are no traffic requirements. The topic of your site can be almost anything: from casinos and online dating to cryptocurrency. In addition, you can connect ads on a page on a social network. For example, to the Facebook group. You can't do that with Ezoic.
Frequently Asked Questions
What are the main requirements to start earning with Ezoic?

In order to start earning with Ezoic Ad network, your site must have at least 10,000 page views. It is also desirable that the site has a nice design, unique content and not too many third-party advertising.

What are the possible formats of AdSterra ads?

Adsterra offers pop-ups, interstitials, native ads, standard banners, links, push notifications, and video ads. The network also has countdown social media ads.
---
---
---