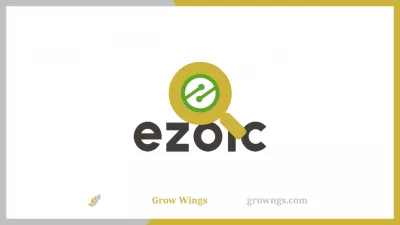 ---
---
In this article, we talked about the Ezoic advertising platform. We did a quick overview, identified the advantages and disadvantages, talked about the new Ezoic LEAP tool and made a conclusion.
Ezoic review
There are a number of ad networks that you can use to monetize your blog. Ezoic is one of the increasingly popular platforms. It differs in that it has many analysis tools. In this article, we will give a brief overview of Ezoic and understand the nuances of its work. At the end, we will summarize and rate the platform on a five-point scale.
Content:
Ezoic is
Ezoic is an ad testing tool to help you find the best ad placement. It differs from other ad platforms in that it uses artificial intelligence to test hundreds of different ad layouts. In short, Ezoic will help you make as much money as possible from advertising from your website. For example, after switching from AdSense to  Ezoic,   our advertising revenue increased several times.
How does Ezoic work?
When a user visits your site, Ezoic loads content into one of the experimental layouts. The system will measure time on site, page views per visitors, bounce rate and ad revenue for each layout to find the most effective ones for your site. Ezoic artificial intelligence can test hundreds and thousands of different layouts, sizes, designs and locations in a short amount of time that you can never do by hand.
After the system has enough time to collect data, it will start promoting the most effective layouts. This means your visitors will see more of the layouts they prefer and your ad revenue will increase.
The  Ezoic platform   is a Google Certified Publishing Partner, which means they can not deceive.
Ezoic advertising testing tool automatically analyzes ad density, ad position, and the behavior of different segments of visitors when they visit your site to see what ad configuration should be displayed for any user.
Ezoic guarantees the configuration of ads on your site to improve revenue. Plus, there is a lot of focus on improving user experience and increasing overall site engagement, which in turn increases display ad revenue.
Advantages and disadvantages of the platform
Let's talk about the advantages and disadvantages of this service. Let's start with the first one.
Ezoic Benefits:
1. Increase income through advertising testing
You can manually insert ads into your site and do A / B tests, however this will not be nearly as effective as automated testing that uses machine learning. For example, if you only insert 5 possible ad placeholders, Ezoic will check 3000 possible combinations, for 10 placeholders it would be 142,000, and for 15 placeholders it would be a whopping 1.2 million combinations! Why so much? The point is that Ezoic tests not only positions, but also different sizes and designs of advertisements. They then use the data to place ads in the ideal position to drive your bottom line.
2. Fantastic analytics and reporting
What we love about Ezoic is their comprehensive reporting and analytics. The user dashboard is full of great information and statistics to help you find out everything about your visitors. You can view several different metrics such as Revenue, EPMV (Revenue Per Thousand Visitors), Page Views, Bounce Rate, Average Participation Time, Social Promotions, and more.
3. Sticky and anchor ad units
One of the biggest disadvantages of Google Adsense is that they don't allow sticky ads. This is a big problem because it is statistically one of the most effective ads. Ezoic allows you to insert ads into a sticky sidebar. You can also enable anchor ads that appear at the bottom of the screen on both mobile devices and desktops.
4. Full Control
You are in complete control of your Ezoic ads. You can customize parameters such as the maximum number of displayed ads per page. Decide on the color and design of your ad. Set up excluded pages that will not show Ezoic ads at all (this can be useful, for example, on pages where you have many partners and ads can drive traffic away). You can turn anchor ads on and off individually for desktops, tablets, and mobile devices. Disable the display of certain advertisers on your site. And much more.
5. Excellent customer support and service
There is no direct support for AdSense. But with  Ezoic,   the opposite is true. We have already created over 20 support requests and they always responded within hours (sometimes even minutes) and patiently explained any issue to us.
6. No additional acceptance requirements are required
The only requirement that Ezoic must accept is to have at least 10,000 page views per month (and of course not have adult content on your site, etc.).
7. Ezoic protects you from adsense policy violations
If it ever happened to you that Adsense banned your account for a week and they didn't even tell you the exact reason and you had 3 days to fix it, you know how valuable it is. If there are any issues with  Ezoic,   the excellent support team will easily deal with you.
8. Low Payment Threshold
The minimum threshold for getting paid is just $ 20 with Ezoic. This is much less than most other ad platforms (for example, AdSense has a minimum of $ 100).
9. Managing objectionable content
Ezoic gives you a list of your pages where you can have inappropriate content. This can be adult content, some types of gambling, or even swearing. Ezoic blocks these pages from showing ads.
10. You can make money with Ezoic affiliate
If any friend signs up with your affiliate link, you will receive 3% of what they earn with Ezoic for life.
You can actually register for this service even without using  Ezoic,   and totally free of charge – all you have to do is to refer website owners that will start using the system.
Disadvantages of Ezoic:
Minimum Traffic Requirements - 10,000 MPG
To be accepted by  Ezoic,   you must have at least 10,000 monthly page views. That's pretty low compared to Mediavine's 25,000 or AdThrive's 100,000, but still 10,000. AdSense has no minimum traffic requirement.
However, this limit has recently been lifted, and it is now possible to any Web publisher or blogger, regardless of their traffic, to optimize their websites with the new Ezoic AccessNow product, that guides publishers with lower amounts of visits on your path to  monetize your blog.   It is another way, totally free of charge, to get to use all their technologies on any site.
Small announcement at the bottom of the page
If you don't want to pay for the service, Ezoic inserts a small ad at the bottom of your page. However, this is a complete bummer, it is almost invisible and the vast majority of visitors don't even scroll to the bottom.
You need to wait at least 30 days to see results
You will not see results immediately after switching to Ezoic. Your income could potentially even drop in the first few days before Ezoic gathers enough data to test.
The setup is a little trickier
The installation is a little tricky. You have to point your site's DNS to their DNS server, which might be a problem for someone. However, the support team will help you with this if you need it.
Ezoic Review - Key Features
Let's take an overview of Ezoic tools:
Advertising tester
Ezoic Ad Tester harnesses the power of multivariate analysis on your website. You can create up to 100 potential ad units, place them on your site, and Ezoic will test various combinations of sizes, locations, ad types, and ad counts to find what works best for each user who visits your website.
Ad Tester also tests various layouts for desktop, tablet and mobile.
Website Speed ​​Booster
Ezoic Speed ​​Accelerator guarantees Google PageSpeed ​​Insights 80+ score for every website. Since 2019, Google has started using page speed as a ranking factor, so having fast loading times is very important.
Chrome extension
The Ezoic Chrome extension is a great feature that allows you to easily and conveniently add, remove or edit ad placeholders on your website. Just remember that you must log out of your WordPress admin panel to use this extension.
PWA Converter
Ezoic offers a built-in PWA converter. What it is?? PWA stands for Progressive Web Application, which is essentially a lightweight version of a website that is displayed on mobile devices. This can help a lot in terms of faster load times.
Headline Bets
You can easily implement header bids on your site in the dashboard. Ezoic will create a competitive server side auction for ad placement that will increase the site's revenue. You can read more about headline bidding here.
Caching Application
You can use Ezoic's built-in cache to store your content and speed up your site. This is not necessary if you are already using other caching programs such as WP Rocket.
How does Ezoic pay?
Ezoic pays you monthly. The default minimum payment threshold is $ 20, but you can set it higher if you wish. For example, if you are paying an incoming transaction fee, it might be wise to set a higher threshold in order to pay higher amounts less often.
How do you get paid?
You can choose from the following options:
Bank Transfer to USA via Payoneer
International bank transfer via Payoneer
Verification (US and Canada only)
Ezoic LEAP
Leap is a completely free website performance tool that has been designed as a one-stop application for diagnosing and fixing performance problems of each site one by one.
What about an Ezoic website speed booster, you ask? It will be completely replaced by Leap when it launches worldwide to all customers. Once it becomes available, Leap will take the place of Site Speed ​​Booster on the Speed ​​tab of the  Ezoic dashboard   and will be free for all monetization customers.
Conclusion and evaluation
We hope this article has given you an understanding of this ad platform. Let's summarize the Ezioc review briefly. What we have:
Ezoic is an excellent tester that will help bring your website to the next level of earnings;
Many useful tools that will simplify your work and make it more efficient;
There are drawbacks, but they are not critical;
Statistically, sites do get a lot faster after switching to  Ezoic,   even if you are switching from a popular platform like Adsense.
★★★★★
Ezoic Platform Review - Advantages And Features Of The Service
 After we have analyzed and tested this platform, we are ready to draw a conclusion and evaluate it from 1 to 5. In our opinion, this platform deserves a rating of 4.9 or 5 with a minus. This is because it still has some disadvantages. But overall, this is one of the best ad platforms in our opinion today.
Frequently Asked Questions
What is the minimum threshold for Ezoic payment ?

The Ezoic payment threshold is one of its advantages. The minimum threshold for receiving payment is only $20. This is much less than most other advertising platforms (for example, AdSense has a minimum of $100).

What are the benefits of Ezoic Ad Tester?

This tester uses the multidimensional analysis capabilities of your website. You can create up to 100 potential ad units, place them on your site, and the Ezoic monetization test will test various combinations of ad sizes, locations, ad types, and ad counts to find what works best for each user visiting your site.
---
---
---