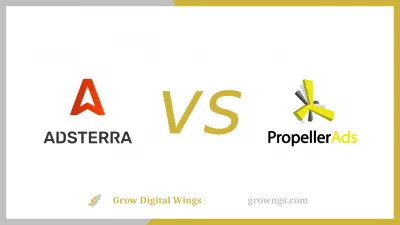 ---
---
This article explores the comparison of the two companies - Adsterra vs. PropellerAds, detailing the benefits of each company.
Adsterra vs. PropellerAds
The ideal ad campaign depends on three components: a stable tracker and a top traffic source. The two compared companies are just such providers of traffic, or more precisely, they bring together those who have the necessary traffic with those who need it.
This whole system is needed in order for the company to successfully advertise its services, and also receive income. Of course there are other ways, but this one is the most reliable.
This company was founded in 2013 and during the period of its presence on the market of such services has managed to establish itself as a reliable partner. Users of this platform are located in 248 different locations, which guarantees the success of any launched advertising campaign. Also, Adsterra has its own partners, of which there are more than 30 thousand - this is very profitable and will help to improve the promotion and get the necessary traffic.
Information for advertisers
The platform boasts over 18,000 publishers and over 1 billion impressions per day. These are very good indicators. The platform also offers more than twenty filters that will help you more accurately determine the desired goal.
Founded in 2013, Adsterra is now a market-leading ad network trusted by 30K+ advertisers and publishers worldwide. In 2021, they are launching a new global CPA platform that combines all the benefits of working with Adsterra and more.
How to start your journey with Adsterra? Everything is very simple. First you need to register with a valid email address. After successful registration, you need to decide on the required traffic volumes for the advertising campaign. Once these points are successfully completed, you can pay for the required services using one of the many available methods. As soon as payment is made, you can launch one or several advertising campaigns and follow them literally from one page.
Adsterra reviewed the top verticals in which advertising is most successful. These include:
Advertisers trust Adsterra not only for its affordable and simple service. It boasts improved security to eliminate scammers and other detractors. The platform boasts a convenient self-service service. This means that there is no manager, the user decides for himself how many campaigns and which ones to launch, at what time, and generally adjust any nuances. Also, an advertiser can count on partner help from Adsterra partners, and since there are a huge number of them, the necessary help comes very quickly.
There are several ad formats available for the advertiser, for example, pop-up banners with ads, or native ads. Each user will be able to find exactly the format that he needs.
Also Adsterra offers anti-ad blocking. This system bypasses well-known ad blockers, which on average increases revenue by 20%.
Information for publishers
Publishers also have their advantages, for example, a huge number of advertisers - more than 12 thousand, as well as 100% order fulfillment.
Desktop or mobile traffic is available. This is ideal for those who have their own blog on the Internet, and who want to make money on it from advertising.
Adsterra also offers traffic from well-known social networks such as Instagram, Pinterest, Facebook and even Snapchat.
Several types of advertising are available for publishers in  AdSterra,   among them are:
Popunder is a pop-up advertisement that opens in a new window. Provides 100% responsiveness.
Native ads resistant to ad blockers
Video ads. A short ad will appear in front of the main content of interest to the user.
Banners are the most famous type of advertising, and also the most successful and reliable.
PropellerAds is one of the highest quality traffic that has reasonable prices and all modern tools for arbitrage, campaign optimization, and routine reduction. There are auto-rules, smart bid optimization, integration with most existing trackers and large amounts of traffic in any GEO.
Propellads is a pioneer in the world of ad networks and pioneers in the fight against bots.
It is distinguished by the use of the most modern advertising formats and the maximum purity of traffic, high-quality support work and wide popularity among users.
PropellerAds boasts automatic ad optimization thanks to the presence of artificial intelligence in the system. He himself will configure the necessary parameters to achieve the best result from the advertising campaign.
PropellerAds is an AdTech company, providing powerful performance marketing solutions on a global scale. Founded in 2011, the company rapidly became the leading popunder traffic network, and then expanded into the native advertising world, growing into the most high-end Adtech platform.
The company also provides protection against fraud - it works only with reliable and trusted traffic providers so that the end user receives only high-quality traffic.
PropellerAds offers a one-stop self-service platform. This platform offers fast connections and convenient tools to customize your ad content. In addition, tools are available to view statistics on advertising in real time, which helps to track which campaigns are successful and which are not. This helps in making campaign decisions.
Available types of advertising
Pop-up notifications
One of the most popular types of advertising after classic banners. The user will see an advertising notification, even if he is not currently browsing the site. This works with both computers and mobile devices. This way you can send more than one million advertising notifications in less than a minute, and this is not all the unique features of PropellerAds.
Popunders
These are pop-up advertising notifications on the side of the screen or on top of the content being viewed. A very reliable advertising method, and if you consider that there are more than a billion active users in PropellerAds, the success of such advertising is 100% guaranteed.
Push notification on the page in the browser
This type of advertising has recently appeared on the market, but has already proved its popularity and success. Ads appear in the form of a regular push notification on both mobile devices and desktop versions. Such advertising looks very unobtrusive and organic next to the rest of the content on the site.
Native interstitial advertising
Interstitial advertising is the best way to get attention quickly and with high quality. It helps to find contact with direct, real-world ways.
Comparison: Adsterra vs PropellerAds
Having studied the material outlined above, we can conclude that Adsterra is much better in all criteria than PropellerAds. The first company has a huge number of partners in different countries of the world, and most importantly, it knows how to bypass ad blockers, which brings additional income.
Pros and cons of companies
The advantages of AdSterra include a huge set of affiliates, which allows you to quickly place ads in any category in any format. It also depends on the huge number of publishers - people who advertise on their sites. The service also successfully bypasses ad blocking, so that it will be delivered to every desired user.
The pluses of PropellerAds include its stable position in the market, it has been operating for more than ten years. It also includes a huge reach and a fairly large potential audience. The disadvantages of the company include a high entry threshold - from 1000 dollars. Also, if the account is blocked for some reason, the funds will be frozen and no one will return them, and the possible profit will also be missed. The disadvantages include a narrow selection of advertisements, which include  push notifications   and popunders.
---
---
---