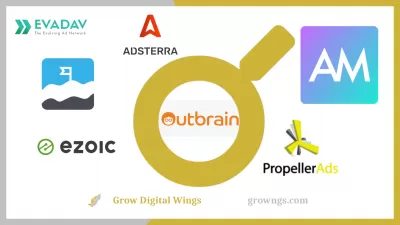 ---
---
Outbrain is a promotion tool designed for publishers to post content on top media sites as promoted stories. This allows you to get more reach for their content and reach a larger audience.
With Outbrain, you can create content, choose your daily budget and CPCs. Plus, there is an algorithm for improving Outbrain traffic in order to attract the largest number of readers.
Ad networks such as Outbrain are indispensable to maximizing revenues for web publishers. However, many website/blog owners look for alternatives to Outbrain. Some web publishers want to have more advertising networks in their arsenal, while others plan to maximize their ad revenue through multiple platforms. Regardless of the situation, there are multiple platforms on the market. However, picking the right alternatives to Outbrain is paramount. Let's dive deeper to find a few appropriate choices.
Alternatives to Outbrain
Outbrain is a renowned platform trading native, in-line, and pop-under adverts under CPA, CPM, and CPC basis. The network caters to thousands of site owners. Many publishers are tapping on the perks of this poplar network. However, you'd want to find other platforms as well. Essentially, you should check Outbrain alternatives to optimize your revenue.
Although hundreds of platforms exist, all of the networks aren't worth your attention. Some networks offer poor services. Then there are platforms with low pay rates. If you settle with ay such platform, your earnings will take a nosedive. You need to pick the best ones for your blog or a website. Here are the top alternatives to Outbrain.
It's a platform that streamlines and simplifies launching ad campaigns for publishers/advertisers. Adroll could integrate with other platforms such as WooCommerce, Magento, and Spotify. The interface applies machine learning for re-targeting and serving ads to high-intent users.
Features
Re-targeting of ads
Multiple advertising formats such as email, display, and native
Additional features - automated emails as well as abandoned cart recovery
Cross-channel optimization
Taps AI for better visibility on several channels
In-depth reporting
Requirements
You need to fit in spend minimums for a managed account
The network requires a sufficient credit balance for total weekly budget for advertisers
Payment Methods
Automatic Postpaid: The platform charges for ad impressions on weekly basis
For prepaid billing option, the network has set an upfront payment option for the weekly budget.
Postpaid option: For managed accounts, Adroll sends invoices monthly and has payment terms of Net 30 for a managed account
AdRoll Pros and Cons
Simple retargeting adverts
Intuitive user interface
Expensive than other platforms
Customer support is too slow
Needs extra funds for cross-platform advertising
The CRM list takes time before getting ready.
Score
On a 1 to 5 scale, the network scores 3.8 stars.
It's a popular ad serving platform with solutions such as cross-screen video, better ad quality, and media buyer console. You can enrich your monetization potential effortlessly using Pubmatic.
The network streamlines header-bidding with wonderful management tools along with access to Prebid.js. This is the main reason why it grabs its spot among alternatives to Outbrain. It presents private marketplaces for better control. Even better, the platform carries Real-Time Bidding for optimized results.
Audience encore, Openwrap OTT, ad quality tools, inventory quality, and identity hub are other services.
Features
Ensures better ad quality and protects your inventory
Real-time bidding for better connections and configurations with high demand sources
Open source technology to enrich omni-channel monetization
Identity resolution as well as A/B testing
Offers a unique, private marketplace with better demand and enhanced transparency
Requirements
Publisher need to own the site or be in a contract with the site/blog owner.
Payment methods
Net90 payment with $200 minimum
Various payout options
Pubmatic Pros and Cons
Has real-time bidding
Helpful analysis and innovative dashboards
Multiple markets for publishers/advertisers
Doesn't fully integrate with some mobile DSPs
Score
On a 1 to 5 scale, Pubmatic earns 4.5 star ratings with private marketplace and RTB technology.
It's one of the few networks that capitalize on the anti-adblocking technology (read our HilltopAds review). Still, Hilltop Ads isn't recommended for publishers with low traffic. However, he network stands out with its CPC, CPM, and CPA-based adverts along with real-time stats for big/medium publishers. As their adverts work on the anti-adblocking technology, publishers can earn for any traffic.
Features
CPM, CPC as well as CPA models
Anti-ad blocking technology
Requirements
Minimum traffic requirements for publishers
Payment methods
Publishers get paid via Bitcoin and Payoneer
Minimum payout is pegged at 50$
HilltopAds Pros and Cons
Real-time statistics
Ease of usage
Unsuitable for low traffic websites/blogs
Score
On a 1 to 5 scale, the platform gets 4-star ratings with its ease of usage and low minimum payout.
The network is amazingly unique with immense ad speeds (read our full PropellerAds review). Joining the platform is simple. Follow a simple process to check/add your domain.
It's possible to monetize Smartphones and sites under five minutes.
The network is compatible with various types of ads such as Banner Ads, Layer Ads, Web Ads, and PopUnder Ads. Propeller Ads sits among the best alternatives to Outbrain for publishers looking for a CPM model.
Features
Easy to test the service
Supports several ad formats
Requirements
No traffic requirements
Support non-English as well as English sites
Payout methods
Net30 payment
Various payment choices
PropellerAds Pros and Cons
Real-time reporting
Easy usage
Undesirable publisher experience
PayPal payment not supported
Score
On a 1 to 5 scale, the platform secures 4 stars.
Rated as one of the popular alternatives to Outbrain, AdThrive is a sophisticated platform offering personalized ad management solutions for publishers with guaranteed higher RPMs. The network has three publishers' solutions: Engagement, Revenue, and Growth.
Adthrive is perfect for markets such as travel, customer tech, lifestyle, sports, and food. It increases a publisher's revenue with tailor-made advertising strategies, intelligent solutions, and a committed team.
Features
Dashboards for real-time performance as well as revenue data
Custom-made ad layouts for increasing revenue
SEO solutions enhance RPM reporting, traffic source, and keyword strategies
Enables access to brand campaigns
Minimizes bounce rates through site performance plugins, core solutions, and JavaScript expertise
Requirements
Requires at least 10,000 monthly impressions, especially from US
Payment methods
Net-45 payment
Minimum payment $25
Supports multiple methods - Paper check, Paypal, ACH, eCheck, and Global Wire Transfer
AdThrive Pros and Cons
High RPM
Better customer support
Simple dashboards with updated revenue and performance insights
Enhanced advert quality
High minimum traffic requirements
Longer payment time 45 days
Score
On a 1 to 5 scale, the network gets 3.8 stars due to stricter requirements.
Ezoic takes pride in being a smart platform for any web publisher (read our full Ezoic review). But, how! The network taps machine learning for testing different advertising placements and advert choices to choose the highest-earning blend.
You can get into the platform easily. For this reason, it lands among the best alternatives to Outbrain. Also, there is no monthly sessions limit to join - any publisher can apply. The interface stresses vertical content. You may use their drag-and-drop tool and test locations for ad placements.
Features
Intelligent platform that applies machine learning for the benefit of publishers
Supports different ad formats
Requirements
No requirements - except having a website
Payment methods
Minimum payout pegged at $20 only
Supports multiple payment gateways
Pros
Location testing as well as reporting for advertisers/publishers
Simple to get into the network
Free SEO tag tester tool
Free video hosting and monetization solution
Free video collaboration solution
Free website optimization
Free CDN and website protection
Has so many free and amazing technologies, you can get lost
Score
On a 1-5 scale, Ezoic secures 5-star ratings due to its machine learning technology
It's a famous network that helps you monetize any traffic. Publishers enjoy full control over their blog/site and decision-making. Even advertisers enjoy particular perks using this sophisticated network
Monumetric caters to a variety of publishers and lets them monetize different categories of content and platforms. The network provides multiple ad sizes such as skyscraper, leaderboard, medium rectangle, in-screen, half-page, or post-roll/pre-roll videos.
Features
Constantly upgrade and innovate their technologies to offer the best bids
Assures monetization success with experts
Provides optimized data-driven ad strategies
Reporting available through customized dashboards
Measures impressions and tracks earnings fast, thus enjoying a place among top alternatives to Outbrain
Multiple monetization choices such as Propel, Ascend, Stratos, and Apollo
Requirements
Minimum10,000 monthly page views
Payment Terms
Paid out through various options
Net60 schedule
Monumetric Pros and Cons
Provides various ad units such as Mobile-optimized ads, Desktop display ads, and Inline video ads
Automatically serves adverts and helps you focus on content creation
Higher minimum traffic requirement -10,000 monthly impressions
Score
On a 1 to 5 scale, the network gains 3.6 star ratings because of high minimum traffic requirements.
It's a hugely popular interface that works for publishers as well as advertisers (read our full AdSterra review). Adsterra carries a big base of publishers/website owners and handles non-mainstream/mainstream verticals. Publishers can opt for a self-serve or a managed option. Also, they get chat support for issues that may pop up. So, you can have your issues addressed and resolved within no time.
Features
A/B testing for about 15 creative advertising
Can launch several campaigns
Quick set up of reports and in-depth targeting
Central, simple dashboard
Forecasts of traffic
API integration
Multiple formats - Banner Ads, Push Ads, and Direct Link
Requirements
No ad-cluttering
Publishers can start through chat support or personal managers
No minimum traffic requirement
Minimum deposit pegged at $100 for advertisers
Payment Methods
Mastercard/Visa, WebMoney, Paxum, Capitalist, Paypal, and Wire transfer
Multiple models –CPA, CPL, RTB, CPC, CPI, and CPM
AdSterra Pros and Cons
100% filling rate places the network on top
Anti-fraud protection
API integration
Flexible affiliate/referral program
Support 24/7
Managed and self-serve ads
CPM rates greatly vary
Minimum payout is higher for web publishers.
There is no online support
Score
The network earns 4 stars due to 100% filling rate and fraud-prevention tactics.
Evadav is a renowned network that offers monetization/advertising solutions for advertisers/publishers (read our full EvaDav review). The network ensures higher CPM and conversion rates. The platform maximizes yields and boosts revenue for website owners. That's why publishers rate Evadav among the best alternatives to Outbrain. You may monetize your site/blog with various ads (banners, interstitial ads, pop-ups, or sliders), thus ensuring a blend of revenues. That boosts your overall revenue from your site or blog.
Features
Supports CPA, CPM, and CPC
Minimum payment set to $25 only
Payment methods
Weekly payment on Mondays
Multiple payment gateways: Paypal, Paxum, and Skrill
EvDav Pros and Cons
Multiple payment options
Stats updates every hour
Reporting doesn't reflect traffic sources with low-click rates
Score
Evadav earns 4.5 stars due to quick and various payment options.
It's a proven network that presents monetization/advertising solutions for publishers/advertisers (read our full AdMaven review). AdMaven offers better CPM and conversion options for advertisers. The interface maximizes yields and enhances your overall revenue. This is why publishers endorse Ad Maven as one of the best alternatives to Outbrain.
You may monetize your property with different ad formats (banners, sliders, pop-ups, interstitial ads, and lightbox ads) that allow a diverse range of revenue options. In short, publishers get an option to make the most out of their web properties.
Features
Supported models: CPA, CPC, and CPM
Minimum payment is pegged at $50 only. However, the wire transfer route requires website owners to earn at least $1000 for payment.
Payment options
Payment methods: Payoneer, Wire Transfers, Paypal, and Bitcoin
Payment: 30 days
AdMaven Pros and Cons
Statistics updates quickly every hour
Various payment gateways
Basic dashboard
2,500 minimum impressions required per day - difficult for small site owners
Score
On a 1-5 scale, Ad Maven bags 4 stars due to minimum traffic requirements and basic dashboard.
Verdict on alternatives to Outbrain
Ad platforms pull up enough revenue for any publisher. They allow a regular income st4ream to publishers of all levels. However, the key lies in choosing the best networks. Although Outbrain is an innovative interface, it's best to look for top alternatives to this popular network. Take a look at each of the alternatives listed above. Assess each interface minutely. Also, check their perks and demerist. That should let you pick some of the best alternatives to Outbrain.
Frequently Asked Questions
What are Monumetric payment methods?

Monumetric is a very flexible system that has many different payment methods for its users. But initially, your site must meet the requirement of at least 10,000 page views per month.

What are the benefits of running Outbrain?

Outbrain is a promotion tool designed for publishers to publish content on popular media sites as promoted content. This allows you to gain more access to their content and reach a wider audience. With Outbrain you can create content, choose your daily budget and CPC. Plus, there is an Outbrain traffic improvement algorithm to attract the largest number of readers.
---
---
---