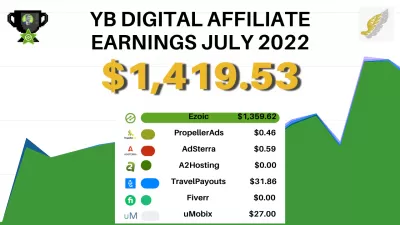 ---
---
Recurring passive income is a great way of earning money for marketers and content creators that want to grow digital wings.
We are using some of the best recurring affiliate programs for years, some of them being listed below, along with an evolving dashboard contaning our earnings report for the month, on top of a monthly evolution graph of these referral earnings.
To increase the income of your business, you need to analyze the evolution of affiliate sales for the month every month and draw conclusions about the effectiveness and profitability of each of the programs used. Therefore, we begin our analysis of May with the introduction of the  Ezoic platform   and its activities.
Ezoic is a reliable platform that allows you to test almost any type of advertising. You can test the size, color, placement and compare networks with each other. The main feature of Ezoic is that the platform studies the behavior of visitors and analyzes itself based on this data. That is, you can improve various factors of your site using automated analysis of behavioral factors. This process includes testing tens of thousands of different types of ad creatives, placements, site layouts, and so on.
In fact, this is a brief description of Ezoic. Yes, they have very good reporting capabilities, so you can see how much revenue each URL is generating on different devices. This is one of the main benefits.
Also a big plus is that advertising with Ezoic is tested directly on the site for which the ad is intended. This is done to increase the effectiveness of advertising, and, ultimately, a constant increase in sales.
Since Ezoic is an official partner of Google, the platform can easily optimize any display ad not only from Google Ads, but also from other sources.
The platform works on special machine learning algorithms, while taking into account all the nuances of ranking pages on the Internet, comparing them and offering the most successful solution.
According to the data presented, the revenue for May from Ezoic was - $1,536.94.
We can also see a significant increase compared to April, revenue has doubled. This amount is the largest for the entire time of work with this affiliate program. We confirm the fact that the partnership with Ezoic is very effective.
How to earn $1400+ of monthly passive income? See our referral partners and Ezoic affiliate proof of earnings: $1419.53 in July 2022
How to earn $1500+ of passive income? See our Ezoic affiliate proof of earning: $1564.35 in June 2022
How to earn $1500 of passive income? See our Ezoic affiliate proof of earning: $1589.41 in May 2022
This network is distinguished by the use of the most modern advertising formats and the maximum purity of traffic, high-quality support work and wide popularity not only in the CIS, but also abroad.
Existing since 2011, they are pioneers in the world of advertising networks, the founders of the fight against bots.
There are 4 top ad formats in the Propeller Ads advertising network.
Push notifications. The subscriber base is 600 million people. Classic format for desktop and mobile.
OnClick Ads (Popunder). The subscriber base is 1 billion users. High-quality pop traffic with a minimum number of bots.
In-Page Push. The subscriber base is 150 million users. A native push notification format that pops up on sites that allows you to bypass the ban on  push notifications   on iOS devices.
Natives. The subscriber base is 40 million real users. Banner ads are the fourth format available on the PropellerAds network. An ageless classic, which is still poured on the nutra, tovarka and other verticals.
PropellerAds generated $1.84 in revenue for May, according to the data.
This amount is indeed the largest for the entire time of working with this affiliate program, but this is a critically small amount for a month of partnership, compared with a partnership with Ezoic.
Adsterra.com is an advertising network for smart technology publishers. They claim 100% occupancy and take pride in their custom solutions.
In addition, the ad network offers the highest CPMs and protection from bad or malicious ads thanks to its anti-fraud systems.
It is easy to use and with its help it is extremely easy to reach an interested audience that will show outstanding results in conversions of any type of offer.
When it comes to making money on VPNs, Utilities, Mobile Subscriptions, Dating scams, it's hard to find a better option than Adsterra.
In addition, this is one of the few advertising networks that publishes relevant cases that demonstrate exactly how top arbitrageurs make money on the platform.
You can use them as an offer template to spend less time testing on your own.
If you love challenges, you can submit your Adsterra success story and get $200 when it's published on the blog!
The emphasis on arbitrage and a transparent approach to business has quickly led Adsterra to be named one of the best advertising platforms in the industry.
The company also takes serious measures to detect, prevent and combat fraud and spam. Each site and company is carefully checked using their own software, reliable third-party solutions, as well as personally by the manager.
According to the data, AdSterra earned $4.22 in May.
This amount is the smallest for the entire time of working with this affiliate program, but it does not differ much from previous months. This is also a critically small amount for a month of partnership, compared to an affiliate program with Ezoiс.
A2 Hosting is a company that offers web hosting services with simple tools that are superior in quality to any other web server.
The company offers quality servers, at competitive prices, a variety of plans for all types of users, whether they are specialists or not.
This provider is one of the most affordable servers on the market for the price. In some of its plans, it even offers competitive discounts unbeatable by competitors.
This allows you to perform actions such as creating profiles, protecting files on the server, installing applications and consulting on statistics in a matter of seconds. A distinctive feature is the customer support, with various forms of contact, with the help of one of the technicians, who is available 24 hours a day, every day of the year.
Cooperation with the A2 Hosting platform in May brought income - $0.00.
For the entire period of cooperation, the income was only once - in March 2021. Then every month there was no income. Based on this, we can draw a conclusion about the interaction with this platform.
The TravelРayouts travel affiliate program earns money together with its members by selling air tickets, hotels, tours, insurance and other useful travel services. Initially, in 2010, the program was part of Aviasales, then, after connecting third-party travel services, the program became a separate Travelpayouts project.
The affiliate program works simply: place links, banners or search forms of travel services and get up to 70% of TravelРayouts income for attracted customers.
Sales accounting is tracked through indicator markers. Sales are counted if the user used the service within 30 - 180 days. The terms depend on the specific tourist service, the marker is assigned to the user in the browser through a cookie (a text file with the site visit parameters).
The TravelРayouts program is suitable for webmasters, bloggers, travelers and anyone who occasionally flies on an airplane. There are no special requirements for participation in the affiliate program. Access to partner tools is available after registration in the program.
The main difference between TravelРayouts and other affiliate programs is that members can use it for personal purposes to receive discounts (up to 70% of the service's income) when buying plane tickets, booking hotels, getting insurance, etc.
A partner program member earns money by providing links to travel services on his website or blog, as well as by personal use for his own purposes.
According to the data about cooperation with the TravelPayouts platform, the income in May was $0.71.
This is a fairly small amount. I analyze the data for the period of cooperation, it is clear that the income is unstable and quite small.
It is an open marketplace of online entrepreneurship, where sellers – millions of people around the world – monetize their skills and abilities, providing themselves with an independent source of income, and buyers – ordinary Internet users – get access to a competitive market of workers ready to perform a variety of tasks.
Fiverr is an Israeli online freelance marketplace. It allows you to post ads and apply for small one-time jobs online. Jobs listed on the platform are very diverse. The company was built on the model of placement of temporary jobs. Freelancers work in a wide variety of jobs, from home to the office.
Fiverr serves as an e-commerce platform for freelancers and companies that sell their services using their gigs. The cost of gigs depends on how much the seller earns for the completed task.
According to the data, Fiverr made $20.00 in May.
This amount is an average when compared to previous months. But this is a small amount for a month of partnership, compared to the affiliate program with Ezoic.
The application allows you to view the contents of the address book on the desired device, keep track of new and existing contacts by examining personal information such as name, number and last interaction. It is important to note that even remote contacts can be accessed.
This means that you can use it to simply keep track of all the important details of the target device, as well as set all sorts of restrictions on it.
Ideally, uMobix works just like any other smart device tracking solution. Once you have installed the uMobix app on the target device, you can grant it the appropriate permissions and leave it running in the background. Because uMobix supports stealth mode, you can even launch it without being detected by the target user.
Now the application will run in the background and upload all this data to its cloud. Later, you can visit the uMobix Dashboard on any device of your choice to view this information.
According to the data, uMobix earned $25.70 in May.
This is the second month of cooperation with this platform, so it is too early to draw conclusions. But we can definitely say that this platform has growth prospects.
Choose the best!
After analyzing the activities of different affiliate programs, you can understand that different affiliate programs bring, respectively, different income. It all depends on the benefits of each. The analysis for May turned out to be quite positive.
Some programs are not as effective as we would like - their income is unreasonably small or unstable - PropellerAds,  AdSterra,   TravelPayouts. Other programs do not generate income for May at all - A2Hosting. For the two platforms, it is still difficult to draw a conclusion, it takes a little more time -  Fiverr,   uMobix.
Based on our May earnings data above, we can state that the  Ezoic affiliate program   activity is the most effective.
This is a guaranteed, consistently good passive income from web publications. So read the post and choose!
Frequently Asked Questions
What are the benefits of the PropellerAds affiliate program?

The main advantages of the PropellerAds affiliate program is the presence of global coverage, which allows you to monetize 100% of your traffic, and thanks to modern technologies, advertising using PropellerAds can bypass blocking, and at the same time be

Can I see examples of Adsterra arbitrage?

Adsterra is one of the few ad networks that publish actual case studies showing exactly how top arbitrageurs make money on the platform. You can use them as a proposal template to spend less time testing on your own.
How I Earned $1500 Of Passive Recurring Income In May 2022?
---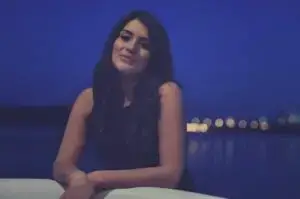 ---
---
---