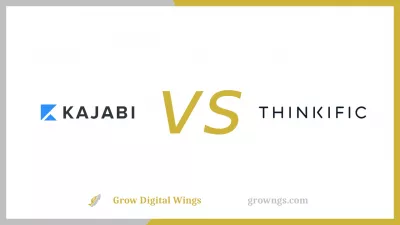 ---
---
Kajabi and Thinkific are one-stop online platforms that will help one group of users create and sell their courses, and another part to purchase them and start practicing on them.
Today, there are quite a few online sites that provide an opportunity to publish online courses and then sell them. It is much easier for users to choose from a large number of offers than looking at each site separately. Therefore, resources such as Kajabi and Thinkific have become very popular lately.
Kajabi vs Thinkific: Which is Better?
The 21st century is the time of online education. Moreover, we are not talking specifically about obtaining higher education or taking advanced training courses or professional retraining, but also about obtaining additional knowledge, for example, in courses conducted by specialists in a particular field. This issue became especially relevant during the pandemic, when many people were locked up at home, and it was necessary to occupy themselves with something. Someone decided to pump their existing skills, and someone decided to expand the horizons of their experience.
Of course, the creators of the courses benefited from this situation, because they only had to find a good platform for posting their content with the possibility of its further sale. Today there are a large number of sites where you can register your courses and start selling them. Kajabi and Thinkific are some of the most popular Internet resources in this area. Let's consider each of them in more detail and determine who will win in the battle of Kajabi against Thinkific.
Kajabi: site features
Kajabi is a platform through which users can create complex information products for online learning and other purposes. On this resource, you can conduct teaching activities, create and sell information products, as well as solve various administrative tasks.
Kajabi is a platform for marketing, selling and sharing information products online. This is an opportunity for users to post a variety of content with additional template options.
It is a complete solution, from hosting to creating a website and receiving content in the form of your Kajabi courses, to promote content and generate income.
Creating your online course through Kajabi means that the website will be search engine friendly, which will effortlessly attract more business customers.
In addition, comparing Kajabi vs  Thinkific,   it should be noted that on the first site you can adjust the cost of courses, open and close access to them after payment, as well as send mailings, conduct business analysis, etc.
Who is this platform for?
This platform will appeal to beginners due to its simplicity and intuitive interface.
The main features of Kajabi should be highlighted:
1. Creation of a special website design.
Kajabi is a service that will help with the design of a web resource, making it visually pleasing and providing it with high conversion. Users are offered several professional themes that they can customize according to their wishes. This will help to increase the ranking of the site in search engine results.
2. Creation of online courses.
In this matter, the site gives users absolute freedom. Here you can add or remove courses, edit the content of the lesson, use special marketing tools, including: pricing, promotions, free sets of lessons, etc. The platform provides full automation in management. If desired, you can customize the workflow, and Kajabi will already perform the selected actions if the specified parameters and criteria are met. For example, in order to receive a certificate or a letter of appreciation, the student must complete training. The site will perform these actions automatically. No intervention from the course creator is required.
3. Using pipelines.
This feature will allow you to get an accurate picture of the customer journey, from marketing to selling. Kajabi will offer a set of ready-made templates that can satisfy marketing goals, including: product launch, use of free offers, etc. Due to the technology offered by the site, you can automate all stages of the conveyors, including email, page where content is posted, landing pages and etc.
4. The quality of the pages.
A constructor will help provide the necessary indicators, which makes it possible to create excellent landing pages in order to interest future customers.
5. Mobile application.
This tool will allow you to have access to courses anytime, anywhere. The main thing is the presence of the Internet. This will appeal to both the creators of the courses and the listeners, because they can use the materials wherever it is convenient for them: at home, on the road, in line, etc. in addition, the application will notify about updates, about future events, etc.
6. Analytics tools.
On  Kajabi,   the user can easily find reports on income, subscription rates, churn and inflow of students for the desired period of time. Such an analysis will allow you to understand what the courses lack, what needs to be added in order to increase the number of clients, etc.
7. Convenience of payment.
Kajabi integrates with PayPal and Stripe. This ensures instant payments. It is also interesting that the site has an advantageous difference in this matter from other platforms of this type: it does not take a percentage of the income of the course creator.
Pros of Kajabi
The benefits of Kajabi include:
The presence of built-in tools for creating sites. Anyone who needs to create web resources with a minimum of effort will be offered a large number of templates for work.
Having a blogging platform.
The presence of a built-in ability to implement e-mail newsletters.
Ability to create and host web conferences.
The possibility of using different types of content in the learning process: audio, video, quizzes, polls, pdf files, etc.
Cons of the platform
However, Kajabi also has some disadvantages:
Quite high cost of providing services.
The need to spend time exploring the capabilities of the service.
In comparing Kajabi versus  Thinkific,   it is necessary to consider the possibilities of another site.
Thinkific: purpose and features
Thinkific is a software platform that enables the creation of courses and their subsequent sale. At the same time, you can create information products in any area: art, business, management, marketing, finance, etc.
Thinkific is an online marketplace that offers its clients a long-term, interesting and, most importantly, a free option for selling courses. Of course, if you want to use a large number of tools offered by the site, you can buy them for an additional fee. However, even the free version offers quite a few interesting tools and technologies. At the same time, almost all other similar sites make it possible to test the service for no more than 14 days. In rare cases, the free version lasts 30 days. After that, you will need to buy a membership on the site.
Using a free data plan, you can do the following:
Create and customize up to three courses.
Add your brand.
Receive payments from listeners.
Conduct a drawing.
There are some other additional interesting features of the site:
Conducting quizzes and discussions among students of the course.
The design of courses and Internet showcases in the same style as the official website of the company. That is, when users land on the page of a specific course, or on the speaker's home page, they will understand where they are. Thus, the promotion of a personal brand takes place. It becomes recognizable.
Creation of preliminary lessons.
Issuance of certificates of completion of courses.
Thinkific Benefits
Among the advantages of the site are:
The ability to customize your storefronts and pages the way a specific user needs. In other words, there is no rigid framework for creating a design. You can use your own logo.
The ability to create and configure a domain. In this case, it will be reflected as part of the user's website.
No fees charged for transactions.
The presence of a large number of tools for presentations, the ability to simplify video creation. For example, the speaker's voice can be superimposed on the corresponding video sequence.
Several payment options.
The ability to use special coupons. Such a marketing trick will attract a large number of customers. after all, many people like discounts and want to get a course cheaper.
Cons of Thinkific
The disadvantages of the project include:
Lack of tools for promoting information products.
Technical support is available in English only.
The inability to customize the chat with the listeners.
The inability to enter documentary support, that is, acts of work performed, invoices, etc.
However, with all these disadvantages, Thinkific is one of the favorite sites of users, because the service makes it possible to create online courses for authors with different levels of training, and the availability of a free plan is an indisputable advantage among many competitors.
Conclusion: Kajabi or Thinkific?
Thus, when determining which of the platforms is better: Thinkific or  Kajabi,   you need to focus on your own requests and wishes and compare them with the opportunities offered by the platforms.
---
---
---