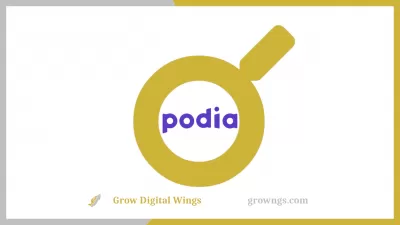 ---
---
With a Podia review, you can better understand the key features and benefits of an online course and service marketplace. The program offers two versions of payment, there is a free version (for 14 days). Podia is a smart choice for getting new customers. The possibility of conducting courses and webinars at the international level is offered. Fast payouts and personal data protection are guaranteed. Take your business to the next level with Podia!
Podia is a platform for selling online courses and digital downloads. This is a multinational, international platform that offers students the opportunity to learn according to a unique method, and lecturers / teachers / artisans - to present material and conduct sales using their own technique. With Podia, anyone can start learning or teaching / selling from scratch.
Podia's goal: to help businesses grow internationally.
Main goals: provide a constantly growing audience, increase sales levels, give students the opportunity to study courses in different profiles.
It offers a user-friendly interface, a huge variety of courses and the opportunity to use a free trial to evaluate all the advantages and capabilities of the platform.
At a Glance: Key Points
A detailed Podia review clearly shows that the platform has a wide range of customization options, competitive prices and a practical interface to use, the options of which will be easy and understandable even for novice users.
Feature highlighted on E-Commerce Platforms: flexibility for selling courses and webinars. There is no standard template for how to sell or lecture. The person himself is the director of his own course of study. This allows you to collect in one program the strengths of the previously offered courses.
Positive characteristics
Podia is ideal for aspiring entrepreneurs and those planning to take online courses for the first time. Excellent student experience guaranteed. Thanks to regular updates and improvements, the program is constantly being improved, gaining new options and characteristics. Users have the ability to suggest innovations that they would like to see in the program. There is a forum and communities for this. Podia programmers, along with a large friendly team, always listen to the opinions of users. This serves as a permanent wheel of progress.
Among the pluses of Podia:
Flexible sales technology (for webinars and courses).
Competitive prices.
Regular updates of the functions and characteristics of the programs.
Simple and user-friendly interface.
Wide range of parameters for customization.
Free trial available.
Podia, according to E-Commerce Platforms, is available to everyone. Regardless of the level of training and degree of professionalism, you can choose the best course specifically for your needs. Having a free trial allows you to better understand the capabilities and capabilities of the platform. Moreover, learning in a multinational environment increases the chances of success (a person gains more experience and broadens his horizons by communicating with representatives of different countries and continents).
A few words and cons
While doing a detailed review, one cannot fail to mention several disadvantages that Podia has, among them:
For a seller with low sales volumes, this is not the best platform choice. Podia is more focused on medium to high-volume sellers.
Limited automation capabilities.
Limited analytics capabilities.
Other disadvantages include rather weak support when it comes to the back-end, as well as a rather long path to promotion with small opportunities and standard business conduct. The competition is too high, so you need to significantly stand out from the rest in order to provide yourself with an audience and regular subscribers.
Creator friendliness index
However, as our video review shows, Podia is extremely simple to use – especially since they introduced the free plan, which allows for any content creator to start monetizing its product or build its community in minutes.
They have even been rewarded by the independent creator friendliness index as the content creator friendliest interface available on the market.
They are overperforming their competitors in two different categories: the availability of migration services, and the customers import / export options, which are crucial component for creators thinking about long term collaboration with a publishing platform.
Key Features: How Podia Works
Before talking directly about the options, you need to say about the four categories that are presented on the site:
Email marketing.
Digital downloads.
Online courses.
Membership.
Each category has its own characteristics and functions. Before starting a business on Podia or enrolling in a course, it is recommended that you familiarize yourself with each category in order to choose the one that best suits your needs.
Email marketing
A special feature of email marketing is that it is actually integrated into other modules such as digital and online courses. Email marketing includes an option such as mailing. This allows you to constantly remind your target audience of yourself. To track the effectiveness of the mailing, the option to check the click-through rate is used.
Digital downloads
This category allows you to sell a wide range of products, from audiobooks to digital music. Among the files upcoming for sale, there are options with the addition of audio, video, cheat lists, PDF files. To increase the conversion rate, a quick check is used, which is optimized for the key options of the program.
Online Courses
The first step is to work with the basic template. It has a simple and intuitive interface. This is a kind of foundation for getting started with your own online program. The seller can upload any file and create a template optimized for their own requests. Podia allows you to stand out, thereby guaranteeing itself a large number of subscribers and buyers / students.
Membership
Support with all participants is possible thanks to the exchange of letters, which can be supplemented with audio and video materials, graphic images. These are the links used by Bundling products. They also include the possibilities of online courses and digital downloads.
Price policy
Every beginner can get familiar with the features and capabilities of Podia through a free trial. The free version that is now available will be great for new business owners to try their products, and see how they are working, in exchange of an 8% commission on sales, and no commitment, these functionalities will be available:
Create a full website on a Podia subdomain,
Start with email marketing with up to 250 emails per month,
Live chat,
Build your community,
Sell one download / coaching product,
Draft courses and webinars.
Once you will have tried your business and got your first sales, you can easily switch to a paid plan that will waive the commission fee in exchange of a monthly or annual fee, which will surely be more profitable to you should your product be successful.
Among the paid versions, 2 options are available:
1. Move plan
The user gains access to basic functions and capabilities. Drip course content is provided.
2. Shaker plan
A basic package available to the participant + a list of advanced features such as integration assistance, onboarding, advanced traffic, memberships, affiliates and drip course content. The first package will cost $ 33 a month, the second $ 67. While Podia is not the cheapest way to start and promote an online store, it is a good start-up option.
Generally speaking, both Podia plans offer the following benefits:
Unlimited digital download options.
Electronic mailings.
A custom domain for selling goods and services from a personal site.
Instant payments.
A set of tools for exporting data.
Preloading product pages.
High resolution checkout page.
Payment and personal data protection system.
Podia invites users to track the actions of customers, see how long they have been on the site, what goods and services they were interested in. This allows you to analyze the relevance of the request and correctly configure options in Google AdWords.
And now a short podia review 2022, fresh and objective.
Podia is one of the BEST digital selling platforms we've ever seen! Simple, fun and pleasant interface surpasses all its competitors. With Podia you have 0% transaction fee on sales whereas Teachable charges you 5% even on their premium plan. They are creator oriented. Even if you don't have any special or programming knowledge, you can host and distribute your content, build a good showcase, and start offering it within hours. And as a nice bonus, there is a 14-day free period.
A few words in conclusion
Podia is a marketplace for selling online courses, memberships, and digital downloads. It is an online platform for successful business, although experts highlight high efficiency for more competitive clients, for example, representatives of large businesses. Private entrepreneurs need more time to build an audience and start making money.
The platform offers an unlimited number of courses, secure payments, the possibility of international collaboration. This is an excellent choice for both developing a new one and creating an additional source of income for an existing business.
★★★★⋆
Podia Review: Functions, Features, Prices
 Podia is a marketplace for selling online courses, memberships, and digital downloads. It is an online platform for successful business, although experts highlight high efficiency for more competitive clients, for example, representatives of large businesses. Private entrepreneurs need more time to build an audience and start making money.
---
---
---