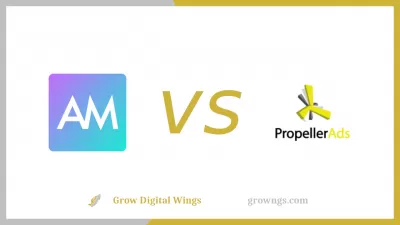 ---
---
You've tried your hands on Google Adsense, it's just not adding enough cents (pun intended). As a website publisher, you're looking for ways to best monetize your site with ads, and are now weighing in on your choice of ad networks: Admaven vs PropellerAds.
We're here to help you decide which of the two advertising networks is best for your publishing needs: Admaven vs PropellerAds. We'll be going through the main benefits and drawbacks of these two advertising networks.
What characteristics of these two ad networks should you consider when choosing between the two? Which ad network, Admaven vs PropellerAds, is best suited to your website's content, niche, traffic sources, and volume? We've identified four factors that will help you decide which one is suited for your website.
Ad network - inventory size
Terms for publishers
Ad formats and their quality
Payment methods
Admaven is a self-service ad network that is known for its popup, popunder, and push notification ads. Admaven advertises globally, which means that they also accept global publishers (read also AdMaven AdSense alternative).
1 - Admaven's' inventory size
Admaven is a direct seller of advertisements and where the ad network places ads on publishers who have signed up with them. For publishers to know the ad inventory size is important for publishers to determine whether there are enough ads to be shown on their websites. The more ads are shown, the more money publishers will make
Unlike other ad networks, Admaven does not state its numbers on its website, so there are no known ad impressions for the ad network. However, it is reported that Admaven has 2 billion ad impressions. Admaven does boast 1 billion of traffic to advertisers based on Admaven's publishers' total volume of traffic.
2 - Admaven's Terms for Publishers
Unlike other ad networks we have reviewed, Admaven requires that publishers have at least 10,000 website traffic per month.
In terms of what type of content Admaven accepts from publishers, it does not specify what content they accept and prohibit. Nonetheless, Admaven accepts advertisers who advertise in ad verticals such s Nutra, casino, forex, and dating, which means there is a likelihood that Admaven would also accept these content niches from publishers.
3- Admaven's Ad formats and Quality of Ads
Admaven has multiple ad formats which are popup, native push, push in-page, ads floater (in-page banner), lightbox, interstitial, and content blocker. Its most popular ad formats are popups, push in-page, and native push ads. Popups and push in-page (pop-under ads) are known to perform well for publishers. Its native push ads are compatible with Google's policies and publishers can use this format together with Google Adsense.
Admaven is one of the few ad network companies that have an anti-adblocking solution. With an anti-adblocking solution, publishers typically see a 20% increase in revenue. as it is estimated that at least 27% of internet users in North America install adblocking software.
In terms of the quality of ads, Admaven serves all ad niches, including niches that are not supported by Google Adwords and Google Adsense such as crypto and others, as mentioned previously.
4 - Admaven's Payment Method
The advertising network requires a $50 minimum payout amount which is payable via PayPal, Payoneer, ePayments, and Paxum. Payments via bank transfer require a minimum amount of $1,000.
Admaven Pros and Cons
Ads are monitored for safety and security, and no malware
Good, responsive customer support
Anti Adblocking software
No dashboard for publishers, only clunky reporting
Higher payout threshold of $50
Admaven Ratings - 4 stars
★★★★☆
AdMaven Ad network
 Admaven deserves a 4-star rating for its ease of ad installs, good customer support, and anti-ad blocking software. Its lack of a good dashboard brings its ratings down to only 4 stars.
With PropellerAds, there is an added ability to earn advertising revenue from social media accounts as well as from regular websites (read our full PropellerAds review). The ad network is a self-serving ad platform where publishers can select which ads to show by using PropellerAds' user-friendly dashboards.
Initially, PropellerAds worked with pop-under traffic, with popup ad networks. Over time, other advertising formats were connected. Now advertisers can work with different types of advertising. Advertising formats differ from each other, but the setting has a common essence.
1 - PropellerAds' Inventory Size
With daily impressions of 12 billion, PropellerAds have a larger ad network size. This number is good news for publishers as it assures publishers that their ad spaces will always be filled with ads, and hence revenues to the publishers.
2 - PropellerAds' Terms to Publishers
PropellerAds does not state the minimum traffic requirement for publishers to join their ad network. In terms of content niches,
PropellerAds only accepts websites with mainstream content such as news, business, blogs, and lifestyle. They do not accept content that is prohibited by Google Adsense. PropellerAds also only accept publishers with websites that are on paid hosting, as they do not accept publishers on free hosting platforms such as Blogger, Weebly, or Wix.
3. PropellerAds' Formats and Quality of Ads
PropellerAds offers push notifications, interstitials, pop-under ads, banner ads, and smart links. For social media marketers, smart link ads can be placed on the marketers' social media profiles.
In terms of the quality of ads, PropellerAds uses applications to monitor their ads constantly to ensure no malware, or unwanted ads are shown. There is also manual monitoring of ads. In addition, PropellerAds are Adsense compatible whereby you can still use Adsense ads alongside PropellerAds.
Just like Admaven, PropellerAds has anti-adblocking software that enables all of their ads to be shown even on browsers that have the adblocking software installed. This only means more ad revenue to publishers.
Even though PropellerAds only allow mainstream topics for publishers, the ad network does accept advertisers in the crypto, gambling, dating, and other grey verticals.
4. PropellerAds' Payments
PropellerAds has a minimum withdrawal limit of $5, payable weekly. They pay via PayPal, Payoneer, Skrill, ePayments, and WebMoney. Wire transfer is also available at a higher payout amount.
PropellerAds Pros and Cons
Large ad inventory
Anti-adblocking software
Lowest payment threshold
Adsense compatible
Mainstream topics only
Publishers from paid hosting platforms only
PropellerAds Ratings - 4.5 stars
★★★★⋆
Admaven vs Propellerads -Choosing between Ad Networks
 PropellerAds is worth 4.5-stars for its large volume of ad impressions, ease of use for social media marketers, and low payout threshold. PropellerAds' anti-adblocking software is another winning factor for the ad network.
Summary
Comparing Admaven vs PropellerAds, the winner is PropellerAds with its large ad inventory, and lower payment threshold. Nevertheless, both have anti-adblocking software that makes it easier for publishers to earn more ad revenues.
---
---
---