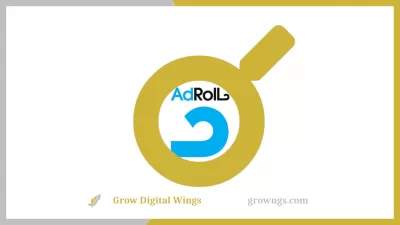 ---
---
AdRoll review - this article was created specifically to understand what AdRoll is and what this platform is for.
AdRoll is a leading marketing platform with over 25,000 clients worldwide.
AdRoll account is an easy-to-use ad placement, the ability to track the performance and settings of your campaign through an easy-to-use platform. You can also easily integrate AdRoll with top marketing apps.
AdRoll is about retargeting. This is a modern tool that allows you to quickly find your own customers in the vast Internet space. This tool works quite simply:
The visitor enters the site, views it, then exits;
Goes to another site and sees on it an advertisement of the site from which you just left;
The visitor returns to the first site and makes a purchase on it.
This company dates back to 2007 by a company of people who have some experience in optimization and creative strategy.
The starting version of AdRoll offers a fairly extensive personal account with impressive functionality. In addition, a partner network is offered with such giants as Google, Microsoft and other large companies.
After registration, the user can work in the system for free for two weeks. There are two options to choose from:
Advertising will be shown in desktop versions of sites that participate in affiliate programs;
The option in which ads will be shown on social networks such as Facebook;
AdRoll is the best retargeting company as it has a team of professional specialists who try to make analytical and behavioral data completely transparent and accessible. This is done so that an ordinary ordinary manager can figure out the information received.
AdRoll: Digital Marketing & Growth Marketing Platform
Ecommerce Offers
There is a very lucrative offer for e-commerce - you can connect your store in just a few minutes in a couple of clicks. This is necessary in order to seamlessly integrate the AdRoll marketing platform. The strategy adapts through email marketing, AI-powered product recommendations, and multi-channel measurements.
With AdRoll, you skip all the hard technical work. Connecting a store can be done in just a couple of mouse clicks, and smart AdRoll integration will do the rest of the hard work. Thanks to this, the company places its special technologies inside the store, this helps to collect all the necessary data in a short time.
In addition, AdRoll helps solve the cart abandonment problem. It does this by allowing the store owner to offer highly relevant recommendations to their customers using dynamic product recommendations, ads, and email. All this is supported by an intelligent forecasting system.
Shopify
AdRoll is able to combine several approaches at once, which allows you to achieve the best effect. For this, advertising, email is combined, and as a bonus, there is an individual approach for each store.
Replace point solutions for each channel with one platform that makes them work together. Get a higher ROI with personalized product recommendations in ads, email and your online store, powered by AdRoll's unique marketing system. According to statistics, on average, shoppers targeting both emails and ads are twice as likely to convert, and are up to twice as fast as shoppers who only see ads.
Since AdRoll has been on the retargeting market for a long time, this team knows which customers are most likely to become yours. Thanks to artificial intelligence, special unique campaigns are created that are able to recover abandoned carts.
Shopify
WooCommerce
Drive new customers to your WooCommerce store and promote them along the buyer's journey with AdRoll integration.
You will be able to increase customer loyalty through personalization. Move previous website visitors and email subscribers along the way to purchase with AI-powered audience targeting options that combine your data with powerful technology from AdRoll.
You will be able to attract more customers like your current customers. To do this, you must choose your customer targeting options or let AdRoll's artificial intelligence do it.
All marketing tools are stored in one place. Therefore, you will be able to manage your omnichannel campaigns on one platform through email marketing, advertising, analytics, attribution, segmentation and website personalization.
Functional:
Multi-channel attribution;
Advanced audience targeting;
Advertising that increases brand awareness on social networks and the Internet;
Dynamic advertising;
Retargeting advertising;
Email Marketing Automation;
Recommendations for AI-powered products in your online store.
WooCommerce
BigCommerce
Find and attract more customers for your BigCommerce store with AdRoll. Connecting a store to this platform makes it possible to receive more accurate data, more accurate analytical information and create campaigns that connect with customers at the right time and in all the right places.
Discover powerful personalization options that will keep customers coming back for more. AdRoll personalization solutions enable you to grab customer attention with dynamic ads, email, and an on-site product recommendation engine.
AdRoll helps you reach your goals every step of the buying journey by providing solutions to help you make better decisions with more accurate data, grow your brand, convert visitors to customers, and increase customer loyalty.
See how all of your campaigns work together to drive revenue, easily spot trends, and find top conversion paths with AdRoll's multi-channel measurement solution.
Functional:
Multi-channel attribution;
Advanced audience targeting;
Advertising that increases brand awareness on social networks and the Internet;
Dynamic advertising;
Retargeting advertising;
Email Marketing Automation;
Recommendations for AI-powered products in your online store.
BigCommerce
Magento
Create a product feed, start collecting site data, and easily complete your AdRoll registration by implementing the AdRoll Magento extension. With this extension, you will be able to obtain more detailed information that will help you create a personalized experience on your website, in ads and email, as well as find new customers similar to those you already have. AdRoll's multi-channel dimension dashboard helps you go beyond last-click attribution while giving you the tools to zoom out to see the entire customer journey and zoom in on individual points along the way.
Combine your customer data with AdRoll AI to create a converting personalization experience. Access an arsenal of tools such as dynamic ads, email, and product carousel.
Consolidate your marketing stack to avoid wasting time. The AdRoll platform gives you all the essential marketing tools in one place to help you streamline your campaigns, leverage your data, and connect with your customers.
You can easily spot marketing trends with multi-channel attribution to find top conversion paths and other insights to help you adjust your budget faster.
Functions:
Multi-channel attribution;
Advanced audience targeting;
Advertising that increases brand awareness on social networks and the Internet;
Dynamic advertising;
Retargeting advertising;
Email Marketing Automation;
Recommendations for AI-powered products in your online store.
Magento
Marketing platform
Marketing recipes make it easy to address specific challenges or goals. The AdRoll platform has a solution for all emerging issues.
Recovering an abandoned cart. Display ads work, but display ads and automated emails work wonders.
Retargeting. Identify and reach out to visitors wherever they are online, on any device. AdRoll retargeting leverages trillions of data points to help you deliver what current and new customers want.
AdRoll brings your brand to an attentive audience on leading web and social media platforms, as well as 500 other sources. You can easily create campaigns, including video, media, electronic and native.
AdRoll digital marketing software gives you continuous and deep insight into your customers through online and social media ads, email and your online store, so you can customize them in real time.
Find more clients
Give your message to the people who are most likely to respond. Target ideal customers by gender, age and location, as well as hobbies and interests.
Find content your customers love - articles, infographics, additional product ads - and then place your brand next to it.
Synchronize the tools and apps you already use with the AdRoll ecommerce marketing platform to gain more customer insight and improve your ROI.
Build profitable relationships
AdRoll has attracted over a billion buyers. The platform's customer engagement software helps you get your messages to the right place at the right time, transforming more browsers into buyers.
AdRoll feeds the products that visitors have viewed into display ads and site recommendations to generate interest and encourage purchase. Reach out to customers after critical events such as buying, registering, or abandoning a cart. This can be done using an e-mail newsletter, for which there are more than two hundred designs on AdRoll for creating professional letters.
Protect data from fraudsters
Become the brand that everyone trusts. Managing digital marketing with AdRoll, data privacy management software meets global norms and standards. This privacy management software ensures worldwide compliance. When customers trust your data collection and use, you can focus on growth.
---
---