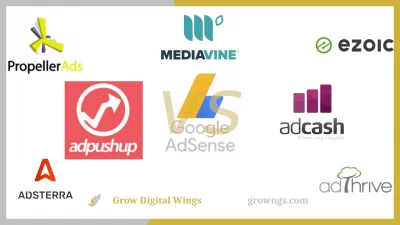 ---
---
Are you choosing a program to optimize your income and advertising on your website? We suggest that you familiarize yourself with the following platforms and find the best one for you!
All Adsense Alternatives
AdSense is a popular platform for optimizing ads on your website. The platform allows you to conveniently place banners across website pages.
Adsense is backed by Google - the largest search engine in the world. Thanks to him, the site has high traffic. Registration is simple and convenient, the most used and necessary layouts for the distribution of ads are presented. Some of the most famous brands use this service.
An important advantage is that the program pays for clicks on ad links and banner clicks.
Are there better and better Adsense alternatives?
Adsense vs Ezoic
Ezoic is renowned for generating good income for its customers.
Monitor sales statistics and advertising performance in real time through the program. Change the position of banners as you like, thanks to a variety of layouts and forms.
Good traffic to distribute any product, from small games to luxury stores. Increase your profits thanks to the website.
You can work in Ezoic both through a computer from home and through a mobile phone. The interface in each version is convenient and practical, there are no problems in management.
The platform has a large number of partners and networks with which it is compatible. Thanks to them, product advertising will spread to other sites. This opportunity gives you excellent profit growth from third-party sources.
Even the support is very responsive and gives great and fast answer, when it isn't already available in the large knowledge base, or in the community discussions.
On top of the standard support and community, each publisher get assigned a personal Publisher Success Manager – an Ezoic employee, specialized in helping website increase the EPMV and visits, to make sure that you make the most of your website.
Hopefully, by either accessing the Ezoic community forum on their website, you will get an answer very fast.
EPMV vs RPM: How to earn more by understanding your statistics, and increasing your earning per session instead of your earning per page
They also organize weekly Zoom calls in which you can ask any question you like to one of their specialists.
Finally, by becoming an  Ezoic premium   member you will get even faster and personalized support access.
Ezoic Premium Review – Is It Worth It?
Since Ezoic is more versatile, in this battle I would like to give preference to this platform. Adsense does not have as many ad forms and so high traffic, so Ezoic is preferred.
Adsense vs AdSterra
One of the most multifunctional sites, because it started working back in 2013.
To this day, the company is actively developing, it has more than 25 thousand regular users who earn money thanks to the site.
AdSterra has high traffic compared to other sites. And an equally important advantage is that it has traffic across many countries and regions of the world. Your products will be distributed all over the world.
The platform offers the most necessary products from the existing ones: utilities, gambling, subscriptions and others. In addition to products, you can use popular themes: Music, Movie, Anime, Entertainment, Streaming and others. Wide scope for the development of the company.
The most sought after brands, popular bloggers and growing companies are using AdSterra. The administration of the platform carefully hides information about its users, even employees must go through a special check in order to gain access to the moderation of AdSterra.
Use a variety of layouts for the most profitable ad placement. Limit yourself to a small banner or diversify the site with push notifications, images or video formats. The site offers an exclusive banner format created by the AdSterra administration for clients.
The platform is easy to manage, has high traffic all over the world, a huge number of layouts for a profitable distribution of ads, suitable for both small sellers and large brands in the market.
AdSterra is a proven option for both novice and experienced users. We suggest taking a closer look at this site.
Adsense vs PropellerAds
PropellerAds is an old company since it was founded and launched in 2011.
About 190 countries covered by the traffic of this program. Your product will be known not only in large countries, but also in other parts of the world. You can find brand buyers in other countries as well.
A wide range of resources and options for original and ergonomic banner distribution. You will be able to distribute ads in the best possible way, while maintaining the appearance of the site.
Advertise anything: clothes, cosmetics, cars and other products, PropellerAds is suitable for absolutely any product.
The program stores information, all user data is safe.
The downside is the high deposit that you need to make to work on the site. After paying in the amount of $ 1,000, you will have access to a huge range of themes and site resources. Follow the rules to avoid blocking your account. Withdrawal of funds will not be possible if the page is frozen. It is impossible to restore access. Only the most used banners are available, no special layouts are offered.
PropellerAds provides good traffic, popular layouts and great advertising for your product, but the price cap is quite high. AdSense provides equally high traffic, a large number of ad forms and allows you to advertise any product.
Here we would like to give preference to Adsense.
Admaven is an online advertising platform that offers publishers an adaptive platform of ads with easy integration. They offer publishers anti-adblocking solutions.
Basics: Publisher Requirements and Payments
Admaven requires at least 10,000 visitors per month before joining its network. Admaven offers global traffic which means that it accepts global publishers. Admaven offers gaming, sweepstakes, and dating ads to advertisers, it is possible they also accept these content types from publishers.
Admaven requires a $50 minimum payout amount which is payable via PayPal, Paxum, ePayments, Payoneer,
Admaven Advantages
Admaven offers an anti-adblocking solution for publishers. Given that at least 27% of North American users use adblocking software, it will only add to publishers' revenues with this solution in place. Admaven has a reputation for higher CPM earnings for publishers.
Admaven Disadvantages
This ad network does not have basic reporting tools as it does not offer a user control dashboard. Its user interface is also clunky and a little outdated.
AdMaven pros and cons
Anti-adblocking
Higher CPM
No basic reporting
Clunky user interface
Namely:
Global Reach - Inventory in 250 GEOs;
Trusted by advertisers - more than 10 thousand active campaigns per day;
Trusted by publishers - over 60 million active subscribers.
Main benefits of evadav ads:
100% brand safe - all your creatives are tracked with machine learning algorithms and manually reviewed to ensure 100% brand safety and the best user experience.
High CR/CTR - by matching the best offers with the relevant audience, increasing the effectiveness of advertising campaigns.
100% fraud protection - the solution automatically cuts off any bot or suspicious activity, providing only real users and live audiences for campaigns.
Target group - the ability to target the audience by GEO, City, OS, browser, language, device, subscription age, telecom operators.
Premium inventory - access to premium publishers and target audiences that best match the offerings.
Creative policy - ability to test up to 5 ads in one campaign and select reliable sites.
High volume - more than 1.5 billion impressions are delivered to advertising partners daily, delivering a high ROI.
Ad formats - get advertising opportunities with EVADAV ad formats customized with different target links.
Moderation 2 minutes - campaigns and ads are moderated for an average of 2 minutes for any time, zone, region.
Adsense vs AdCash
AdCash is a company that helps young game developers or budding bloggers distribute their products and moderate advertisements.
The platform uses a cookie program from the Google service. By using this program, AdCash matches the target audience for your product. However, the traffic, compared to AdSense, is quite small.
Management and settings are easy and straightforward, there is no need to look for information on management in Internet resources.
Advertise and optimize your product only if you are confident in its quality and design. The platform administration often rejects not the best products for the slightest flaws and mistakes.
There are few ad layouts, quite primitive and popular in other programs.
Large deposit for access to the site. If you want ads and statistics to be managed by an AdCash employee, then you need to deposit an amount of $ 1,000. When working on your own, you need to pay $ 100.
AdCash should be considered if you are selling a small product that does not require high-quality and ergonomic advertising distribution. For large companies planning to develop in the future, the site is not suitable. We advise you to take a closer look at Adsense.
Adsense vs AdPushup
Optimizing your ad revenue and displaying your ads beautifully is all about AdPushup.
The platform provides access to more than 15 premium network partners. All users can become a well-known and sought-after company thanks to the support of AdPushup.
High traffic will allow users in many countries to find out about the product being sold, and you will be able to bring a good profit. A variety of ad layouts will help you optimize your banner ads.
The support is responsive and works constantly, with any questions you can contact the site administration.
There is A / B testing, which is automated for the convenience of customers.
AdPushup has been nominated for awards more than once, which can be viewed on the program's official website.
Use the platform to advertise small products as well as large products that are planning to develop in the near future.
With premium features, excellent traffic metrics and positive user reviews, AdPushup is preferred over AdSense by us.
Adsense vs Mediavine
Mediavine's large reach will allow you to earn a good amount of money, however, it is important to follow the platform's strict rules.
One of the best advertising networks is related to their high potential for earnings and personal support of the media. With a minimum requirement up to 50,000 views, this is a great long -term goal that should be taken into account. It has a faster and convenient method of displaying advertising than other business networks in business.
A judge of functional features is a sufficiently serving AdSense competitor.
Compliance with the rules is strictly observed by the moderators and administrators of the site.
This service is suitable for already developed and large brands, shops and ordinary users. High traffic to the site is important, at least 25 thousand visits per month. In addition, there is a mandatory contract that must be signed to work on this site.
In case of non-compliance with the rules, policies and terms of the contract, the profile can be blocked with all funds on it, without the possibility of recovery.
You do not have to work on the site, all the work will be done by experienced platform workers.
High traffic, excellent payouts attract a huge number of satisfied customers. Reviews can be read on the site's website.
Mediavine uses cookies to find its target audience. Using this site, the site will be able to find potential buyers of your products.
If you prefer to analyze profit on your own, set up advertising on the site, set up various aspects, then Mediavine is not for you. Despite good coverage, you cannot select banners manually.
The site will be an excellent solution for those who have little free time and leave their web page for moderation by trusted people.
Otherwise, we suggest trying AdSense.
Adsense vs AdThrive
A platform with a huge number of options and layouts.
Distribute ads as you see fit. A wide range of different banners will allow you to organically insert advertisements on your site.
The AdThrive website has reviews about this platform, you can read them before starting to check the quality of the program.
The site is equipped with high traffic around the world, a simple and intuitive interface that is easy to use, as well as several partners who provide support to the clients of the site and the platform itself.
AdThrive pays not only for ads, but also for videos. Thanks to this, the income increases by one and a half times.
Smaller companies will quickly figure out the work and will be well advertised due to the high traffic of the program, and famous sellers will get more customers to sell their products.
AdThrive has a lot more advantages, so this program is the winner.
Bottom Line - What Are the Best Adsense Alternatives?
Choose  Ezoic,    AdSterra,   AdThrive, or AdPushup if you are a newbie or already a popular brand. Variety of layouts, great traffic and profits await you when using these three sites.
Adsterra Review: How Much Can You Make From Their Ads?
Ezoic Platform Review - Advantages And Features Of The Service
Mediavine and PropellerAds are suitable for established vendors in the market. Thanks to the high traffic and the cookes service, you can attract new customers and organize your advertising revenues.
PropellerAds - Advertising Platform Review
AdCash is the best choice for those who do not want to develop a company and stop at creating several products. A small selection of banners, good traffic in some regions will help attract a small part of users.
A Complete And Detailed Overview Of The AdCash Platform
Choose a site based on your own preferences!
Frequently Asked Questions
What are the best AdSense alternatives for small websites?

Ezoic, AdSterra, AdThrive and AdPushup are the best AdSense alternatives for small websites. Since if you are a beginner, then you will be offered a variety of advertising layouts, and the prospect of large traffic and profits.

Is Ezoic a good alternative to Adsense?

Ezoic is one of the best alternative of Google Adsense. Ezoic is famous for bringing good income to its customers. The platform has a large number of partners and networks with which it is compatible. Thanks to them, advertising of the product will be distributed to other sites. This opportunity gives you excellent revenue growth from third party sources.
---
---
---