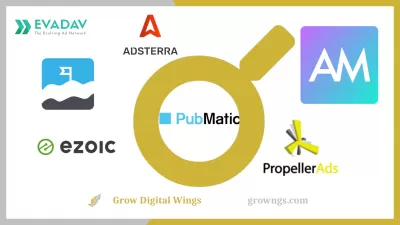 ---
---
Are you prowling for Pubmatic alternatives? If the reply is yes, don't worry. Many publishers do the same to maximize their ad revenue. The good part is you shall come across numerous networks to monetize your website. However, the bad thing is many ad platforms aren't worth your time/attention. You must be diligent when making your choice. Here are the best Pubmatic alternatives. Check each option to pick the right ones.
Pubmatic alternatives
PubMatic is an advertising platform focused not on brands, but on publishers. The company invites publishers, content creators and app developers to sell their advertising inventory to brands.
The platform has partnered with Verizon, Zynga, Electronic Arts, and over 1,000 publishers, content creators, and developers.
Pubmatic is a popularly endorsed network that specializes in cross-screen video, advertising quality, and media buyer options. You can boost your revenue potential with this favored interface. However, you need to consider other options as well. Finding Pubmatic alternatives seems imperative for diversification and enhanced earnings.
While the market is full of ad networks, you've to be careful when shopping around. The following are some of the popular Pubmatic alternatives for your website.
The top 10 Pumatic alternatives to monetize websites
1. Codefuel - The best platform for high-intent targeting
It's a sophisticated option for any website. The network capitalizes on intent-centric shopping ads, news, and more. It helps you make money through many digital properties such as blogs, websites, extensions, and applications. Publishers of any level can monetize their site through the platform. So, the network easily secures a seat among top Pubmatic alternatives
Features
Search mediation - extremely optimized pages for all campaigns irrespective of where and how you buy media. Publishers may employ monetization pages on their websites as well
NewsFuel Feed - taps premium news feed
App monetization - applies an intent-centric search to monetize extensions/apps
Website/blog monetization - presents appropriate shopping ads to drive high-intent users, thus boosting conversions. Leverages search ads through a tailor-made search results page via sponsored contextual adverts.
Requirements
No traffic requirements for publishers but unsuitable for smaller sites
The content needs to be engaging, of high quality, and relevant.
Payment terms
Highest and best payout rates in the market
Website owners get a payment at the end of the month. Those having multiple sites/blogs can earn combined revenue.
CodeFuel Pros and Cons
Versatile – offers monetizing options on multiple platforms
Centralized, intuitive dashboard
All solutions under one roof - you can tap search, news, shopping, and ads to monetize your digital assets
Analysis and tracking
Numerous integration choices - integrates with AOL, Bing, MSN, Yahoo, and over 1200 high-quality publishers. Additionally, it offers premium Google AdSense accessibility.
Unsuitable for small website/blog publishers and warrants medium-sized audiences to find high-intent users.
CodeFuel Score
Reviewers give CodeFuel 4.3-star rating due to higher payout rates and multiple monetization options.
2. Taboola - An ideal alternative for its news feed ads
Taboola is a native network integrating and employing news feed scrolls for sites. The interface has contextual content/ads that can match your experience and needs. Users see ads while discovering products or items that they need. That creates awareness to steer purchases. The platform leverages DL technology (Deep Learning) to predict appropriate matches for advertisements for its publishers. It's the DL algorithm that keeps it ahead among Pubmatic alternatives.
The top Taboola alternatives
Features
Feed - Presents news feed-style ad content through scrolling
A/B testing
Quick content discovery
Native adverts - For advertiser-side, the network finds relevant matches for campaigns based on content
Requirements
No minimum requirements for any web publisher
Some kinds of content are limited
Payment terms
The interface supports CTR and CPC models
Monthly billing/payment through checks, wire, and credit card
Automated billing via credit card for advertisers
Taboola Pros and Cons
Campaign setup is easy
Supports various audiences - good for publishers
Provides numerous targeting choices
The interface is a bit complex- not easy to understand
Taboola Score
Despite being popular, Taboola grabs 3 stars because of poor interface.
3. Monumetric - The best choice due to expert monetization help
Monumetric is a hugely favored network that helps to monetize any type of traffic. Publishers gain full control over decision making and their site/blog.
It caters to a wider range of web publishers and lets them monetize multiple categories of blogs and platform. The platform presents different sizes of adverts such as medium rectangle, leaderboards, half-page, in-screen, skyscraper, or post-roll/pre-roll videos.
The best Monumetric alternatives
Features
Constantly innovate and enrich their technologies to generate the best bids for advertisers/publishers
Provides highly optimized and data-reinforced advert strategies
Ensures better earnings through experts specializing in site monetization
Reports and stats available on custom dashboards
Tracks revenue and measures views quickly, thus putting it among the best Pubmatic alternatives
Multiple monetization choices such as Propel, Ascend, Stratos, and Apollo
Requirements
10,000 monthly views required to get into the network
Payment Terms
Paid via multiple gateways
Net60 payment
Monumetric Pros and Cons
Offers a variety of ad units such as Desktop display ads, Inline video ads, Mobile-optimized ads, and more
Automatically distributes ads and allows you to concentrate on content creation
Higher Minimum traffic requirements - 10,000 monthly impressions
High fee (setup) of $99 or web publishers should have over 80,000 page views per month
Monumetric Score
The platform books 3.5 star ratings because of high traffic requirements.
4. TripleLift - The best alternative because of image transformation technique
It's a professional ad network. The interface caters to supply-side as well as demand-side advertising. Triple lift has ad campaigns for various types of formats. The platform applies computer vision that can transform images with web content into advertisements. This peculiar feature has booked it a place among Pubmatic alternatives. By concentrating on images and pictures, it provides visual content with simple integration to website owners.
Features
Ad server
Easy publisher integration
Direct ad deals for publishers
Requirements
TripleLift has a freemium as well as a free trial version for advertisers
Payment terms
Net90 days at the end of the month
Net 60 payment option at the end of every month but cuts a 1 percent charge
Net 30 days payment at the end of every month but cuts a 2 percent finance charge
TripleLift Pros and Cons
Creative capability
Web publishers may check their inventory or run media directly for advertising
Basic dashboard
Needs additional metrics
UI is difficult - publishers can get confused and lost
TripleLift Score
Users give 4-star ratings to this one of the favored Pubmatic alternatives.
It's an intuitive platform famous for anti-adblocking. Hilltop Ads deals in CPM, CPA, as well as CPC-based advertising. It's best for live reporting/statistics for big and medium-sized websites.
Since their advertisements have anti-adblockers, you get a chance to earn from any traffic type.
Read our HillTopAds review
Features
Offers CPC, CPA, CPM models
Integrates anti-ad blocking for enhanced results
Requirements
Needs minimum traffic to get into the platform
Payout terms
Site owners are paid via Bitcoin and/or Payoneer
Minimum payout pegged at 50$
HillTopAds Pros and Cons
Real-time reporting/statistics
Easy and effortless usage
Not recommended for sites with low page views
HilltopAds Score
The network earns 4-star ratings because of simple publisher interface.
It's a fantastic CPM platform with quick advertising speeds. Publishers may effortlessly earn from Smartphones/sites. They could begin by adhering to a basic process in order to check and add their online property.
Read our PropellerAds review
The network presents many kinds of advertisements such as PopUnder, Web Ads, Banners, and/or Layers. That's why Propeller Ads is considered one of the favored Pubmatic alternatives for sites seeking CPM models.
Features
Trying the service is simple and straghtforward
Offers many formats of advertising
Requirements
Minimum traffic not required
Accepts non-English/English sites - Getting into the network is easy
Payment terms
Net30 schedule for payment
Various payment channels
PropellerAds Pros and Cons
Easy to get into the network
Real-time reporting/stats
Poor experience
Doesn't have PayPal payment
HillTopAds Score
The network books 4-star ratings on a 1 to 5 scale.
It has one of the smartest interfaces for site/blog owners. How? Ezoic rakes machine learning to test ad placements in order to select the best earning mix.
Publishers can use the simple drag-and-drop option and test the ad locations. In line with the findings, they could run testing and/or determine their goals (boosting audience experience, optimizing revenue, or marinating an optimal balance).
Joining the interface is fairly easy for any site. That's the key reason why it's slotted among the best Pubmatic alternatives. A site should have at least 10,000 impressions every month. The platform mostly has vertical content. Also, the minimum threshold sets at just $20.
Read our Ezoic review
Features
Smart interface that taps machine learning to optimize a publisher's revenue
Has several ad formats
Requirements
10,000 monthly impressions to get into the interface
Payout terms
Offers various payment channels
Minimum payment threshold - only $20
Ezoic Pros and Cons
Joining the network is straightforward
Publishers can test locations for enhanced results
Requires AdSense approved traffic
Score
Ezoic grabs 5 stars for machine learning algorithm and excellent optimization features.
It's a proficient platform that works constantly for publishers/ advertisers. Adsterra carries a wide range websites. It handles non-mainstream/mainstream verticals. Publishers and advertisers could choose a self-serve or a managed interface platform. Plus, they can tap the benefit of live chat to get their problem resolved.
Read our AdSterra review
Features
Quick tracking and better targeting
A fantastic dashboard
Can launch several campaigns on the go
A/B testing possible for 15 creative advertisements
API integration and effortless tracking
Estimates proper traffic volume
Multiple formats - Direct Links, Banner Ads, Push Ads
Requirements
No minimum traffic required
Doesn't endorse ad cluttering
Minimum deposit requirement for advertisers - $100
Site owners may get started using live chat or personal managers
Payout terms
Paypal, WebMoney, Visa, Capitalist, Mastercard, and Wire transfer
Multiple ad options - CPI/CPA, CPL/CPM, CPC and RTB
AdSterra Pros and Cons
100% fills for ad slots bag the interface a spot among Pubmatic alternatives
Support 24/7
Referral program for site owners
Choose self-serve/managed services
API integration
Anti-fraud checking
CPM earnings differ greatly by location
Higher minimum threshold for publishers
No online support
Score
The interface gets 4-stars because of 100% ad filling and anti-fraud checking.
It's a favored network that supports monetization solutions for site owners. The platform makes sure you enjoy increased CPM revenue. Evadav maximizes revenue for any publisher. This is the reason why website owners rate Evadav among the top Pubmatic alternatives.
As a blog/site owner, you get to monetize with several ad models (sliders, interstitial ads, and more). That ensures an ideal blending of ad revenues. Consequently publishers may diversify their revenue while reducing their risks.
Read our EvaDav review
Features
Has CPA, CPC, CPM models
Minimum payout - only $25
Payout terms
Multiple choices: Skrill, Paypal, and/or Paxum
Weekly payment made on Mondays
EvaDav Pros and Cons
Statistics updates quickly
Multiple routes for payment
Stats doesn't exhibit traffic sources that has low clicks
EvaDav Score
Evadav gets 4.5-stars due to quick and multiple paymentchannels.
It's an interface that ensures monetization/advertising choices for publishers and advertisers alike. Ad Maven makes sure that website get high CPM and advertisers grab better conversions. The network enriches returns and boosts revenue for site/blog owners. So, publishers consider Ad maven among the best Pubmatic alternatives.
Website publishers can earn from their property through several ad formats (banners, conventional pop-ups, interstitials, and sliders), and that secures multiple channels of revenue for any site owner. Also, website owners get an opportunity to diversify their earnings and ease risks at the same time.
Read our AdMaven review
Features
Supported ads: CPC, CPA, CPM
Minimum threshold pegged at $50
Wire transfer channel requires websites to earn minimum $1000
Payment terms
Payment chocies: Wire Transfers, Paypal, Bitcoin, and Payoneer
Payment: net 30 days
AdMaven Pros and Cons
Multiple channels of payment
Stats gets updated quickly
Dashboard with minimal features
Requires minimum 2,500 daily views - small sites can't get their slot in the platform
AdMaven Score
Ad Maven earns 4 star ratings thanks to various payment gateways and several ad formats.
Closing thoughts - Pubmatic alternatives
Selecting the right ad networks is essential when monetizing your website. A single error on your part can impact your earnings to a great extent. While Pubmatic makes a great amazing network, it doesn't suit small site owners. You must check top Pubmatic alternatives to maximize your ad earnings. Take a look at the above networks based on your site and goals. Also, review their pros and cons in detail to book a few Pubmatic alternatives for your website.
Frequently Asked Questions
Is Рubmatic good for publishers?

Yes, since this is an advertising platform focused not on brands, but on publishers. Pubmatic is a popular network that specializes in cross-screen video, ad quality, and media buying opportunities.

What is Pubmatic?

Pubmatic is a popular network that specializes in cross-screen video, ad quality, and media buying opportunities. You can increase your earning potential with this preferred interface.
---
---
---