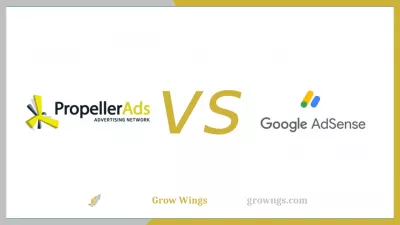 ---
---
In this article, we analyzed two advertising platforms PropellerAds versus AdSense, analyzed the pros and cons, and concluded
PropellerAds vs Adsense
Internet advertising platforms are gaining more and more popularity. A service like Google AdSense is probably familiar to almost everyone. However, in this article, we would like to discuss its alternative called PropellerAds, analyze its pros and cons, talk about advertising products, and compare PropellerAds versus Adsense.
Content:
Propeller Ads is
Propeller Ads is a UK based ad network that promises 100% of your international traffic and the highest CPM possible. Traffic from the following countries generates maximum CPM: USA and Canada, UK and Australia.
Unlike Google AdSense, Propeller Ads is a CPM ad network which basically means it pays for every 1000 ad impressions you generate. So it doesn't matter if users click on your ads or not - you get paid. This is why large publishers prefer CPM networks over CPC ad networks (like AdSense, Bing Ads, etc.).
Their main idea is to provide interactive advertising to the website's audience and in turn generate revenue from them. They currently deliver over 8 billion ad impressions per day to desktop and mobile visitors. This is really a great achievement for those who are interested in how to make money with Propeller Ads.
If your traffic and its quality are stable, then CPM ads can bring guaranteed income every day and every month. Have you ever noticed how some of the high traffic websites display content in 10-50 slides? Yes, this increases the number of page views per visit - and ultimately CPM.
Types of advertising products
Propeller Ads offers you a variety of advertising products, and this is the factor in which Propeller ads outsmart other ad networks including Google Adsense. Therefore, it doesn't matter what type of blog or website you have, there is always a promotional product for you. But that doesn't mean you can send them fake traffic (gas station, traffic exchange, etc.) and make a lot of money. It won't work that way.
Here are the different types of advertising products offered by Propeller Ads:
OnClick PopUnder Ads
OnClick PopUnder Ads is arguably the most effective Propeller Ads ad product as it offers a maximum CPM rate (up to $ 10). This is because you get paid for every ad impression (this works on mobile too). According to Propeller Ads, entertainment sites (music, movies, photos, downloads, games, viral content, etc.) get the best CPM for pop-up ads.
OnClick PopUnder Ads
Mobile advertising
Propeller Ads offers two types of mobile ads: Mobile Conversational Ads and Mobile Interstitial Ads (in addition to regular mobile banner ads).
Classic Banner Advertising
Banner advertising continues to be popular as it is the easiest way to reach a mass audience with minimal costs. The most effective banner ads from Propeller Ads are 300x250 and 728x90 ad units. Other ad units available: 468 × 60, 120 × 600, 160 × 600, 800 × 600, 800 × 440, and 320 × 50.
Advertising Layer
Layer Ad is a steroid-based banner ad as it loads the banner ad on top of the site's content. You can choose from any of the available banner ad units, but a larger ad unit, such as 800 × 600 or 800 × 440, is recommended.
Slider advertising
This is another type of banner ad that disappears from the bottom of the web page. Unless the user chooses to close it, it will always be visible, even if it scrolls up or down the page.
Direct Advertising
Direct advertising (or Direct Links) is a unique advertising product that provides publishers with a URL to promote. You can promote it by creating your own banners, text links, buttons, or even redirects. For example, you can monetize your 404 pages with direct ads - without sacrificing user experience. According to Propeller Ads, it works best on a download site (ebooks, music, apps, wallpapers, movies, etc.)
Video advertising
If you want to monetize your video content, then you can try video ads. Propeller Ads offers three video ads: Pre-Roll, Mid-Roll, Post-Roll, and Pre-Game.
Video advertising
Pros and cons
The most important thing first. Propeller Ads is not really a Google alternative. AdSense is a Pay Per Click ad network and Propeller Ads is a CPM ad network. This basically means that AdSense pays for every click from your site, and Propeller Ads pays for every 1000 ad impressions.
Google Adsense works best when your site is in a competitive niche with most of the traffic from organic search (i.e. search engines). If you have a high traffic site that is in a non-competitive industry, then the Adsense revenue can be terrible (especially when its organic traffic is less). Again, AdSense is a good choice for file sharing sites, forums, loading sites where the traffic quality is low but the pageview to visit ratio is very high. Fortunately, Propeller Ads (and similar banner networks) perform very well on such sites.
pros
It's very easy to get started as all accounts are activated instantly. You can log into your publisher account and add all the domain names you want to monetize and you will be notified by email when approved.
Propeller Ads shares 80% of its ad revenue with publishers. But don't compare two advertisers based on their revenue share alone, as we don't know the real size of their total ad inventory. An advertiser with a huge ad margin can easily outperform the CPM of a small ad network, dividing revenue by as little as 50%.
The propeller advertisement report is pretty straightforward. It shows your earnings in a table or graph. And what's the best part? It's in real time.
Propeller Ads supports the following payment methods: Bank Transfer, Payoneer, Webmoney, and prepaid cards. The minimum payment amount is $ 500 for wire transfers and $ 100 for all other payment methods, and is based on 30 net conditions. That is, if your total earnings at the end of January are $ 300, then you will be paid in the first week of March.
Propeller Ads accepts all websites regardless of their traffic, as long as it does not violate their terms and conditions.
It generates maximum CPM for entertainment sites (including downloads, music, movies, viral blogs, etc.).
As a publisher, you can refer other publishers to Propeller advertisements and earn 5% of his / her future ad revenue - for life.
You can even monetize your 404 pages with full screen ads. No more wasted traffic.
You can run Propeller ads alongside ads from other ad or affiliate networks like Adsense, Infolinks, CJ, etc.
If you're a new publisher looking for some kind of personal assistance, then you get direct one-to-one support via email or Skype. Plus, if you have a high traffic site, then you get a dedicated account manager to help you optimize your traffic.
Minuses
Poor user experience. Your visitors can find full-screen ads, pop-up ads, push ads, and more.
Don't support PayPal payments. This is a really big twist because even almost all of the best Adsense alternatives support PayPal.
Again, the minimum payout is also on the higher side. And I guess that's because they don't support PayPal payments.
The most effective ad units are not traditional banners or mobile ads - these are pop-under ads and full-page ads. But users (including me) hate it. However, if you have a high traffic file sharing website or download website, perhaps even a forum, then pop-under ads might be the right choice.
It's true that Propeller Ads accepts all sorts of publisher sites (unless it meets their terms), but it looks like if you want to make a solid income, then you need either a high traffic site or a high quality traffic site.
If your traffic quality is low (meaning you are getting little traffic from the US, UK, and Europe), then Propeller Ads may not be the right choice if you don't want to try pop-under ads, full-page ads, etc.
Again, Propeller Ads also takes conversions into account when calculating CPM. The CPM network must pay a fixed income for every 1000 page views regardless of conversions. But Propeller Ads offers advertisers more payment models such as CPC (Cost Per Click) and CPA (Cost Per Action). Thus, your final earnings also depend on the type of ad inventory.
Your CPM can be extremely low if the traffic quality is low. Of course, AdSense also pays little for low-quality traffic, but with Propeller Ads, things are much worse. Here's a screenshot of a popular Spanish tech blog that isn't getting any meaningful traffic from English speaking countries. Its CPM with Google AdSense was around $ 0.20, but as you can see, Propeller Ads banner ads don't even generate a $ 0.05 CPM.
PropellerAds vs Adsense
We also prepared a table in which we compared certain facts. So PropellerAds vs. Adsense:
Google Adsense is leading in most countries, including the US, Japan, Russia, France and 163 other countries.
Propeller Ads has no advantage over Google Adsense in any country
Google Adsense has better reach across more website categories. Including Computers, Electronics & Technology, Arts & Entertainment, Games, News & Media and 20 other categories.
Propeller Ads has no advantage over Google Adsense in any site category.
Google Adsense leads the Top 10K Sites, Top 100K Sites, Top 1M Sites and the entire Internet.
In terms of market share, Propeller Ads is clearly lagging behind Google Adsense in all segments.
Do not take this table too harshly. These are just facts that needed to be said.
Conclusion
Propeller Ads is not just another network where you can fake traffic and money. Like AdSense or any other reliable publisher network - you need real traffic to generate real income.
Google Adsense does not accept all publishers' websites (especially new ones) as they have strong guidelines. In fact, publishers' websites must follow the service's guidelines as well as the webmaster's guidelines. This basically means that if you are doing black hat SEO or selling text links on your site, they may disable your Adsense account.
So is Propeller advertising worth considering over Google Adsense? If your site (or blog) is new, then chances are that Google will reject your application to participate in Adsense, and you may want to consider propeller ads.
Again, if you have a small or large site that already has Adsense ads running, but not enough, and although most of your traffic is from English-speaking countries, then it makes sense to advertise in Propeller.
Alternatively, it's a good idea to supplement your existing Adsense income with Propeller Ads pop-up ads (as it offers the highest CPM). Just make sure your users don't get annoyed by this.
Is Propeller Ads the best alternative to Google AdSense?
Frequently Asked Questions
Is Propeller Ads a good alternative to AdSense?

Basically, Propeller Ads is not an alternative to Google AdSense as AdSense is a PPC ad network while Propeller Ads is a CPM ad network. This means that AdSense pays for every click from your site, while Propeller Ads pays for every 1,000 ad impressions.
---
---
---