If you are looking to monetize a young website with a small number of visitors, you should look at ad networks with popunder ads. The two most famous among them are PopAds and PropellerAds. Both networks are very similar, but each has its own specifics. So, PopAds vs. PropellerAds: what to choose and what to look for.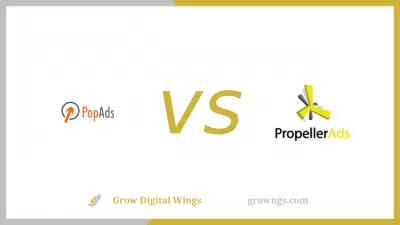 ---
---
PopAds vs PropellerAds: Detailed Comparison
If you are looking to monetize a young website with a small number of visitors, you should look at ad networks with popunder ads. The two most famous among them are PopAds and PropellerAds. Both networks are very similar, but each has its own specifics. So, PopAds vs. PropellerAds: what to choose and what to look for.
A little about PopAds and PropellerAds
PopAds is an ad network that specializes in popunder. This is a type of display advertising in which a banner pops up on the user's screen or a new window opens. PopAds is one of the leaders in this field and is renowned for its high payouts.
PropellerAds is an ad network that works with many types of ads. One of the most recommended ad networks for small, low traffic websites. Like  PopAds,   it specializes in pop-up ads. However, it also provides standard banner ads, video banner ads, sliders, sponsored links, and other formats.
PropellerAds - Advertising Platform Review
Both networks are often used on small sites and are considered optimal for young start-up projects.
Prevalence
On average, PopAds is used much more frequently on sites than PropellerAds. Approximately twice. However, the popularity of the latter is growing every year.
A little about the topics. The PopAds service is used primarily by entertainment sites. These are sites about games, about art, with adult content (for adults), with humor, as well as about computers and technologies.
Despite the lower popularity and prevalence, PropellerAds has a much wider coverage of topics. This network is often used not only by entertainment sites, but also by sites that work in the topics science and education, society, news and media and health.
PopAds is used by websites in over 100 countries. Including USA, Brazil, Indonesia, Thailand and 107 other countries.
According to the PropellerAds survey, this network is the leader in India, Egypt and Pakistan. Used by websites in about 30 countries.
Requirements for sites
Both networks connect quite easily. Neither PopAds nor PropellerAds have traffic requirements. This means that your site can have any number of visitors per day. At least 5 people, at least 5000 - with a high probability you will be accepted.
Both networks have no requirements for the quality of content on the site. However, it is desirable that the texts have a high uniqueness, and the site itself has a more or less pleasant design.
In both cases, there are no restrictions on the content of the sites. If you have an adult theme or a gambling site, you can safely apply. However, in the first case, PopAds is more suitable. In the second, PropellerAds.
In both networks, site verification is performed fairly quickly. Usually a couple of hours are enough for approval. On weekends and holidays, the process may take 12-24 hours.
Advertising settings and quality
PopAds has a simpler and more user-friendly interface. A quick overview of PopAds regarding settings:
There are many options in the settings. Including the number of ads per page. By the way, it is recommended to use no more than 2-3 ads. Otherwise, the advertisement begins to annoy the user, and he leaves the site.
The ads themselves are of high quality, without prohibited topics and do not spoil the reputation of the site.
You are completely free to choose the category of ads you want to display on your site. If you need to stop displaying ads from a certain category, you can immediately remove it in the settings. Ads will be replaced with ads from other categories.
You can choose the minimum bid from advertisers, as well as set the frequency with which pop-up ads will be displayed.
The PropellerAds interface is a little more complex, but it is also quite easy to figure it out. The number of ads per page is also regulated. But many have questions about the quality of advertising. The site may occasionally pop up ads with prohibited topics. Or ads leading to sites with malicious content. Sometimes banners cover some of the content.
Only popunder ads are available in PopAds. In PropellerAds, push notifications, OnClick (popunder), push notifications, and native interstitial ads.
Compatible with Google Adsense
PopAds ads can be connected along with Adsense. It is Google policy to place up to three pop-up ads on pages with Adsense ads.
Ads from PropellerAds can also be connected along with Google Adsense. However, there may be problems with the quality of advertising - this was discussed in the previous section. So there is a risk of losing Google's credibility. However, this risk is small.
Income
Let's start with the terms. There are several basic payment models:
CPV.
From English - Cost per visitor. The model under which the transition of the user to the advertiser's website is paid. In this case, repeated transitions are not taken into account. That is, if the same person clicks on the ad a second time, the money will not be debited from the advertiser.
Cost-per-view (CPV): Definition
CPM.
Acronym for Cost Per Millenium. In this case, you are paid a certain amount per thousand impressions for a banner, ad, or any other ad unit.
Cost Per Thousand (CPM)
CPA.
Abbreviation for Cost Per Action. Payment is made for a specific user action. For example, buying from an online store. Or registration in an online game, on a dating site, on a social network. Also, payment can be made for downloading the file. You will receive either a small percentage of the referred user's spending, or a fixed amount. In the first case, it can be, for example, 5% of the amount spent in the online store. In the second case, for example, 80 rubles for each registration of a new user.
Cost per action – Wikipedia
CPC.
Or Cost Per Click. You get paid for every user click on your ad.
Cost-per-click (CPC): Definition
PopAds uses CPV and CPM models. The PropellerAds network uses the CPM, CPC and CPA models.
PopAds pays around $ 2 CPM. This is a good indicator. Especially for sites with entertainment topics, as well as music and movies. However, this rate is dynamic and varies depending on the country, content quality, niche, and even time of day.
The average return on PropellerAds is slightly lower at around $ 1-1.5 CPM.
Payouts
To withdraw money from  PopAds,   you must have an account with PayPal, Payza or Payoneer. Bank transfer is also available in some countries.
PropellerAds has a wider selection. Payments are made to PayPal, Skrill, Webmoney and Payoneer.
There are no specific deadlines for withdrawing payments in the PopAds network. You can withdraw the earned money at any time. The minimum payout is $ 10.
PropellerAds pays out money once a week - every Thursday. The minimum withdrawal threshold is $ 5. The hold period is only 4 days.
Verdict
Ad networks collect and aggregate information from potential advertisers and then host it for potential publishers who provide ad space. When all the details of the transaction are agreed, the advertisement is broadcast from the network server to the site.
After looking at the different options for ad networks, we can draw certain conclusions, especially about PopAdds.
Overall, PopAds is a more reliable and popular network. Here are simple settings, safe for the reputation of the ad site and a higher cost of views. However, only popunder ads are available to site owners.
PropellerAds is less popular. However, there are slightly more options and a wider selection of ad types.
Both networks do not have high requirements for sites and accept almost everyone. Attendance can be anything, content - too. Both platforms are great for small sites and start-up projects.
---
---
---