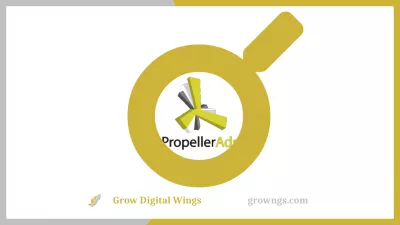 ---
---
In this article, we reviewed the PropellerAds advertising platform and its tools, made a test, and also made a conclusion
PropellerAds review
One of the biggest challenges for a blogger is finding a reliable ad network. Most of us are aware of networks like AdSense and Media.net that show quality ads and also pay well over time.
However, it takes a lot of hits and trials to find a reliable ad network to serve your blog ads. A reliable ad network is one that serves advertisers and publishers alike and takes a commission for the service.
To ease the pain of finding a reliable ad network for your blog, we continue to test new networks to find the best and best performing ad networks and eliminate fraudulent ad networks.
This Propeller Ads media review is part of our ad network review series. It is one of the most popular and fastest growing ad networks among bloggers and is known for timely payments.
Content:
Propeller Ads is
It is an ad network that caters to a diverse group of clients and helps them increase revenue from their pages.
Propeller Ads reviews, first of all, note the huge plus of this network - the absence of threshold traffic. This means that even if your website is new and not getting the traffic you want, you can still apply to advertise here.
PropellerAds drives traffic from all over the world and serves over 8 billion ad impressions per day.
Propeller Ads is the perfect solution for bloggers looking to monetize their blog or blog network. The platform offers different types of ads:
Depending on the type of your blog / site, you can choose the right ad type to monetize with Propeller Ads. We'll take a quick tour of PropellerAds and walk you through the customization part as well as some tips on how to get the most out of this ad network.
How to Get Started with Propeller Ads: A Beginner's Guide
The Propeller Ads interface is easy to use even for a beginner. However, don't underestimate its simplicity as what you get inside your dashboard is powerful enough to help you generate the money you deserve from your blog. Let's take a look at how to get started with Propeller Ads.
Register an account (Tip: Register as a publisher)
Once you have registered and activated your account, log into the Propeller Ads dashboard.
Click on Site> Add New Site
Check domain ownership
The next step is to verify the ownership of the domain you just added. You can do this using either of the two methods listed below.
Add a verification tag to your site
Upload the test file to the root folder via FTP
Once the ownership of the domain has been verified, you can start using Propeller Ads right away.
It is important for you to know the different types of ads on offer so that you can choose the right ad type and make the most of your money. In the section below, we have described the main types of ads and their pointers.
Some of the highly effective types of ads from Propeller Ads
Pop under advertisements:
The type of ads that appear in a different window behind your original site. These ads are often seen on viral sites or used by people who drive paid traffic to their site.
PropellerAds has also developed ad blocking technology, and to reduce the risk of ad blocking, you can enable this feature for the Pop-under ad type.
Native Direct Advertising:
This is another popular type of advertising on Propeller where you make money by driving traffic to a link. You can drive traffic using any method possible - buy traffic, internal pop-unders, social media traffic, post a link to your site or another site - and so on. eCPM can be as high as $ 15, depending on your geo, device and other factors.
Here are some ideas for direct native advertising from Propeller Ads. Some ideas are taken directly from the official site and fall under the category of gray hat practice.
Place a direct ad on an intermediate page with a "Go to Content" button between the home page and the content page.
If your site contains any downloadable content (software, mobile apps, photos, etc.), place a direct link to the "call to action" button (graphic or text) above or below the content.
For video sites, it is recommended to place a fake player with a static or animated image related to direct advertising above your real player.
We're sure most of us have seen Skip to Content ads many times, even on major publishers like Forbes. There is no doubt that this kind of advertising is very profitable.
Web push notifications:
As display ads become more complex to use with Adblocker and Chrome integrates their own ad blocker, every ad network must innovate and adapt to the latest technology to serve publishers and advertisers. Web  push notifications   is one such technology, and Propeller Ads is one of the very few ad networks that offer web  push notifications   as an advertising option.
How much is Propeller Ads Minimum Payout and Supported Payment Options:
The minimum payout should always be one of the deciding factors when choosing an ad network. You don't want to be stuck with money in your account and not be able to cash it out due to the high minimum payout. With propeller ads, you don't have to worry about it, given that the minimum payout is a meager $ 25.
PropellerAds currently supports payment using the following methods:
Bank transfer
Electronic payment
Their wire transfer costs $ 50 in commission and you are much better off using Payoneer or PayPal to withdraw your payment. If you are someone who makes over $ 10,000 per month from PropellerAds, then you might want to consider using a bank transfer.
Can Propellerads Be Used With Adsense
Yes, you can always use Propellerads with Adsense. In accordance with Google policy: You are allowed to place up to 3 pop-ups per page that displays Adsense. During our PropellerAds review, we actively took advantage of this opportunity.
Google AdSense - Earn Money From Website Monetization
Conclusion
We often continue to hunt for high quality ad networks that work and help us generate income. While most of our monetization is done through  Affiliate Marketing   and ebooks, we often test new ad networks out of curiosity. We've been testing propeller ads for a while now and have to say that this is an ad network that you can use without any problem.
However, you need to be smart when it comes to ad placement. Some types of ads, such as pop-ups, generate a lot of revenue, but they also hinder the user experience in the process.
For some types of websites, such ads can be useful, but for a website with rich content, they are dangerous. You should test different ad options and see which one works best for you. Thanks for reading our PropellerAds review.
★★★⋆☆
PropellerAds - Advertising Platform Review
 We often continue to hunt for high quality ad networks that work and help us generate income. While most of our monetization is done through affiliate marketing and ebooks, we often test new ad networks out of curiosity. We've been testing propeller ads for a while now and have to say that this is an ad network that you can use without any problem.
---
---
---