Can online teaching be lucrative? We'll go through the various options that can lead anyone to share professional or personal skills and potentially make $1,300 or more a month by teaching them online!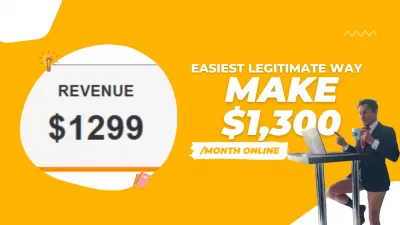 ---
---
With the online teaching market expected to grow to a whopping $148.22 billion by 2027, there is no doubt that the online teaching market has been and will continue to be a booming industry. If you are an expert in any field and you are looking for ways to monetize your expertise and knowledge, then consider online tracking as a viable option, and in this post, we will walk you through how you can teach online to make $1300 and above monthly.
How To Start Making Money Teaching Online:
There are two popular ways to make money teaching online:
Let's take a look at each.
1. Becoming an Online Tutor
Just as you would be teaching in person, you can become an online tutor where you remotely teach kids, teenagers, and even adults a variety of topics. With this approach, you can either sign up on a tutoring platform; or, decide to become a freelance teacher.
Below are some of the tutoring platforms you can sign up to:
If you want to become a freelance teacher, then you may sign up on platforms like Fiverr. Alternatively, you can develop your teaching services website.
2. Selling Online Courses
The other alternative to tutoring online is to sell courses, and this is the best way to make passive income. This is because all you need is to create one or more valuable courses, upload them to an online learning platform, and numerous students can purchase your course over and over, without you having to be present. This saves you so much time, and it provides a way to gain recurring income on just one course, compared to becoming an online tutor.
That being said, for you to successfully sell online courses, you need to have some tricks under your belt to help your course stand out and generate the income you desire after having selected your online academy platform on which you'll be selling these courses.
Below are some tips to help you create a course that sells:
Conduct Market Research:
The first step is to investigate to find out the market size and demand for the subject you want to write on. Also, find out who the big players are or the most successful tutors, and then figure out what makes them successful.
Provide value:
The first step is to ensure that the course you are creating provides value. We know that you want to make cash, but then you will only be able to achieve this if your course is valuable. To create a valuable course, you need to ensure that whatever you are discussing is up-to-date, factual, straight to the cut, and solves the reader's needs.
Make It Engaging:
Creating a course with only texts can be boring. You need to find a way to incorporate various pictures, videos, and slides to create an immersive experience for the user. If you will be doing a voice-over, ensure that your voice is engaging enough, similarly if there are instances where you will have to show yourself, make sure that you do that in a presentable manner. Also, ensure to include quizzes, tests, and assignments to solidify the student's understanding.
Ask for Good Reviews:
Always remind your students to leave good reviews under your course for social proof and credibility. With this, encourage your students to leave honest reviews.
Summarize:
Create a short video--sort of like a pitch--that summarizes what your course is about, and also the benefits associated with them purchasing your course. This is a great way to let potential students know why they should purchase your course.
Then use these introductional videos to promote your courses, by creating your own video platform and channels in order to create your community and engage potential students.
Note: this video should be shown to prospects even before they make any purchasing decision.
Improve:
Some students will leave recommendations on what to improve; ensure that you review these recommendations and make tweaks if necessary.
Become an online instructor
Another option is to create these courses for an external teaching platform, and let this platform handle all the community, sales and marketing part, so you can focus on creating courses.
This is the easiest legitimate way to make $1,300 a month online we used to generate this income from our courses, by creating business related courses for an external platform that takes care of everything that isn't solely related to content creation.
If you have got any specific skill, you can also become a business instructor on such an online platform. Here are some example of courses that are interesting for potential students to add something on their CVs:
And there are many more options available. Simply think about what you know best, and how you could share these skills to make other people's professional careers or lives better!
In conclusion: Is online teaching the easiest legitimate way to make 1300 a month online?
In our opinion, online teaching of business skills or other competences on which you got expertise, is probably the easiest legitimate way to make 1300 a month online, $4,000 a month or more, given some investment in time to select the appropriate model, creating the underlying material used to teach your students, and finding the community that will benefit from such learnings.
---
---
---