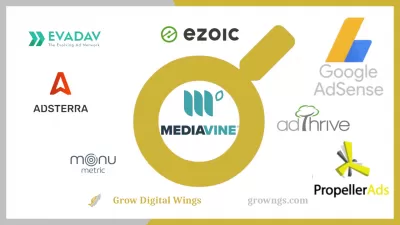 ---
---
Making money online on a personal website, blog or Internet resource attracts a lot of people, but this takes time. The benefits of such a project may appear after a few years, perhaps more. Or you need to be an excellent marketer and SEO optimizer.
The way out of this situation is advertising platforms that will help small businesses and leading media buyers.
Mediavine is a full service ad management platform focused on Building a Sustainable Business for Content Creators. Mediavine takes care of programmatically displaying ads on people's websites and blogs. They do this exclusively, which means that after registering with mediavine, you will need to remove all of your current ads (usually Google Adsense Ads) from your site.
The site also has several of its own online projects, such as Hollywood Gossip and Food Fanatic, and some of their employees also run their own blogs.
Mediavine company review is about investing in a platform that offers improvements for publishers: lazy loading ads, recipe plugin for food bloggers, social sharing wp plugin and much more.
Mediavine is a great network to switch to once you hit their minimum requirement to be approved on their network.
The high level of qualification is evidenced by the fact that this company was certified by Google, and they are their partners. In order to become a Google Certified Publishing Partner, an advertising company will need to meet strict eligibility standards to prove they are experts in Google advertising products.
traffic requirements
Based on this, in order to be accepted by Mediavine, your blog must have a good reputation in Google and have at least 50,000 sessions in the last 30 days. Sessions, not page views.
The main reason for these requirements is that advertisers need to make sure that the traffic that websites send them through Mediavine is of quality and worthy deals. It matters.
Technologies and monetization Mediavine
By its very nature, ad load is usually slow, but Mediavine has solved this problem. They use asynchronous loading. As a result, ads are loaded separately from the main page, which does not affect the loading speed of the site. The principle of lazy loading is also used - ads are loaded only when it is visible to the reader.
Blogs that use Mediavine to publish ads typically make between $20 and $40 dollars per thousand sessions (RPM or MIL revenue). Considering the login requirements of Mediavine, which means blogging in the first month hundreds of dollars in the first month is a huge upgrade for many of the other ad networks and affiliate sales.
Mediavine Features
Like any resource, Mediavine has some features when working with the platform. Consider them:
Good customer service. Mediavine provides good customer service and support. Obviously this is built into their company policy. If you have any questions or concerns, you can email them.
The platform provides quality tools such as the Mediavine video player to create not only improved ad performance, but also help improve the overall quality of blogs.
High income depending on the niche. Turnover and revenue are good, definitely better than with Adsense.
Flexible advertising settings. You can customize your ad settings to better suit your site. You can change the percentage of ads shown, you can exclude certain types of ads, and more.
Hints and suggestions. There are specific content guidelines on the site, giving you complete control over where your ads appear. Using the default Mediavine script wrapper, it can happen that ads appear in places where you don't want them to appear. Or sometimes they can interfere with the layout/structure of the article. In these cases, it's good to use these content hints so you can control where ads appear.
Cons
Among the disadvantages of Mediavine is the presence of its own branding in advertising, which some users may find quite a distraction. Also, some of the platform's advice about blogging or SEO is outdated and one-sided, which is therefore not useful.
★★★★★
Ezoic Publishers Mediavine alternative
 The best way to monetize and optimize your websites. With various included tools, mostly free, and options to go further for the best performing publishers, Ezoic is the world's most innovative solution for publishers that want to grow their revenue. Accepts publishers of all size.
Ezoic Premium review
Ezoic review
★★★★⋆
PropellerAds Publishers Mediavine alternative
 Simple and convenient system to monetize any type of digital content, PropellerAds offers instant approval and quick access to its CPC offers.
PropellerAds review
★★★★☆
AdSterra Publishers Mediavine alternative
 With instant approval and the possibility to monetize any type of digital stream, AdSterra is a simple solution for monetization.
AdSterra review
★★★★☆
Evadav Publishers Mediavine alternative
 Offering fast approval, Evadav is another serious alternative especially for Asian traffic.
Evadav review
Top 7 Mediavine Alternatives For Advertisers
Target ads to people based on how and when they were engaged.
Advertisers pay to display short copy, product listings, and video content in the Google advertising network.
Show automated text, image, video, or interactive ads targeted to the site's content and audience.
This allows users and businesses to advertise and reach an audience that is interested in the products and services they offer on the Google search network as well as on their network of partner websites.
Search engine marketing and pay per click advertising.
Promote your brand and products to millions of Amazon customers.
Target and reach over 500 million professionals worldwide.
Frequently Asked Questions
Where is the traffic requirement easier: Mediavine vs Ezoic?

Mediavine's main traffic requirement is a good Google reputation and at least 50,000 sessions in the last 30 days. While Ezoic's main traffic requirement is 10,000 sessions in the last month.

Where can I find tips for working with mediavine.com?

If you need tips while working with the site, then pay attention to the mediavine.com dashboard. The site has specific content guidelines that give you complete control over where your ads appear.
---
---
---
---