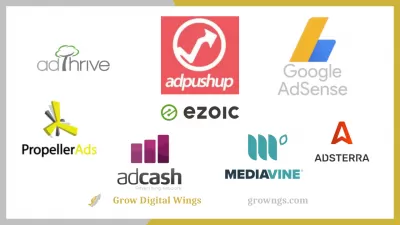 ---
---
What are the analogues of the Ezoic program? How to understand which is more convenient and better? We suggest that you read our article and make the right decision.
Comparison of the Ezoic program and other alternative programs
By creating their own website, everyone hopes for its productivity: the involvement of potential buyers in the product or attention to the articles that are available on the web page. However, a lot of sponsored links and ads can cause the page visitor to close the tab.
How to optimize the amount of ads, where and how best to place ads? To solve these questions, many authors use the Ezoic program.
Ezoic is a platform that allows you to test different ad placement variations and layouts of different types of ads on a web page. The correct distribution of banners will optimize your profits and build your site more organically.
Today we will consider all the alternatives to  Ezoic,   determine the advantages and disadvantages of other platforms and determine if there is a better replacement for Ezoic.
Ezoic vs AdSterra
The company started working in 2013, nowadays it continues to actively develop in the market, allowing advertisers and owners of various web pages to earn money. What opportunities does the AdSterra program provide:
The site provides traffic from all over the world;
Top-priority products with the best profit (utilities, subscriptions, gambling, etc.);
High volume of traffic in regions (for example, Africa 35M, Asia 204M);
Some of the most popular platform themes such as Entertainment, Anime, Downloads, Streaming, Music, and so on;
The proportion of mobile and desctop traffic is 70 to 30 percent.
More than 9 thousand advertisers and 15 thousand publishers already work on the site. Well-known stores, various agencies and simply the owners of web pages give their preference to AddSterra. The creators and moderators of the site care about the data and safety of their customers. All employees undergo a special program to keep all information intact and safe.
The program provides many options for placing banners and ads, which helps to perfectly optimize and distribute ads on the pages of the website. You can use both banner ads and a unique format that was created by AdSterra employees. In addition to  push notifications   and text ads, you can insert images and videos, edit and customize as you like.
The described site is more experienced in this area, a larger variety of platform topics and high traffic than the Ezoic site. The interface is no less convenient and understandable. Here we give preference to the AdSterra program.
Ezoic vs. AdCash.
AdCash is an Estonian company that aims to promote games, small mobile content, but not large products, brands and services.
Compared to AdSterra or  Ezoic,   the AdCash platform provides low traffic. Thanks to the cookie service, the site determines the interests of customers, allowing you to narrow the circle of potential buyers and increase your income. AdCash Advantages:
You can always follow the statistics of product promotion;
Intuitive controls and settings.
Very strict administration that can reject your campaign for the slightest reason. It is important to keep track of every detail of the product to avoid rejection. There are quite a few banner formats, only a few types. Some popular formats are not represented, for example 320x50. Most of all, the high deposit, which must be made to work with the site, frightens off. You need to pay $ 1000 to work with a site that is managed by a company manager or $ 100 for a page that you need to manage yourself.
Site support works well, if problems or questions arise, moderation will promptly help solve the incident.
AdCash is a good option if you are ready to invest large sums of money to promote your product in narrow circles. If it is necessary to optimize a large company, store or product, then it is better to choose another site.
In this comparison, we give preference to the Ezoic program, but still you need to be based on what product is available and whether you are ready to manage and analyze the data yourself.
Ezoic vs. AdPushup
AdPushup is a platform that allows you to optimize your ad revenue and use a variety of layouts for your banners.
The program began its work in 2014. AdPushup now provides access to more than 20 premium partners, which allows clients of this platform to become a more competitive campaign.
Lots of forms for distributing advertisements;
High traffic;
Fast connection and setup;
A / B testing is automated;
Continuous support and timely assistance to the administration.
The site is very easy to get started, just log in to the site, add your website and save. Now you can track both profit and customize ads. In addition to the visible advantages, the program has several awards, for example, AgencyCon Advertising Network 2019.
AdPushup is suitable for promoting games and small services, as well as for larger products to the masses.
Thanks to its extensive work experience, many premium partners, a user-friendly interface and the ability to analyze all the necessary data, the AdPushup platform is preferred.
Ezoic vs PropellerAds
The program started in 2011 and is now a fairly popular platform. PropellerAds has a number of benefits that appeal to most customers.
Very high traffic. More than 195 countries are covered by this platform;
Lots of resources;
Suitable for promoting a variety of products.
This program is quite reliable and safe to use. Working with exclusively proven sites, where there is a great chance to attract an audience.
The threshold for replenishing an account with a money transfer is quite high - $ 1000, but many PropellerAds users say that they have not regretted such a purchase. If your account is frozen, you will not be able to withdraw funds from your account - they will be blocked. A significant drawback is the small choice of variations advertising banners. It is not always possible to organically distribute ads across the site.
The site provides many tools and good traffic to promote your site, regardless of what you create and sell. Many customers advise at least giving this service a try.
There is no winner here, as everything is determined by the taste of the potential user. We advise you to rely on your preferences and then choose between Ezioc and PropellerAds.
Ezoic vs Adsense
AdSense takes care of a lot of things. Website owners just need to paste the ad code on their site and Google will automatically start serving ads targeted to your viewers based on geography, demographics, search history, etc. So if you compare Ezoic vs AdSense, then the latter also has its advantages.
The minimum payout for Google AdSense ad impressions is $100.
Many people think this is a great platform for beginners. AdSense is easy to sign up for and get started on a website, few of the most commonly used banner ad layouts, high click-through rates.
A large number of global brands use this platform, since it has a large coverage and you can customize certain nuances by yourself.
Benefits of Google Adsense:
Clear control;
Payments for clicks on ads;
High traffic thanks to Google support;
Popular ad units.
The downside is slow support, which may not respond to your request for a long time. It is easier to find an answer on forums and Internet services than to wait for a response from the site administration. You cannot restore your account, sometimes they are blocked for completely incomprehensible reasons. The platform has many rules that must be followed in order not to get blocked.
For those new to the field, Google Adsense is a good option, but for more experienced website owners, it's better to look at more resource-equipped platforms.
Since Ezoic is suitable for both advanced and novice clients, we prefer the Ezoic site, despite all the advantages of the Google Adsense program.
Ezoic vs Mediavine
This site has one of the largest coverage, but has many stringent requirements.
Platform support monitors each site user. And in order to comply with the requirements of the company, you must have a large site, the traffic of which is at least 25,000, while, like  Ezoic,   at least 10,000. And again about the rules, Mediavine requires you to sign a certain contract, which must be followed. Otherwise, there is a high risk of losing your account without a chance of recovery.
You don't have the ability to customize your ads and ad layouts by yourself - the platform does it. Ezoic provides a number of options that are not available on the Mediavine site.
This program has several advantages:
High traffic;
Good payouts;
Use of cookies to find target audiences.
If you need to independently customize banners on the site, analyze profits and follow the advertisements that appear on the page, then it is better to become an Ezoic client. If you prefer automatically configured ads, then Mediavine is a great option.
Ezoic vs AdThrive
The site is equipped with a number of layouts for a beautiful distribution of advertising on your site.
On the site you can read reviews about this platform. The traffic is quite high, one of the AdTrive partners is Google, high monetization of video files. It is easy to understand how to use this or that resource on the site. Advantages of the site:
High traffic;
Convenient and easy-to-use interface;
Video monetization;
Many large partners;
Everyone needs to try work on this site, beginners will quickly figure out the controls and types of layouts, and experienced owners will like the variety of themes and high pay.
Ezoic is slightly inferior to the AdTrive program, so we suggest that you familiarize yourself with the AdTrive platform, and then choose the best option for work.
Outcome
 AdSterra,   PropellerAds, Mediavine companies are perfect for the development of large companies and brands. They have high reach and specialize in the ergonomic distribution of advertisements on the site.
AdPushup, AdSense, AdTrive programs are great for newbies and promising brands who plan to grow and develop in the future. Only the most popular layouts and options, a detailed algorithm and profit organization.
AdCash is suitable for those who do not plan to create a large company and are inexperienced in the distribution of advertising on the site.
Frequently Asked Questions
Is Mediavine alternatives better than Ezoic?

Both platforms have a number of advantages and disadvantages. For example, the important advantages of Mediavine are high traffic, good payouts and the use of cookies to find the target audience.

Is Ezoic safe?

Yes, Ezoic is absolutely safe. This is a platform that allows you to test different ad placements and layouts of different types of ads on a web page. Proper banner placement will optimize your bottom line and make your site more organic.
---
---
---