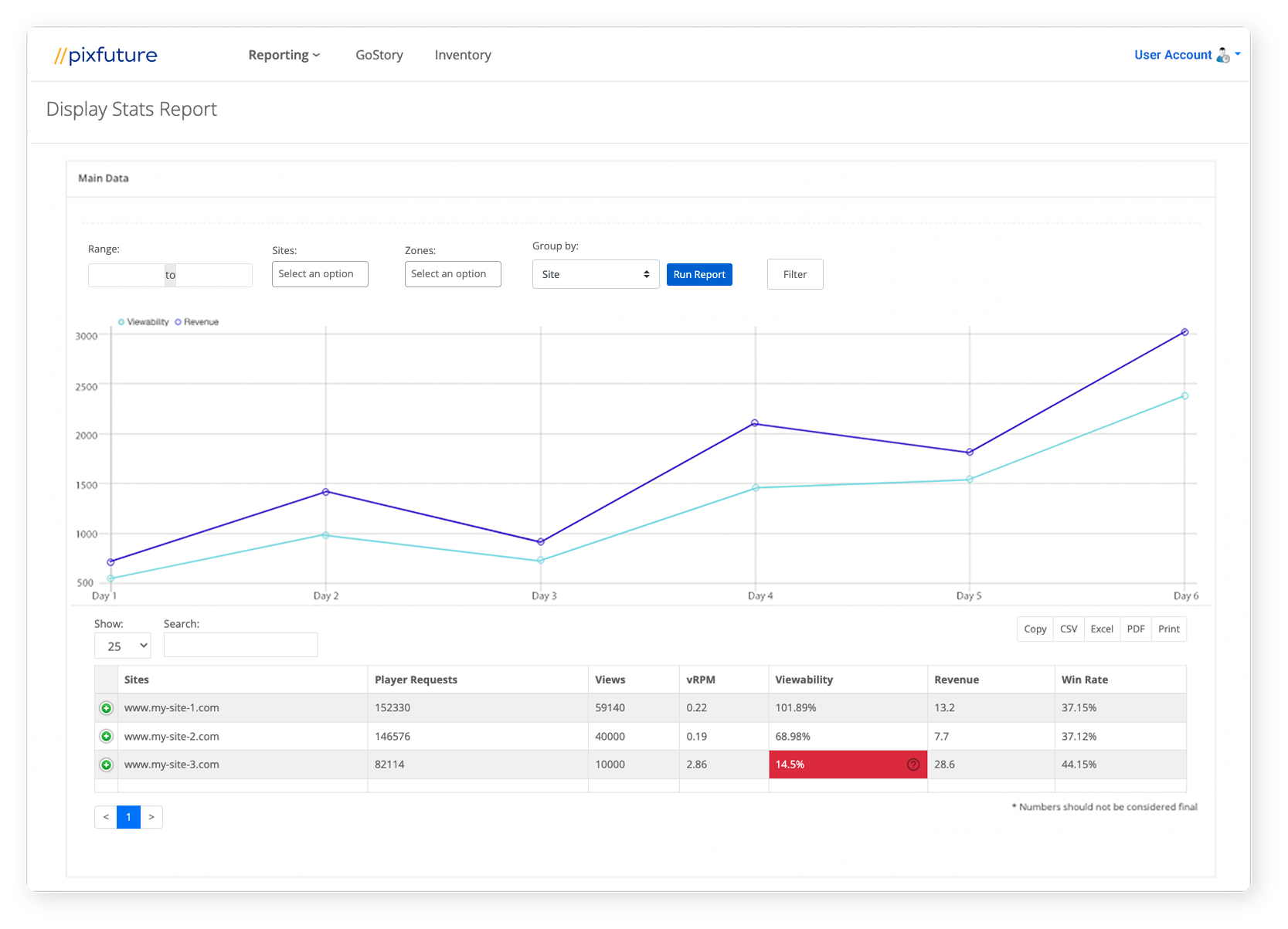 ---
---
As a website or blog owner, having the means to monetize your digital assets is very important and can sustain you over a long time. If the monetizing solution you have chosen has all the characteristics you are looking for, you will be more comfortable working with it. For this reason, we have gone through different service providers to determine the best website or blog monetization alternative.
PixFuture for Publishers
PixFuture is a monetization platform designed to help publishers with their content. It is designed to maximize publishers' revenue and optimize their ad operations. The ad network is also primed for monetization and keeping your audience engaged with your content. Smart ads serve programmatically and give your website the monetization options you need to gain income. As a publisher, your content is your most valuable asset, and having a platform that serves suitable ads means more return on investments for your business.
The ad platform also complies with privacy rules and regulations on the internet, preserving the privacy of your internet visitors. They have support for different ad formats, meaning that serving across mobile and web for your business will be easier. As a publisher, you will find this network to have all the features you would want to monetize your content.
PixFuture Alternatives
For a publisher working with PixFuture, you might be interested in services that are like those you have been used to. In this PixFuture review, we look at some PixFuture alternatives that are feasible candidates and the features that make them an excellent monetizing solution for your blog, website, or other forms of content on the web.
The monetization solution promises to improve your performance and revenues to help you grow your traffic faster. If you have been struggling and looking for a way to enhance your income, this solution can meet your needs. Using Ezoic AI means that the guesswork is removed from your work. The tool also provides insights that enable you to improve your content strategy and the quality of content published.
Ezoic Pros and Cons
Data-driven practices mean this method is effective for monetization
Lot of free tools to make the most of your content
The video formats can be a nuisance if you misuse them in your blog or website content.
It takes a long to load and might end up using more of your visitors' data than they might be comfortable or happy with.
Setup can also be hectic for first-time users.
Rating: 5/5
This is yet another monetization solution and pixfuture alternative that web publishers can use to monetize their content. It handles web and mobile traffic and has powerful features like push notifications, onclick ads, interstitials, smart links, and in-page push. Most ad formats are silent because they do not take up any space on your website and will add to the revenue you get from the other formats.
PropellerAds Pros and Cons
Setup can be complicated for beginners.
Payout threshold can be hard to earn.
Rating: 5/5
If you are a publisher on this network, you can easily monetize your website, app, or social media traffic like TikTok and Facebook. These features are not easy to find in other ad networks and make AdSterra unique in a particular way. The network has reliable performance and will easily cater to monetization for your website.
AdSterra Pros and Cons
More ad categories and levels to choose from.
Some ad types might not be for your business or niche. As such, their offer might not comfortably cater to all your needs.
Ads are mostly about betting and gambling.
Rating: 4.5/5
This advertising network is ideal for publishers looking for more effective means to monetize their websites, blog, and other content. It works under the CPM and CPC pricing models and gives you access to different ad formats like in-page traffic, popunder ads, native ads, and push notifications. The network is quite an excellent alternative to PixFuture and will quickly enable your business to bloom.
The network has a good CPM; whenever you have the volume, they are the right network for monetizing your site. The admin dashboard provided by the website has all the insights and analytics you would want for your site. As such, you will quickly improve your strategy to optimize earnings and position your ad banners more effectively.
EvaDav Pros and Cons
Unreliable online support and limited integration options.
Limited network options.
Rating: 4.5/5
Do you want your website to be making big money? Hilltop Ads is a monetizing solution for your content that will completely replace PixFuture. For publishers, it means simply integrating a monetization solution that caters to your every need while optimizing your income simultaneously.
With high eCPMs, the ad network makes it possible for your content to be monetized and provides statistics to show your real-time performance. Impressions are never blocked on this network, meaning you will earn results. With the ad network, you can easily monetize more efficiently and get paid weekly through a payment method of your choice. The ads are also clean and, as such, will provide a more appropriate experience for your internet users.
HilltopAds Pros and Cons
Some of the ad formats provided might seem intrusive and, therefore, not good for the overall user experience.
The quality of the ads is not that impressive.
The selection of ad networks is also limited.
Rating: 4/5
This is the right advertising network for you whenever you want high-quality ads for your websites or blogs. AdMaven is the ideal partner to work with when aiming for greater reach and ROI. At the same time, they also provide you with better-performing ads that can be used to monetize your web pages more effectively. Monetization is stress-free with this ad network thanks to the variety of formats available. It also works for multiple devices globally and will be quite an effective way to monetize your website. Global coverage also means you will not miss out on monetization opportunities which translates into better revenue.
The platform can also be used to optimize your campaigns and get you the earnings you desire. Whenever you face challenges implementing your monetization solution, there is dedicated support to ensure that your problems are solved and that you are on your way to reaching revenue and performance goals.
As long as you have the traffic, this monetizing solution will make your business stand out on the internet. It has features that most publishers are looking for, and its CPM is also impressive. A considerable number of direct advertisers means getting revenue from your online content will be much easier and less frustrating.
AdMaven Pros and Cons
Minimal impact on the user experience thanks to smart positioning and automated ad loading.
The selection of ad formats is limited for the ad network.
The ad networks compatible with this platform are few.
Ad formats available are limited, and this might affect your target audience.
Rating: 4/5
Sometimes, fewer ads are just as impressive as many ads, provided they are correctly positioned on the page in a manner that will get you the best return on investments. This ad network has the best optimization strategies designed to give you unique ads for your website. No matter the kind of content your website or blog specializes in, the ad network enables you to monetize better with fewer, high-quality ads.
This unique approach goes against what other networks are doing, and for your website or blog, it means a better user experience and more significant revenue. Getting the best quality ads in a manner that does not affect the overall user experience means getting a good return on your investment. It can also enable you to drive growth for your business with the analytics to show your performance and the metrics in that you have excelled.
MonetizeMore Pros and Cons
Access to premium ad networks enable you to get the best revenue streams for your website or blogs.
Limited ad pool due to the limited number of ads from the network means some slots will often go unused.
During heavy traffic times, the number of ads being served might be reduced to preserve the quality of the experience for your customers. This, however, means lower returns for you, and your ad revenue will be significantly impacted.
Rating: 4/5
Conclusion
Monetizing your content as a publisher can be hard when you do not have a reliable ad network to work with. These platforms make it easier to connect to the ad providers that pay good money for your internet traffic. The ad providers are also good at customer support, and as such, they will get you the monetization solutions you need for your content.
With the networks and advertising solutions listed in this post, your content will be more profitable and easier to monetize. Whenever you have needs specific to your niche or category, you will readily have a monetization partner that will maximize your earnings while improving your website and blog engagement.
Frequently Asked Questions
What is the best Pixfuture alternative ad platform for social media traffic?

If you are a publisher on this network, you can easily monetize your website, app, or traffic from social networks like TikTok and Facebook. These features are not easily found in other ad networks and make AdSterra unique in their own way. The network has reliable performance and will easily monetize your website.
---
---
---