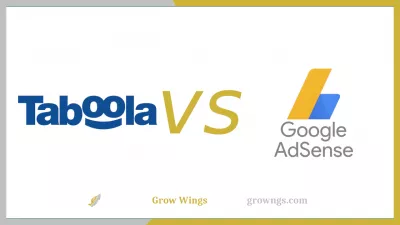 ---
---
In this article, we have compared two ad platforms - Taboola vs Adsense. We analyzed the advantages and features of both platforms and made a conclusion
Taboola vs Adsense - Reporting CPM Bids, Payments and Revenue
When it comes to website monetization, online advertising continues to reach new heights. Online advertising uses sophisticated tools to customize the user experience, resulting in a direct response from the intended user. Various ad technologies have emerged to better serve ads in more personalized ways.
Native advertising is the fastest growing ad technology and will continue to grow at an exponential rate due to its ability to attract nearly 60% more traffic than traditional advertising. This ad technology has managed to strike a balance between profitability and user experience by seamlessly integrating related ads with quality content. Tabula is one of the oldest and largest native ad networks, enjoying significant market share and recently celebrating its tenth anniversary.
PPC advertising is a form of targeted advertising in which ads are placed only when they relate to the textual content on a website or blog. Google Adsense is a contextual advertising network that has been around for a long time and has more than proven its worth in website monetization. Adsense is considered by many to be the largest and best ad network.
In this article, we will conduct a comparative study of the two largest and most popular ad networks in the world, namely Taboola and Google Adsense.
Taboola vs. Adsense: Minimum Traffic Requirements
Taboola ads appear exactly at the moment when the user has finished consuming the content he needs and is looking for what to do next, in other words, at the moment when he is most open to learning new information.
When comparing Taboola vs other ad networks, there are some features that we would like to draw your attention to.
Taboola requires publishers to have at least 1 million monthly page views. Once the publisher is registered, it will be verified and the publisher will be prompted to sign an NDA if a minimum traffic threshold is required Promotional codes are set up after all this is done. It accepts all sites.
Taboola.com: Content Discovery & Native Advertising
Google Adsense has no specific traffic criteria for becoming a publisher. The only criterion on the web side is that the website must have quality content posted on a regular basis. The network accepts sites in all languages ​​supported by Google. Adsense has strict policies that websites must adhere to in order to maintain their online membership. The network does not accept sites containing adult content or content related to violence, racial intolerance or any other illegal activity.
Google AdSense - Earn Money From Website Monetization
Taboola vs. Adsense: Revenue Share as a Percentage
Taboola shares 50% of its revenue with publishers, which is pretty steep compared to industry standards.
AdSense offers 68% of revenue to publishers who display content ads. However, the publisher's revenue share drops to 51% if the ad platform is used primarily on the search platform. The rest is stored by Google as a confirmation of the services provided.
Taboola vs. Adsense: Advertising Quality
Taboola's ads are of high quality, although sponsored content blocks can sometimes feel like spam. Taboola has a strong regional advertiser base around the world, resulting in a wide variety of creatives and ad types.
Google Adsense delivers very high quality advertisements to all of its branded advertisers across all of its publishing networks. This is a huge factor that makes it difficult to traverse the web. AdSense supports a variety of ad formats. The banners and video ads served by Adsense are especially noticeable.
Taboola vs. Adsense: Publisher List
Taboola's publishers list includes major brands such as Forbes, NY Times, TMZ and USA Today.
AdSense has an unprecedented global reach and is used by everyone from large companies to midsize businesses to small users. Mashable, Times Network, eBay, HubPages are some of its top publishers.
Taboola vs. Adsense: CPM and RPM Bets
Taboola is a PPC network where publishers only get paid for clicks. Average CPC ranges from 2 cents to 5 cents, but is usually low for Asian traffic. Taboola's ad turnovers can be as high as $ 2 or more, depending on traffic quality and location. Tabula has a fill factor of almost 100%. Plus, if you have traffic from the US, Taboola video ads can generate additional income for you.
Adsense offers CPM prices ranging from $ 1 to $ 3. The average display speed of Adsense ads ranges from $ 5 to $ 10 for a broad niche. In the case of competitive niches with a higher PDA, the rate is around the much higher $ 100. Adsense has a fill factor of 100%.
Taboola vs Adsense: Payments and Income Report
Publishers on the Taboola network receive a net salary of $ 30 as soon as they manage to get $ 100 in their accounts, or even lower. Payment is made as direct deposit via Payoneer to Indian publishers after verification of their accounts and PAN details.
Adsense follows a monthly payment schedule. It pays publishers in multiple ways, such as check transfer, Western Union, EFT, and Rapida. The minimum Adsense payout threshold is $ 100. Google provides detailed reports on ad clicks in real time.
Conclusion
In terms of ad quality, Taboola is very good. The registration and withdrawal processes can be quite difficult. But this is understandable given the type of services they provide. The performance and ECPMS provided by Google AdSense are second to none, and it's not that hard to get started with either. It is for this reason that Adsense has such a vast network of nearly 14 million websites.
Publishers may be disqualified during partnerships with AdSense due to strict Google policies. The situation is different with Tabula. The web does not impose any restrictions when it comes to content on publisher sites. So, for publishers who get banned from Adsense, or those who don't get banned in the first place, Taboola can be a great alternative.
Taboola vs Adwords: Which one Is Best For You? | Taboola
---
---
---