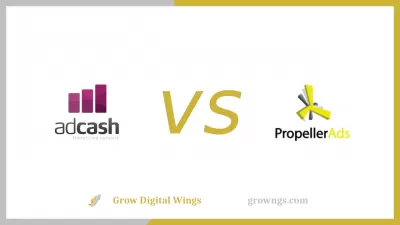 ---
---
Running your blog or online resource is an excellent option for generating stable income from month to month. Today, it has become easier to monetize your resource; for this, the placement of third-party advertising is used.
Before the advent of Adcash (and similar sites), PropellerAds was an order of magnitude higher in the industry. However, the overly strict protocols and rules of the platform have led to a backlash among users. Accordingly, part of the user base was lost. Online ad platforms quickly stepped in, and publishers around the world began to take advantage of ad platforms with less stringent policies and higher income.
AdCash is a global standalone online advertising platform for media buyers, affiliates, ad networks and publishers.
Founded in 2007, Adcash has 14 years of experience finding and serving high quality ads to monetize websites around the world. The web uses advanced placement algorithms to ensure that the best ads get to the right sites.
This ad network currently has over 10,000 active campaigns and receives an additional 10 billion ad requests per day. Adcash allows publishers to serve ads in 196 countries. The main offices of the company are located in Tallinn, Estonia, with a branch in Sofia, Bulgaria. The platform rules allow you to advertise in various areas of life: games, sports betting, gambling, finance / cryptocurrency, VPN / app installation, health / Nutra, online dating, e-commerce and much more.
AdCash display ads will allow you to generate income from your blog.
Support
Each publisher can get support upon request from the Adcash Support tab. This is an easy way to send an email to a team that promises to respond to any inquiries within 24 hours, Monday through Friday. Outside of this time, publishers may have to wait a bit to get their questions answered.
The company has a worldwide presence, which allows it to provide exceptional customer support. Want personalized advice on how to monetize your online traffic? Contacting a representative will resolve the issue. To avoid misunderstandings, the company's employees speak different languages.
AdCash payment method
Publishers can now choose between Euro or USD invoices. The minimum threshold for requesting a payment is 25 USD / EUR and payments can be requested via Paypal, Skrill, wire transfer, Payoneer, Webmoney, and Bitcoin. For bank transfer, the minimum request threshold is 100 EUR / USD. Within a month after this amount has been received, the payment is sent to the Adcash payment confirmation department. Confirmed payments are made on a NET +30 schedule with a month left between approval and payment. In all cases, users are advised to consult the "request for payment" feature in their account to get an idea of ​​the likely due date.
There is no commission for withdrawing funds from the wallet, although each payment terminal may charge its own commissions. For example, PayPal usually charges a 3-5% commission on any amounts uploaded to their platform. For users wishing to choose the bank transfer option, Adcash applies a € 3,000 / $ 3,000 limit on any withdrawals.
AdCash Notes and Rules
Detailed information about the service applied to publishers and advertisers is specified in the AdCash Terms of Use. These include notes about prohibited content, inactive account processes, and other information. Basic moments:
Sites should be rich in information - things like SEO doorways are not allowed.
Bans are also related to artificial activity such as hidden text or links, auto-generated content and pop-ups, and any methods used to trick the visitor.
Websites promoting the sale of alcohol, tobacco and weapons or containing illegal content are prohibited.
If an account is inactive for 150 calendar days, it is marked as inactive. The user is then charged 10% of their balance or € 10 / $ 10 per month, whichever is greater. Any account with a balance of $ 10 / € 10 is blocked and then archived if no action is taken within 90 days.
Campaigns can be run by email, but only with network permission.
In the event of any violation, Adcash reserves the right to block or delete the offending account. Blocked accounts cannot be used to request payments, and they may even see amounts withdrawn from their wallet as compensation.
RPM AdCash
CPM Adcash rates are very varied, ranging from $ 1 to over $ 10.
AdCash: pros and cons
Several ad formats to choose from.
Adcash welcomes any kind of traffic.
Innovative tools providing high earning potential.
Multiple payment options
Availability of anti-blocking solutions
No additional transaction fees
Responds to inquiries promptly
No referral program for publishers
Lower  CPM rates   than those offered on the market
conclusions
One of the main takeaways that can be drawn when using the Adcash platform is balance. The overall customization of their services seems to accommodate the needs of both publishers and advertisers without tipping the balance towards one or the other. It's nice because it easily creates mutually beneficial relationships with advertisers and publishers, as it should be.
Looking for a superior CPM ad network that will increase your bottom line? Try Adcash. Refer other publishers to the Adcash platform and receive a lifetime bonus of 5% for each new client. A specialized support center will provide you with specific advice that will help you effectively monetize the traffic of an Internet resource. Also, thanks to this approach, you can learn all the latest advances in advertising technology.
Propellerads, founded in 2011, offers display, native, video and mobile advertising along with partner services. With 8 years of experience and over 150,000 publishers, PropellerAds claims to offer the best CPM on the market.
PropellerAds is an international platform that promotes your resources by buying traffic, and, accordingly, user clicks and earning on its sale. In simple words, this is an opportunity to place advertisements on your sites and in the future receive rewards for each impression / click.
An important advantage of the Propeller Ad network is round-the-clock technical support for personal managers.
The selection of a user and an advertiser is carried out by algorithms developed by PropellerAds, which improves the interaction of the parties. PropellerAds is not only a publisher ad network, but also a self-service platform for advertisers with which they can create their ad campaigns.
It's easy to get started with PropellerAds. Publishers are given the option to create and insert ad code themselves. To improve support, the company uses personal account managers. However, for better support, the company provides personal account managers.
Types of advertising
The platform offers the following types of advertisements:
PopUnder
Native direct advertising
Interstitial mobile ads
Conversational Advertising / Push-up Advertising for Mobile Devices
Banner advertising for all standard sizes
Push notification ads
Depending on the type of your blog / website, you can choose the right ad type to monetize your blog with Propeller Ads.
PropellerAds display ads are safe. It works with the most popular websites on the Internet and does not affect settings, site navigation or downloads.
PropellerAds Benefits
There are no minimum traffic requirements. For small publishers, the lack of minimum traffic requirements can be the biggest advantage. They can start to monetize their site even with a small number of visitors. This encourages publishers to increase their website traffic and increase their income.
A wide range of payment methods. Payout PropellerAds via PayPal, ePayments, WebMoney, Payoneer, Skrill and bank transfer. This means there are more options for publishers to receive payments.
Low terms and threshold of payment. The company recently updated its payment policy and lowered its minimum payment threshold to $ 5 with a weekly payout (Thursday). Again, this is great news for smaller publishers as weekly payments increase their trust in the business and company.
Disadvantages of PropellerAds
Like any advertising platform, PropellerAds has its drawbacks. Consider them:
Decreased income for non-English language sites. The platform supports non-English languages, but income from such websites is not as good as for Russian-speaking websites.
Low CPM on a low-quality site. PropellerAds reviews the UX and website design in its assessment. If your site doesn't meet quality standards, use lower CPMs.
No bet header. Headline bidding is one of the most powerful monetization methods available to publishers today. The company does not offer headline bidding, and the publishers of PropellerAds overlook the technology and its benefits.
RPM PropellerAds
$ 0.50 to $ 1 for most websites. In some niches, such as file sharing, CPM exceeds $ 1.50.
Conclusion
PropellerAds is a great ad network, but the price tag is quite high. Therefore, it is inferior to some of the capabilities of AdCash. In terms of display ad revenue, AdCash has advantages. Since it has higher payouts, it is easier to manage and configure. You don't need to look for instructions. AdCash is great for selling a small product.
---
---
---