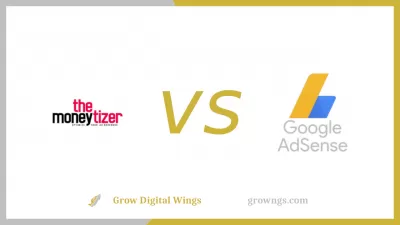 ---
---
Given the spread in the modern world of a huge variety of media content, it became clear to a person that it is not only possible, but also necessary to make money on advertising, since this business can bring huge profits. Today we will take a closer look at the two advertising services and compare AdSense versus TheMoneytizer.
Google AdSense
AdSense is a contextual advertising service that owes its appearance to the famous company Google. The principle of operation of AdSense display advertising is that the advertiser puts a certain graphic or typographic material on the page, launches the program and it selects the advertisement that suits the context. The service was first introduced on June 18, two thousand and three, and a little later restarted in two thousand and twelve.
The list of features that AdSense can offer to its owner include:
filter of competitive ads and offers. Using this function, the advertiser can view competitors' ads and block them at their discretion;
the ability to view the ad, including a comprehensive study of it;
context filter. The ability to filter ads that do not fit the context of the current page;
the ability to choose your ads. In the event that Google, for any reason, cannot find suitable advertisements by context, then the advertiser always has the opportunity to build his own advertising material.
It is not possible to withdraw small amounts of money from Google AdSense, because on the service there is such a thing as the amount of the minimum withdrawal, which is about one hundred dollars, which is quite a large amount. The payment is made, as a rule, once a month in several ways;
Bank account;
Rapid system;
Western Union Quick Cash and many others.
Among the list of types of ads that an advertiser can upload to their site, thanks to AdSense are such as:
responsive ads;
honorary plaque;
banner advertising;
panoramic advertising;
a variety of bulletin boards;
Medium rectangular advertisements
skyscraper;
purely text ads;
square type advertising;
floor banner;
button;
vertical banner.
When placing ads on the Adsense service, there are some restrictions for the advertiser, as well as certain inappropriate content that the user cannot post due to the censorship of the program. These restrictions include the following:
the advertiser is prohibited from artificially increasing the number of his impressions, including manually;
any stimulation of clicks or views is prohibited, in other words, it is unacceptable for an advertiser to ask users to specifically open and view ads, including for an additional monetary fee. The only exception in this case is rewarded ads;
advertisers are prohibited from posting on their page those ads that were previously attracted for any violations;
you cannot post ads on the site that receive traffic from additional sources;
publishers have the right to post only that information, the copyright of which belongs to them:
advertisers are allowed to add to their site only those types of ads that are officially allowed by Google's regulations; it is forbidden to make changes to the digital ad code that will artificially contribute to the effectiveness of advertising content;
it is forbidden to attach advertising content in pop-up windows, Internet mailings.
the navigation system on the sites on which ads are displayed is false to be extremely simple. Because of it, user settings should not be changed., And the users themselves should be redirected to unwanted sites, or file downloads should be started.
The Moneytizer is an international advertising platform for publishers. Header Bidding sets up an auction between the biggest advertisers to guarantee you the best possible ad revenue. The platform allows you to optimize advertising monetization and even earn money for sites with low traffic.
Moneytizer is a program that not only allows you to post advertising content on the Web, but also makes it more competitive.
TheMoneytizer display advertising promises to its users:
a personal manager who will help and promote advertising content in every possible way;
quick installation of the online application;
easy registration;
support for Plugin Wordpress, thanks to which it will be a pleasure to work in the program, as it optimizes the process of placing advertising content to the maximum;
a single control panel, thanks to which all the information necessary for the user will be in one place;
automatic update of old read advertising banners with new ones using the latest Smart Refresh function;
lack of any special obligations to the service. Advertising banners, after losing their relevance for the owner, can be removed at any time.
Moneytizer has many famous and influential affiliate companies, including:
152;
teads;
SPORTX;
sovrn;
FreeWheel and many others. The program offers advertisers the latest and most diverse ad placement formats, including:
MEGABANNER;
TOP MEDIUM RECTANGLE;
HALF PAGE;
SKYSCRAPER;
BOTTOM MEDIUM RECTANGLE;
MEGASKYSCRAPER;
MEGABANNER bottom;
BILLBOARD;
FOOTER or SLIDE-IN;
RECO CONTENT;
POP;
IN FEED / IN TEXT.
Payments to Moneytizer are made in two ways: via PayPal or bank transfer. The withdrawal of funds and their receipt on the card, as a rule, is done automatically, that is, after two months of crediting the income to the internal balance of the program, the owner receives a certain amount of money. The minimum withdrawal amount is $ 50.
Also, you can work on this service not only yourself, but also attract other people, turning them into business partners.
Conclusion: AdSense or TheMoneytizer?
In comparison, two modern and professional services for the distribution of display advertising on the Web were presented. To summarize, it's safe to say that Moneytizer has some significant advantages over Adsense. These distinctive advantages include:
a smaller allowable amount of withdrawal of funds, which is much convenient for many users, since it is much easier to withdraw small amounts of money from the service than to wait a long time until a larger amount is accumulated;
quick registration;
no special obligations, unlike Adsense, which has a lot of censorship notes.
On the other hand, AdSense is the production of Google, which is widely distributed around the world and collaborates with many brands and social networks, which greatly simplifies the work of potential advertisers. -
---
---