The PopCash platform is the perfect option for buying and selling traffic. the main product is popunder (clickunder) advertising. Correctly configured filters will allow customers to get a lot of new clients, and webmasters will be able to make good money on this.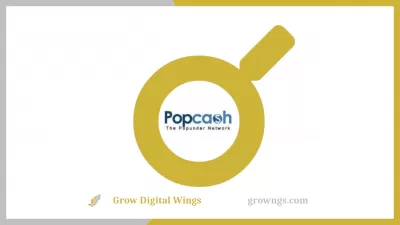 ---
---
PopCash Review: Key Features and Benefits for Advertisers and Webmasters
Webmasters are constantly looking for new opportunities to earn money. They are looking for new and new sites that will allow them to receive money by completing fairly simple tasks. Popcash is a prime example of such services. This traffic network started its activity in 2012. Today it has connected more than 50 thousand partners and provided approximately 850 million ad impressions monthly. Popcash works with both publishers and advertisers from all over the world. The main product is popunder (clickunder) advertising.
Before you start working with the site, you should learn more about the PopCash review, which is presented in this article. This will help you decide and figure out how to get started, how to start more efficiently, etc.
PopCash is a platform that brings together advertisers 'products and webmasters' activities. Each of the parties, cooperating with this resource, will benefit for themselves. The head office is located in Kingstown, offshore. In addition, there are also two representations: in Romania and Costa Rica.
An excellent service designed for webmasters and advertisers - this is the answer to what is Popcash. By cooperating with the platform, webmasters can receive approximately 80% of the network's income - this is a high figure compared to competitors. The advantage is that the minimum entry amount for advertisers is $5, for webmasters $10.
Available deposit and withdrawal methods: PayPal, Paxum, Skrill, Wire. There is also the possibility of daily payments.
The main purpose of the service is the purchase and sale of traffic, as well as the placement of customer's advertisements on third-party Internet resources. That is, we are talking about a kind of traffic exchange.
The main interface language is English. The service purchases clickunder and bodyclick traffic anywhere in the world, and also accepts almost all web resources.
For webmasters
In cooperation with PopCash, webmasters will be able to earn by placing advertisements in the pop-up format on their Internet resources. To do this, you just need to register in the system, and then send your sites for moderation. This is done quite easily. You just need to go to the Publisher tab and then Websites. To add a resource, you need to click on the Add a new website button.
A form will open where you need:
Specify the site address.
Select the subject of the resource.
If necessary, you can configure a ban on adult content.
Each site is manually moderated. That is, the verification is carried out by a person. On average, this will take up to 12 hours. Then, after approval, the webmaster will only need to place on his website a special code generated by the JavaScript system, after which the ads will be available for viewing by users of the Internet resource.
What are the benefits of website owners?
In cooperation with PopCash, webmasters will have access to the following privileges:
Payment will be received for visitors from any country.
All launched advertising campaigns are checked by specialists several times a day.
The system interface is convenient and understandable for the user. Even if a person does not know English, the algorithm makes it easy to use the site.
Domains are approved promptly.
Each of the ads will be shown on one site every 24 hours.
Detailed income statistics are available. Data is updated every hour.
Webmasters receive regular payments (on weekdays).
You don't have to cooperate with PopCash only. The site does not prohibit working with other popunder networks.
You can use both PopCash and Google Adsense on one page, which greatly facilitates the work of a webmaster.
There are no fixed ad cost bids. PopCash offers dynamic pricing. The cost of a thousand clicks will depend on a number of factors:
Internet resource subject.
The country the visitor is in.
Traffic quality level, etc.
Almost all Internet resources are eligible to participate. The only exceptions are prohibited topics.
For advertisers
With PopCash, advertisers can launch the desired advertising campaign as soon as possible. In order to advertise your product through PopCash, you need to go through the registration procedure, replenish your account with the required amount (to launch the project), after which you can create an advertising campaign by setting up targeting for the required country or category.
The cost of ads is dynamic, because the service uses a bidding system, with the help of which the advertiser has the opportunity to independently choose how much he is willing to pay for each visitor. The minimum cost of the transition at the current moment is from $ 0.001. The price is for one unique visitor. That is, if this person visits the corresponding page twice or three times, then the payment will be made only once. Such a visitor is considered unique only on his first visit.
Pros for advertisers
The main positives for advertisers should be reflected:
The cost of the minimum deposit is very low - only $ 5.
It takes very little time to approve an advertising campaign - 1 hour.
You can view detailed statistics, which are updated every hour.
All campaigns can be monitored, suspended or canceled altogether if the need arises.
Advertising platforms are subject to rigorous checks, so the advertiser does not have to worry about the quality of the resources.
There are various ways to pay for services.
What tools can you use to promote projects through PopCash?
When buying advertising space from webmasters, the advertiser can count on:
Popunders.
Target.
PopUnder is a banner that appears in a pop-up window immediately upon opening an Internet resource. According to marketers and programmers, PopCash is one of the most profitable ways to advertise on the web.
As for targeting, its setting is carried out by:
Countries.
Categories.
Operating systems.
At the same time, you can also configure such parameters as: operator, connection type, browser, device, etc.
About tariffs
Users are served free of charge. But the cost of services is dynamic. This is explained by the fact that rates are controlled by market trends and conditions. PopCash employs a trading system that allows customers to choose how much they pay per visitor. In addition, the advertiser will be able to fully control their costs.
The platform administration has introduced a minimum cost for each unique visitor. This indicator changes periodically depending on market trends.
By the way, if you need cheaper traffic, PopCash makes it possible to contact representatives of the platform and inform about your desire. There is a possibility that it will be possible to use a tariff with individual conditions.
How to make money with Popash?
Earning money in the system is possible by selling traffic on web resources. The amount of income will depend on various factors, for example, on:
Visitor countries.
Niches of the Internet resource.
The level of quality of the Internet connection, etc.
Personal Area
The personal account is the same for both webmasters (publishers) and advertisers. Accordingly, there is no need to separately create the corresponding accounts. In the cabinet, you can find several sections designed for the corresponding role for each separately, as well as for both roles at once. For example:
In this section, you can find a news feed that will help you keep abreast of all the events that have taken place, as well as learn about all the changes on the site.
In this section, you can find the necessary information on depositing and withdrawing funds.
It is from here that the affiliate link is copied, which will allow you to attract referrals. Here you can see their exact number and activity.
The section allows you to view statistics and reports on the traffic sold and purchased.
Account settings. In the section, you can edit the profile, change the data that was specified during registration. In addition, you can register additional information about yourself.
The section contains contacts for feedback and the possibility of contacting technical support.
The section is intended for webmasters, so that they can add sites for the subsequent publication of ads.
This is where advertisers can manage ad campaigns. Run them, pause, change settings, and exit.
Mobile app
Due to the specificity of the PopCash functionality, the developers decided not to create applications for smartphones. The desktop version makes it much easier to manage all the available features and functions. In addition, it will provide more productive collaboration between advertisers and webmasters.
Deposit and withdrawal of funds
Transactions are carried out through various payment systems, including:
PayPal.
Wire Transfer.
Cryptocurrency transfers are also available: Litecoin, Bitcoin, Ethereum. You can also make a bank transfer.
There are other ways to deposit and withdraw funds, however, it is advisable to first write to technical support to check the possibility of their use.
Bonuses and referral program
Like other similar platforms, PopCash makes it possible to receive additional passive income by attracting referrals. Any user can copy the affiliate link and place it on any resource, for example, on his website, or channel, in the comments to a post on a social network, etc., or send it directly to a person who also wants to become a part of the system. This will allow you to receive 10% of the income of attracted users.
Evaluating PopCash
We can say that PopCash is a great way to earn money for webmasters and an excellent service for advertisers. On a five-point scale, it deserves an assessment of 5. This is due to the following features of the service:
24/7 support service.
The speed of payments.
Intuitive and user-friendly interface.
Can be used in any country.
A large number of ways to withdraw and replenish your account.
Performance-oriented.
Due to the large number of targeting settings, optimizing an advertising campaign for a target audience will not be very difficult. On the contrary, the customer will get excellent results, and the webmaster will be able to get a good income. On average, 1000 unique impressions will generate revenue from $ 1.5 to $ 4.
PopCash provides 850,000,000 views and about 4,500 active ad campaigns every month. More than 50,000 webmasters cooperate with the site, who regularly receive payments for their work. Thus, PopCash confirms its status as one of the best platforms for buying and selling traffic.
★★★⋆☆
PopCash Review
 Due to the large number of targeting settings, optimizing an advertising campaign for a target audience will not be very difficult. On the contrary, the customer will get excellent results, and the webmaster will be able to get a good income. On average, 1000 unique impressions will generate revenue from $ 1.5 to $ 4.
---
---
---