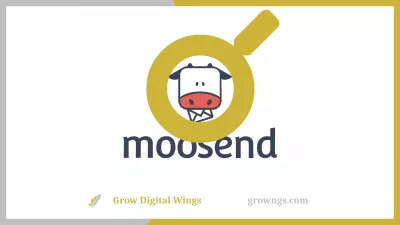 ---
---
Moosend Review - Moosend is the best option for you. It is an email marketing platform that helps businesses of all sizes manage email campaigns.
Full Moosend Review
Moosend is one of the leading email marketing platforms that serves businesses for their marketing campaigns. The distinguishing feature of Moosend is its price. They offer features at a low cost compared to other competitors.
So if you are looking for an advanced email marketing tool that fits your budget, Moosend will be one of the first on your mailing list.
Despite the availability of other options, Moosend is still considered one of the best email marketing tools available. With an average rating of 4.7 on g2 and 4.8 on Capterra, there is no denying the fact that the Moosend is still one of the best choices available.
Let's take a look at the full Moosend review.
Moosend Review
About Moosend
Moosend is a platform that helps you easily manage multiple marketing campaigns and mailing lists. The built-in campaign editor also allows you to work on the design to create bright and eye-catching newsletters.
Moosend is the best email tool to help you improve your email marketing campaigns using smart marketing automation techniques, personalized tags and landing pages.
You will be able to receive meaningful reports on ongoing campaigns and monitor your statistics in real time.
Moosend is one of the best free email marketing tools available in the market. Suitable for small, medium and large enterprises.
Comparing this product with other competitors, you will find that there are some unique and useful features, but there are also some disadvantages. We will outline the pros and cons of the product to better understand its effectiveness.
Moosend has a free plan that includes up to 1,000 subscribers and 3,000 monthly email campaigns. The paid Moosend plan starts at a face value of $ 10 per month.
Moosend has a wide range of tools to make your life easier if you are serious about email marketing.
Moosend Feature List
So let's start with Moosend's features that will help you decide whether to opt for this product or not, and whether it is worth paying your attention to.
Easy-to-use Moosend dashboard
The Moosend dashboard shows you a complete overview of how your email marketing works in a product. The dashboard displays general information about your new customers with infographics. They also describe your mailing lists and past campaign in great detail.
Moosend's interface is simple and straightforward, and their overview will give you an overview of your work right in the dashboard.
If I was evaluating a dashboard, I would give 3.5 out of 5. You will also receive a comprehensive report on your work in Moosend.
Robust Moosend Automation
Moosend's automation features help companies ease marketing responsibilities. Its automation features truly save you tons of time and headaches and propel your email marketing forward.
It's like plug and play: you just set up an automated process and everything will be done in no time. Some of the automated processes you can do with Moosend are:
Reminders
Connecting users
Abandoned cart
Scoring
VIP offers
Each automation has triggers, conditions, and actions. So it's up to you when, how, and what to activate. Once you're done, just start the automation and it will do the rest.
Segmentation and personalization
Moosend's segmentation and personalization features are always a game changer for your effective email marketing. Segmentation helps build influential customer relationships and can increase revenue by sending out targeted newsletters.
Personalization can be achieved according to the following data fields:
Age
Birthday
Floor
Location
Recent purchases
While Moosend creates customer segments using data stored in the system:
Contact activity
Contacts
Time
Free Moosend Newsletter Templates
Moosend's comes with a collection of 70 email newsletter templates to get you started on your email marketing journey. You can also order or create with a flexible drag and drop newsletter editor.
Some of the newsletter categories include Black Friday, abandoned cart, e-books, e-commerce, information and advertising. Moosend also provides many options for visualizing your newsletter. You can add buttons, images, GIFs, and even videos.
Another added benefit of using Mossend is that it allows you to send unlimited email campaigns for free. You can also customize your tests, change fonts, background color and structure to suit your needs.
You can preview your newsletter design before starting your campaign, and that too, without leaving the editor. You can also send yourself test emails.
Moosend integrations
Moosend helps you integrate with all your favorite tools and platforms at the click of a button. It brings together platform categories such as CMS, E-Commerce, Lead Generation and many more.
You can integrate Moosend with multiple platforms in a couple of ways: via Piesync or via Zapier. Some of the platforms that Moosend has seamless integration with are:
Elementor
Pabbly
Magento
Woocommerce
Convert box
Open Cart
Mailoptin
Unbounce
Facebook Lead Ads
Zendesk
Active Campaign
Hubspot
Constant Contact
Get Response
Sendinblue
Mailerlite
WordPress Subscription Forms
Moosend subscription forms
Mossend Sign Up Forms are a great tool for gathering any potential customers. Moosend's helps you create responsive and user-friendly forms that ultimately expand your email list and ultimately help you profit from targeted emails.
First, let's talk about the types of signup forms that can grab the attention of your visitors:
Modal popup
Inline form
Floating bar
Floating box
Page to fill
Now when it comes to shapes, you can choose from a variety of ready-made shape designs for all your purposes and needs. You can also customize your forms according to your needs to fit your brand.
Now let's move on to the part where you can set rules for the visibility of your forms. The options available are Specific URL, Device, Country, City, Operating System, and Cookies.
And the last is the automation process. Just automate your campaigns with specific rules to take the hassle out of your day.
AI Marketing Automation Features for Ecommerce
If you are running an ecommerce website or using platforms like Woocommerce and Shopify but still not using Moosend, you need to reconsider this. Ecommerce AI Automation can help you sell anything, anyone, anytime.
You should start by creating segments for targeted campaigns. Some of the top-notch e-commerce AI features include abandoned cart emails, product recommendations, and shopping cart emails with product blocks.
Cart abandonment email automation features help you recover lost sales with targeted and timely newsletters. Product recommendation is another great tool that recommends products to customers through relevant newsletters. Your shopping emails will help you display the items you buy and all their details from your store right in your newsletters.
Finally, I just want to mention the refinement tool Moosend created to increase your traffic by building a smart line system.
A / B Testing Moosend Tool
A / B testing is another cool feature that allows you to split test two variables side by side and then determine which one works best. The things you can A / B test are subject, campaign contact, and campaign sender.
You can create multiple versions of your email campaigns with different attributes, which will finally help you choose a winning email campaign that turns out to be a gold mine.
Importing data into Moosend
It is very easy to import your contact list into Moosend. You have several options to choose from from your import process, methods include:
Import items with copy and paste
Import contacts from Excel file
Import contacts from CSV file
Import Google contacts directly
Import contacts from Salesforce directly
With the above options, you can easily import your data without any problem.
Is Moosend really worth it?
Moosend is an email marketing platform packed with all the features that help small, medium and large businesses run their marketing campaigns effectively. It's worth it, especially when it comes to such a low price.
I've already covered all of its features to help you, however, I still rate Moosend as one of the best email marketing tools out there. Try Moosend to succeed in your marketing campaigns.
★★★★⋆
A Complete Overview of MooSend Transactional Emails
 Moosend is one of the leading email marketing platforms serving businesses for their marketing campaigns. The distinguishing feature of Moosend is its price. They offer features at a low cost compared to other competitors.
---
---
---