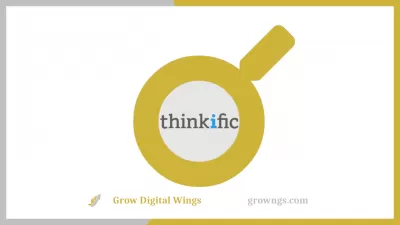 ---
---
The THINKIFIC Platform Overview provides a detailed understanding of the program's features, benefits, and purpose. THINKIFIC will be a great choice for students and those who decide to do business online. Opportunity to teach the audience according to your own method is offered. You can try the free version. The support service works 24/7. THINKIFIC is the choice of modern people who want to grow and develop outside the box.
THINKIFIC is a platform for creating and delivering courses online. It is a multinational program that brings together professionals from all over the world.
<strong> Company mission: </strong> to revolutionize the world of education.
<strong> Primary Objective: </strong> To enable everyone to have access to high quality learning or teaching.
The THINKIFIC platform is designed for both lecturers and students. Everyone can start their own business and earn money by teaching others.
A bit of history. How it all began ...
The creation of the platform became a bright idea and a promising idea of ​​co-founder and CEO Greg Smith. It all started with the LSAT courses that Greg takes online. In order to acquire a large audience of students, it became necessary to develop a program that would allow a large number of students from different parts of the world to study.
Greg has partnered with his brother Matt and co-founders Miranda and Matt Payne to create a platform that aims to optimize online courses for their creators to enable business coaches, language teachers, artisans and hand-made professionals to reach a wider audience. and acquire numerous students.
THINKIFIC Benefits
The program is highly recommended for installation for both teachers and students. The official THINKIFIC website offers software that is easy to install. Each member is guaranteed 24/7 professional support. The main advantages of the program include the following points:
The program is easy to install, and the template can be created by yourself
If the software is installed for a student (learner), the installation takes several minutes. A simple and user-friendly interface makes it easy to understand the functions. If the program is needed for someone who has decided to share his knowledge with others and wants to make money on it, then there are no boundaries in creating a training plan. The teacher himself creates a training course, highlights the functions and advantages of the material, if necessary, makes corrections.
There is no standard template! Design a training course according to your own method! Stand out and be successful.
The program is designed for lecturer and listener
There are no separate priorities for those who train and those who train. The aim of the program is to create a successful, effective and long-term cooperation between the two parties. The goal of the program is to meet the needs of both the student and the teacher. By studying or teaching  Thinkific,   everyone gets the most out of themselves.
400+ experts for 24/7 support
One of the key responsibilities of the program is the full support of each client of the software. The THINKIFIC team consists of 400+ young and promising professionals who are ready to change the world for the better every day. By studying or teaching  Thinkific,   you can be 100% confident in effective online courses. And if anything, a team of professionals is always happy to help.
How to Build a THINKIFIC Business: Key Factors
The program is intended for those who look at business development from a broader perspective than the old Soviet school. THINKIFIC training is ideal for young and creative individuals who have their own views on business / product / service development. If you have knowledge and want to share it with a wider audience, then THINKIFIC is the perfect solution.
The program provides opportunities for a non-standard approach to business promotion. You yourself are the wheel that drives the process. There is no need to follow standard diagrams, steps and steps. Grow your business and share your personal technology knowledge.
The THINKIFIC overview includes a list of important options that the program offers:
Fully customized website.
Perfectly engineered e-commerce technology.
A ready-made set of tools for sales.
THINKIFIC Feature: Provides flexible content that contains video tutorials with live communication in real time. The opportunity of communication with other participants is provided. The student's knowledge is assessed on the basis of a unique technology developed by the teacher.
How doing business on THINKIFIC differs from other sites:
Teachers can sell their knowledge and skills in any convenient format: in the form of individual or group lessons, as well as communities.
0% commission for money transactions. The free money transfer system includes 100+ countries.
Well thought-out marketing technology includes discount coupons, subscription bonuses, half a year subscription discount. You set the price yourself and come up with promotions and discounts that reward subscribers.
THINKIFIC is an online learning platform for anyone and everyone, depending on their background and qualifications.
THINKIFIC - designed to stand out from the crowd
It is not possible to use classic online courses to promote your own brand. Standards - for the masses, to be successful you need to stand out. THINKIFIC is ideal for this. In order to stand out, the following options are offered:
Themes. Attractive and easy to use, allow for creative designs at no extra cost.
Advanced customization. The opportunity is offered to create a brand (online course) that will be 100% consistent with your views on what the lesson should be.
You can add your own domain.
If you have a live site or CRM, they can be easily integrated with the new site.
Newcomers are offered professional support for both software employees and already established businesses. The official website provides statistics on 50,000+ courses, so you are surrounded by a whole community, always ready to share creative ideas.
Price category
The popular online course platform offers an extensive payment system. As E-Commerce Platforms highlights, there are 4 main stages that influence pricing policy:
1. Free
Ideal for beginners who want to better understand the features and capabilities of the platform. The plan is limited to three courses. In this regard, there is no affiliate program, but there is support for PayPal and Stripe. Over time, as the courses become more intense, it is recommended that you move to a more advanced level to gain access to all the tools you need.
2. Basic (basic)
By spending just $ 49 per month, the subscriber gets access to an unlimited number of courses. Additional benefit: the ability to use some of the tools from the Sales and Marketing categories. The course is able to integrate with the desired e-commerce solutions. The $ 49 Key Pack includes affiliate reporting, monthly subscriptions, promotions, discount coupons, and more. The course is 100% worth the money.
3. Pro
Contains a complete package for successful completion of the course, including:
support for multiple accounts;
HTML / CSS editing;
financial reporting;
priority service;
certificate of completion of the course;
direct integration with
The Pro plan is available for $ 99 per month.
4. Premier
The course is intended for those who have thousands or even millions of students from all over the world. As the most expensive package, it provides access to a whole series of important functions, including:
mass mailing;
the ability to create exams for your course;
ability to integrate with marketing tools;
available: 5 site administrators + 50 course administrators;
the ability to divide students into groups (by segments).
The Premier package is ideal for medium and large international businesses, as well as individuals who want to take their business to a new, higher level.
Support
An important characteristic of the platform is the provision of ready-made free demo versions of the product, which clearly show how you can get started with the software. For added convenience, the portal offers a complete blog with video guides to help you start from scratch.
Feature: You can view real customers who have successfully launched a business using online courses.
The site has a help center that offers detailed guidance on how to take the first steps, launch a site, and promote a business. It is recommended to join the community. There are several of them on the site. The forum will provide an opportunity to learn the necessary knowledge from stories and answers to questions from other users.
Integrations and analytics
The platform offers a wide range of integrations, among which each user can choose the desired option in accordance with their own preferences and skill level. To do this, go to the Marketing and Sales section and click on the Integrations tab.
Several of the integration options that are in demand on E-Commerce Platforms:
communication;
with analytics: Google Analytics, Google AdWords;
with e-commerce functions: Constant Contact, MailChimp;
for e-commerce (Stripe, PayPal).
THINKIFIC offers Zapier integration as well as Spotify collaboration (the ability to create and sell courses through this platform).
Summing up
Thinkific is a powerful online course builder that helps you create and sell your own courses. With  Thinkific,   you have complete control over your website layout, content, pricing, and the information you share with students.
One of the best things about Thinkific is that it is very easy to use. You don't need any programming experience or design skills to create a beautiful online course.
Thinkific review: In just a few minutes, you can have your course up and running. Also, since Thinkific is very popular, you will have no problem finding students who are interested in your courses.
There is round-the-clock support, there is a forum and communities for like-minded people. Loyal support and a wide range of different courses play a decisive role in the ranking. The key benefit is the ability to try the free version.
★★★★★
THINKIFIC: an overview of the online platform
 THINKIFIC is an international online platform for delivering training or courses online. Allows you to create your own course on individual technology. There are several options for paid packages, the ability to create a course from scratch using personal technology. Ideal for those who want to make money and those who want to study.
---
---
---