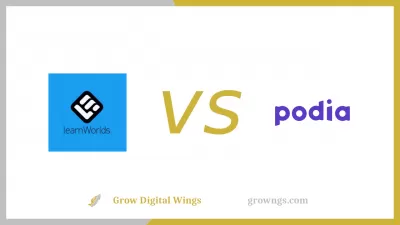 ---
---
Online learning has become popular with students from all walks of life. Podia and Learnworlds are two of the most popular online learning platforms that provide all the opportunities to sell your own courses. In this article, the comparison will be based on their main characteristics, pros and cons, and tariff plans. We will analyze them so that you understand exactly what you want from them and help you avoid the wrong choice.
LearnWorlds: overview
If you are an individual or sole proprietor looking to create and sell online courses, LearnWorlds is definitely a good platform for publishing such courses. It not only provides a powerful sales engine, extensive analytics and third-party marketing tools to attract students. It helps you generate residual income, but it also stands out from its competitors by allowing you to design courses with unparalleled user engagement. LearnWorlds promotes a variety of enterprising entrepreneurs who are committed to providing learning experiences, not just courses.
Unlimited courses
Providing trading pages
Course builder, video download
The ability to import courses
Digital downloads
Online testing engine
Interactive interaction
Built-in social network
Own domain
Custom mobile apps
24/7 customer support
The above list of features and perks hardly scratches the surface of what LearnWorlds has to offer. The complete list is much longer and depends on the tariff plan you choose. Since I don't mean to overwhelm you, I will go over the most important components that you should consider.
Navigating the interface
The platform interface surprises with its lightness and simplicity. Focusing on the top and left margins makes the toolbar more intuitive. Design really makes a lot of sense if you think of analytics as a command center that effectively "manages" the center of the page. Although it takes some effort to decipher all of the visualizations, once you understand, the platform's possibilities seem endless.
In the Active Students section, you can see who is currently logged in, allowing you to encourage real-time participation and collaboration. You can also track your earnings and sales over the past 7, 30 or 60 days and track their changes over time. While analytics may seem daunting at first glance, the client quickly realizes how easy it is to use the various features of the program. The user-friendly interface allows you to make adjustments to current projects before continuing with them.
Setting up an online school is a simple two-step process: come up with a name and specify your language, time zone, and currency. Once your school is set up and you're ready to start creating online courses, the course creation wizard prompts you to:
Name your course
Give the course an SEO friendly URL
Select course type (free, paid, upcoming or invisible draft)
Select price (if paid)
Upload image and course description
Everything is super simple. LearnWorlds supports you every step of the way, assuming no prior knowledge. So if you're a beginner, you can just focus on building instead of getting into confusing or useless navigation.
Interactivity
LearnWorlds offers:
Live online classes
Interactive video player
Interactive e-books
Online testing systems
Certificates
Social learning
Now, especially thanks to COVID, online learning has become a completely new and unprecedented way to gain new knowledge. To make the transition as easy as possible and to mimic the natural way learners learn, it's important to enable synchronous learning through interactive online classrooms. That's why LearnWorlds now seamlessly integrates with Zoom to support direct student-teacher interaction.
The interactive video player is a useful feature because it allows you to use all learning styles at the same time. You can automatically pause the video to draw attention to something or give the reader time to ponder your questions. In addition, interactive eBooks also allow for multiple learning styles. Your students can highlight key or interesting areas of text or make annotations while reading.
Marketing and selling your courses
Like many other platforms, LearnWorlds maintains effective  Search Engine Optimization   (SEO) with clean code for its software as well as the ability to manage meta tags and keywords. Other common features it provides include:
Subscriptions & Plans: Subscriptions are a great way to generate residual income, not a one-time income!
Coupons & Promotions: Boost your sales with temporary discounts! The relevance and limitedness of your suggestions will motivate students to take action!
Free Courses: Reach More Leads with Free Offers!
Free Chapters: Offer small portions of your courses for free as teasers to attract leads.
Native Mobile Apps: With LearnWorlds, you can create a custom mobile app for your school that allows you to offer your courses to millions of potential customers on Google Play and the Apple App Store.
Finally, you can take advantage of LearnWorlds 'impressive full-blown analytics to understand your customers' behavior and increase your conversion rates.
Flaws
Support service. Unfortunately, technical support is not always able to answer your questions in time. According to reviews, people wait for answers for several days, some wait for a solution to their problem for weeks. In addition, LearnWorlds cannot be contacted by phone or other messenger.
Incomplete assortment in the starter package. LearnWorlds provides several packages for creating courses. The starter pack is the cheapest one. This package lacks 24/7 support, as well as some site functions.
LearnWorlds Review Summary: LearnWorlds provides an effective platform for marketing and sales, especially for content creators who don't want to dwell on these details.
Podia - helps with content management and designed specifically for companies that are specialized in digital products. It connects users with their clients through a modern interface and includes tracking calls, e -mail templates and much more, laying the way to higher performance.
If you look at Podia review, you can see that this is a comprehensive solution that allows you to move from creating courses to sell them.
Podia is an online platform that allows you to create and  sell online courses   and other digital content (such as e-books). With Podia, you can host your course content, offer it in a professional way, create a showcase to sell your courses, and accept payments on your website. The first thing you need to understand about Podia is that it is very different from many marketplaces. You own student data (email addresses, etc.) and have complete control over things like pricing, return policies, and more. Podia gives you the infrastructure and tools you need to host your courses online.
Here's an overview of what the platform has to offer:
Create an engaging online course
Unlimited video hosting via Wistia.
Deliver course materials professionally with the built-in course player.
Create an attractive sales page for your products.
Charge a one-time fee, recurring subscription, or even a payment plan.
Easily accept payments via Stripe or PayPal.
Processing of digital VAT taxes.
Create and manage your affiliate program.
Send broadcast or automated email campaigns.
Podia makes it stand out for its simplicity and usability. This way you can quickly set up your courses and showcase, even if you have little technical knowledge, everything will look perfect.
We'll discuss all the features in detail, including what is and is missing, in the following sections of this Podia review.
Course creation and delivery
With Podia, you get the ability to host your content on the platform, including videos, audio files, and more. In terms of video hosting, Podia uses Wistia and offers unlimited video storage. When it comes to uploading your content, you can upload one at a time or multiple files at once, and Podia will create lessons from them automatically.
While the process for uploading content is pretty straightforward, it's not convenient that you can't import files directly from Google Drive / Dropbox / OneDrive. Importing to the cloud is much faster than downloading files from your computer, and this is a really important feature.
When it comes to creating a course structure, Podia has two levels - Sections and Lessons. Lessons are where the actual content lives and sections are only used to organize the lessons of the course. Each file you upload to Podia essentially becomes a lesson, and then the Podia course builder allows you to easily reorder and move lessons within a section or between sections.
Sales and Marketing
When it comes to payment processing, Podia supports both Stripe and PayPal, so your students can pay with a credit / debit card as well as PayPal. Plus, the money goes straight to your account (instant payouts).
Podia has a multi-step checkout process, but it's well optimized. Your users don't need to create an account before making a payment, plus they only have to enter some details to complete the payment.
If you are looking to use  Affiliate Marketing   to promote your courses, Podia can help you. With Podia, you can add affiliates to your store and create unique affiliate links for all of your products.
Since the built-in email marketing capabilities of Podia are pretty straightforward, you will most likely be using a third party email service provider. The good news is that Podia integrates with many popular email marketing platforms.
The platform has built-in integrations with MailChimp, ConvertKit, Drip, ActiveCampaign, GetResponse, and MailerLite.
When a user signs up for one of your courses, you can pass the information about the user to your email provider and add him / her to a specific list or tag.
Content interactivity
The good thing about Podia is that it has a course player that is very well designed in terms of user experience and looks pretty aesthetically pleasing at the same time. Your students can view the course content on the right. Then there is a Table of Contents in the left sidebar that your students can use to navigate the course.
If you've enabled Comments for your course, the comment area will display nicely at the bottom so your users can ask questions and leave comments without leaving the course player as it should.
Another thing that attracts many users is that your students can click the little icon at the top that hides the side navigation bar and the content area takes up all the space on your screen, which is great for distraction-free learning.
The biggest benefit of using a hosted platform like Podia is that you don't have to separately purchase website hosting or SSL certificate or worry about any technical stuff like security, updates, or maintenance.
In this Podia review, we've discussed everything the platform has to offer, as well as its downsides. What sets the platform apart most is its ease of use. You can create a beautiful sales page for your products and start selling them very quickly. The checkout process is well thought out.
Minuses
Lack of grade on student assignment
Podia lets you create a simple landing page, but not a complete website
The following features are missing: edit HTML, WordPress SSO Plugin
Podia has a lot of functionality. It is a good and secure platform for creating courses that will bring you a steady income.
This weekend only, lock in 10% off current plan prices plus save an extra 50% off your first two months, regardless of which plan you choose.
LearnWorlds vs Podia
Course creation
LearnWorlds: You can add videos (including interactive ones), images, text, PDFs, downloads, embed Youtube or Vimeo videos, add assignments, quizzes, exams, HTML documents, SCORM files and other types of media - the options are almost limitless here ...
Podia: The Podia course is not as comprehensive as in  LearnWorlds.   It might be a little more convenient for beginners, but you don't have as many options as with LearnWorlds.
Winner: LearnWorlds is a winner here, thanks to the huge library of files you can add.
LearnWorlds vs Podia 2021: Which One Is The Best For Launching Online Course? (Pros & Cons)
Educational benefits
LearnWorlds: With LearnWorlds, you can create your own community of followers through a student forum where students can ask questions and communicate with each other.
Podia: There are also some very good educational benefit options with Podia, such as quizzes and assignments for your course. One limitation here is that you can only create multiple choice questions instead of open-ended questions where students can write their own answer.
Winner: Again, we must give the championship to LearnWorlds. It has more opportunities for quizzes, as well as the ability to create a student forum.
subtitleMarketing Tools
LearnWorlds:
Sales and landing pages
Blogging
1-click sequences
Analytics
Memberships and subscriptions
Partner management
LearnWorlds vs. Kajabi: A Side-by-Side Comparison
Podia:
Creating a landing page and sales page
Advertising mailing
Affiliate Marketing
Membership
Blogging
Podia Review (Aug 2021): 7 Things They Don't Tell You!
Winner: It's a draw. Both platforms offer great marketing tools.
Technical support
LearnWorlds: Platform support requires clear improvements. Many LearnWorlds users face a lack of phone support.
Podia: You will receive unparalleled support. Once you sign up, a customer support specialist will contact you and offer you a live demo of the site. You will also have a live chat with tech support, as well as other ways to contact support.
Winner: Podia is the clear winner. You get instant access to support as soon as you sign up.
Price
LearnWorlds has several plans for its users:
Starter - $ 29 per month
Professional - $ 99 per month.
Training Center - $ 299 per month.
Corporate - from $ 699 per month
Podia's pricing plans clearly state that they are for beginners and professionals:
Beginner - $ 39 / month
Business - 79 $ / month
Winner: While LearnWorlds has more plans, Podia provides the entire range for as little as $ 79, while LearnWorlds for 99.
Outcome
Here are the final results of this comparison:
As you can see, it is too difficult to name a clear winner here. Both platforms have pros and cons. Podia is more for people who don't want to bother with the interface. And also for people who want to save money on using the platform. LearnWorlds, on the other hand, is suitable for people who want to see complete analytics and progress reports. Choose the platform you like!
Sources:
---
---
---