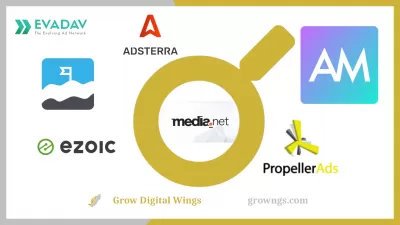 ---
---
Media.net is a very popular online advertising service! The contextual advertising network, which includes many national and local advertisers, ensures 100% fill across all verticals and ad formats. Some of Media.net's publishers include Forbes, Elle, Reuters, Cosmopolitan, Esquire and others.
Media.net publisher sign up is very simple and logical with a clear interface, which is why it is so popular among publishers.
Media.net is one of the most popular Widget systems for publishers to monetize their websites through ads. It allows them to create custom widgets on their site with different ad formats such as text ads, video ads, and social media sharing buttons for users to interact with advertisements on their sites.
Web publishers can use Media.net to convert their websites into powerful monetization platforms. However, the top Media.net alternatives are  Ezoic,   PropellerAds,  AdSterra,   EvaDav, Hilltop Ads, and AdMaven because they offer more features and better performance than Media.net.
Ezoic is a technology company that uses machine learning to help website owners automatically optimize their sites for revenue (read our full Ezoic review). Ezoic has two main products: an ad tester and an ad optimizer. The ad tester allows website owners to test different ad layouts and settings on their site to see which ones perform the best. The ad optimizer then takes those results and automatically applies them to the website, so that the site is always displaying the most effective ads.
Ezoic is the best Media.net replacement because it's an all-in-one platform that allows publishers to create, manage and monetize their websites without having to worry about technical details. It takes care of everything, including payment processing and analytics. It offers a host of features and content management tools, including SEO, video hosting, collaboration and sharing, social media integration, and more.
Publishers can even sign-up for the  Ezoic premium   program and have a sales team negotiate higher paying ads directly on their websites.
Ezoic Pros and Cons:
Ezoic offers a wide range of features and content management tools for your company's needs. It also provides social media integration with Facebook, Twitter, YouTube, and LinkedIn.
Ezoic's SEO tool is one of the best in the business. The website can be optimized for search engines by creating automatic title tags A/B tests, or by using site speed optimization tools to help your content be delivered faster and rank higher.
Ezoic have a good WordPress plugin. This makes it simple for Web publishers to monetize their websites on the Ezoic platform.
They are constantly new features in beta; they get released to all users for free after a while.
It is easy to find a good design for your sites with Ezoic sites because of how many different designs there are available on the Layout Tester tool.
Ezoic's pricing model is based on either 10% of your websites revenue with display ads monetization, or by displaying an ad on the bottom of your pages.
It takes some time for new users to get used to the interface.
Rating of Ezoic
★★★★★
Ezoic Media.net alternative
 Ezoic is also very affordable you can sign up for a free account, or if you want to get more out of it, you can upgrade to an Ezoic premium account. Ezoic's interface is clean and simple, making it easy for even beginners to understand how it works. The app's user base is growing rapidly as people become more interested in creating their videos with Ezoic's help and optimizing various aspects of their websites.
AdMaven is an ad network that offers both pops and banner ads, as well as video advertising options (read our full AdMaven review). AdMaven works with both desktop and mobile traffic and offers a 100% fill rate worldwide. One of the things that set AdMaven apart is its advanced optimization technology, which automatically selects the highest paying ad for each visitor. Another key feature is their self-serve platform, which allows you to get started quickly and easily. Overall, AdMaven is a great option if you're looking for an all-in-one solution for your  website monetization   needs.
AdMaven is the best Media.net alternative that allows you to generate leads directly from your website and track how many people are visiting it all without having to pay for separate software or a developer.
AdMaven Pros and Cons:
The dashboard is simple and easy to use.
You can create multiple ad campaigns at once with AdMaven's easy-to-use interface.
You can create your custom audience segments and target them with just a few clicks.
You can run campaigns in any format that you want: text, video, or audio ads.
You have to pay for each campaign you create.
Banner ads have extremely low conversion rates and will make it difficult for you to earn any revenue from your website.
You must manually approve all ads that show on your site or else risk getting flagged by Google's spam detection systems and incurring a penalty.
The company claims they are an ad management company but they offer only banner ads as a form of advertising, which limits how many different sources you can work with at once.
You must sign up for the company's premium service to track conversions and access more than just banners.
If you don't sign up for the premium service, then your account will be shut down after 6 months of inactivity.
Their payouts are significantly lower than other services like PropellerAds or Hilltop Ads.
Rating of AdMaven
★★★★☆
AdMaven Media.net alternative
 We would rate AdMaven 4 out of 5 stars. They are a great company that offers a lot of features to help you monetize your website. They have good customer service and offer a wide range of ad products. However, they are not the cheapest option and their minimum deposit is $100.
Hilltop Ads is an advertising network that partners with web publishers to help them better monetize their sites (read our full HilltopAds review). The company provides a wide range of ad products, including display ads, video ads, and pop-unders, among others. In addition, Hilltop Ads offers a variety of features that make it a great choice for web publishers looking to maximize their revenue. In addition, Hilltop Ads provides detailed reports that help publishers track their performance and optimize their campaigns.
Hilltop Ads is another Media.net alternative that lets you show ads on your website with just one click! You can also track how many people visit your site and where they come from, so you know what content is most popular and which ads work best for different audiences.
HilltopAds Pros and Cons:
Hilltop Ads offers a wide variety of ad types. You can create a variety of different ads to target different audiences and make your business stand out from the crowd.
Hilltop Ads has more customization options than Media.net does, so if you want more control over how your ads look then this is the platform for you!
It's more expensive than Media.net or other ad networks.
You can't upload images, videos, etc. like you can with Media.net and other ad networks.
The platform is limited in terms of what you can create with it. You can only create video ads for YouTube and Vimeo, not Facebook or Instagram (at least not yet).
You don't get many options when it comes to choosing images for your ads. All images must be non-commercial and non-copyrighted; however, there are no guidelines as to what those terms mean exactly (for example, many companies send me images that are copyrighted or contain their logos in them).
Rating of Hilltop Ads
★★★⋆☆
HilltopAds Media.net alternative
 Hilltop Ads is a simple and effective tool for managing your ads on social media. The service provides an all-in-one solution that allows you to manage, create, and schedule your ads in just a few clicks. You can also customize your ads with the help of a simple editor and export the data to other platforms if you decide to move on.
EvaDav is an online advertising company that operates a self-serve platform where advertisers can buy ad space on publisher websites (read our full EvaDav review). EvaDav offers a variety of ad types, including banner ads, video ads, and native ads. The company also offers many features to help advertisers maximize their return on investment, including real-time bidding, campaign optimization, and detailed reporting.
EvaDav is also a great Media.net alternative for web publishers who want to monetize their websites by showing relevant ads based on user behavior data collected through cookies and other methods such as  IP address   tracking (which means it doesn't require any additional plugins or custom code).
EvaDav Pros and Cons:
The interface is easy to use and understand.
The tools provided by EvaDav are extremely helpful for marketers.
EvaDav offers a variety of tools for different kinds of marketing.
EvaDav can be used to create landing pages and blogs.
EvaDav is not free, but it's still cheaper than competitors like Media.net.
There are no mobile apps available yet, although there are plans in the works.
A lot of users complain about the product quality, saying that it doesn't work properly or at all.
It's not very customizable.
EvaDav's ad inventory is generally much lower quality than what you'll find elsewhere. This means that your website's earnings potential will be lower with EvaDav.
EvaDav has been known to be unreliable in terms of payments, with many publishers not receiving their payments on time or at all.
EvaDav's customer service is very poor, so if you run into any problems, it may be difficult to get them resolved.
Rating of EvaDav
★★★★☆
EvaDav Media.net alternative
 EvaDav is similar to Media.net and Propeller Ads in that it focuses on video ads, but it lets you upload your videos too! It has some great templates, and it has a lot of customization options so that you can easily create an ad that is well-suited for your business needs (and budget). The interface itself is pretty straightforward to use as well no complaints here!
PropellerAds is an advertising network that offers services to both advertisers and publishers. Services for advertisers include Display Ads, Rich Media Ads, and Native Ads, while services for publishers include PropellerAds publisher tools and Ad Revenue Maximization (read our full PropellerAds review). It is known for its high CPMs, competitive eCPMs, and global coverage. It has a wide range of features that make it a popular choice among web publishers looking to monetize their sites.
PropellerAds is another great Media.net alternative, which has a focus on providing high-quality ad units at affordable prices. It also offers analytics and ad scheduling, as well as an easy-to-use dashboard for tracking performance data from multiple sources.
PropellerAds Pros and Cons:
No sign-up or registration is required, easy to use and set up.
The ads are mobile friendly, you can target your ads on any device.
There are no limits on the number of impressions or clicks you can receive.
You can easily set multiple ad campaigns in a single account.
They have a very low fill rate, which means that many of your ad impressions will go unmonetized.
The  CPM rates   are often very low, so you won't earn much per thousand impressions.
They tend to have a lot of ad blockers, so your potential ad revenue is further reduced.
They have been known to change their terms and conditions without notice, which can be frustrating for publishers.
They have been known to randomly suspend accounts without explanation, which can be very frustrating if you're relying on their income.
Overall, they don't seem to be very reliable or trustworthy, which is something you should consider before signing up with them.
Rating of Propeller Ads
★★⋆☆☆
PropellerAds Media.net alternative
 Propeller Ads is another ad network focused on video ads, but they don't let you upload your videos either. They also have a wide variety of pre-made templates, but they're not as customizable as some of the other options either. The interface is also pretty clunky and hard to navigate through at times.
AdSterra is a self-service ad platform that allows web publishers to monetize their sites through a variety of ad types, including display, video, and native ads (try our full AdSterra review). AdSterra is known for its high CPMs, multiple ad formats, and support for a wide range of traffic sources.
AdSterra does much the same thing as PropellerAds, but with a focus on mobile apps rather than websites which is perfect if you want to sell ads in apps instead of landing pages or other pages within your site. AdSterra uses an open-source technology called Fineractors to create ads that are relevant to users' interests and behaviors on mobile devices - making it easier for advertisers to get their message across without annoying consumers or wasting money on irrelevant ads that won't be seen by people who might be interested in what they have to offer anyway!
AdSterra Pros and Cons:
It's easy to use and provides a high level of customization.
It's affordable and is great for small businesses.
The company has a variety of advertising options, including social media ads, search engine marketing, and email campaigns.
There is no need to create any content before you start running ads. You don't have to worry about creating a website or anything else. All the work is done for you.
It can be difficult to get started. You will need to register an account, then find a host to sell your products through, and finally create an ad campaign.
Some users have reported that the platform does not always deliver on its promises of increased sales or income.
The platform does not currently provide tracking for each sale made by its users.
Rating Of Adsterra
★★★★☆
AdSterra Media.net alternative
 AdSterra is the best Media.net alternative which is a company that allows you to create an advertisement in just seconds. You can choose from some different templates or create your unique ad. The software is very easy to use and it comes with a free trial version so you can test it out before purchasing.
Frequently Asked Questions
Is Ezoic productive for beginner publishers?

Ezoic is the best ads to monetize website with a wide range of content management features and tools and ad layouts. Also Ezoic is the best replacement for Media.net because it is an all-in-one platform that allows publishers to build, manage and monetize

What is HilltopAds minimum deposit?

The HilltopAds minimum deposit is set at $50, except for wire transfer, which has a minimum of €500 required to fund your account. There are options available to fund your account, such as using Paxum, WebMoney, Capitalist, ePayService, Bitcoin, PayPal and bank transfer.
---
---
---