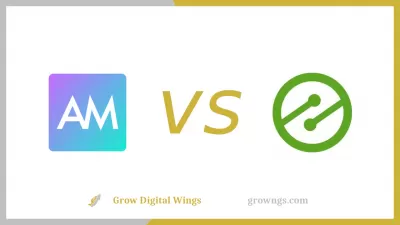 ---
---
If you're looking to monetize your site, choosing an ad network can be both exciting and frustrating. To help make your decision easier, here's a detailed comparison of two popular networks, AdMaven and  Ezoic,   so you can learn about their differences and decide which one will work best for you and your business.
For each category, we'll provide both short pros and cons, along with a final score from 0 to 5 to let you know which platform offers the best potential for your needs and goals! Let's take a look at how this two compare!
AdMaven is a digital advertising company that provides publishers with a suite of tools to manage their ad inventory and maximize revenue. AdMaven offers both display and video advertising solutions, as well as a range of features to help publishers better monetize their traffic (read also AdMaven AdSense alternative).
AdMaven advertisers benefit from a full-fledged campaign that encourages publishers to include the AdBlock blocker, a special plug-in from AdMaven, for additional income, which allows advertisers to show their adsets even to users who have installed an adblock in their browsers. However, this is not all the possibilities that this Ezoic alternative provides.
Pros and cons of AdMaven
AdMaven has a wide range of ad products, so you can find the perfect fit for your website.
They offer high CPMs and CPCs, so you can earn more money per click.
AdMaven's ads are known for being high-quality and non-intrusive, so your users will be happy.
They have 24/7 customer support, so you can always get help when you need it.
AdMaven offers a variety of payment options, so you can choose the one that's best for you.
They have a low minimum payout, so you can cash out your earnings quickly.
AdMaven offers competitive rates for their advertisers, so you'll be getting a good deal.
Their publisher dashboard is easy to use and navigate, which makes setting up campaigns easier than ever before.
Their interface is sleek and modern, which provides an enjoyable experience overall.
Some AdMaven reviews complain about low traffic volume, which can lead to low ad revenue.
Another con is that AdMaven doesn't offer as many features as some of its competitors.
AdMaven also has a smaller publisher network than some other ad networks, which can limit your potential reach.
Some users have also reported issues with customer service response times and communication.
Another downside of AdMaven is that they don't offer a self-serve platform, so you'll need to work with their team to get started.
And finally, AdMaven requires a minimum deposit of $100 to get started, which may be too high for some small publishers.
Rating of AdMaven
★★★★☆
AdMaven Ad network
 AdMaven is a comprehensive ad network that offers both traditional display advertising and native advertising. They have a wide range of advertisers and they're able to work with publishers of all sizes. One downside of AdMaven is that they don't have a self-serve platform, so you'll need to contact them directly to get started.
Ezoic is a  Google Certified Publishing Partner   and artificial intelligence platform that helps publishers improve their websites (read our full Ezoic review).
Ezoic has two main products: site optimization and ad optimization. Site optimization uses machine learning to help publishers improve their website speed, mobile responsiveness, and user experience. Ad optimization uses machine learning to help publishers optimize their ad placements and improve their ad revenue.
Read also: Ezoic alternatives
Pros and cons of Ezoic
Ezoic has great customer service and they are always willing to help you with any issues you may have.
They offer a wide range of features to help you maximize your earnings.
They provide detailed reports so that you can track your progress and see what is working well and what needs improvement.
They offer a variety of payment options, including PayPal and wire transfer.
They have a very user-friendly interface that makes it easy to navigate and find what you need.
They provide a helpful resources section on their website that includes tutorials, FAQs, and case studies.
They're compatible with all major traffic sources like Facebook and Google Ads Manager, which means they're flexible no matter what type of traffic you want to use them with.
They have an affordable pricing plan that allows you to scale up or down as needed depending on how much revenue you generate each month.
Ezoic requires minimum traffic of 25,000 sessions per month. This can be difficult for new sites to reach.
Ezoic only works with Google Adsense. This means that you won't be able to use other ad networks, which could limit your earnings potential.
There is a learning curve to using  Ezoic,   as it can be complicated to set up and manage.
Ezoic doesn't provide live support, so if you have any questions or problems, you will need to wait for a response via email.
Some publishers have reported that their earnings decreased after switching to Ezoic.
The dashboard on Ezoic seems outdated and isn't user-friendly at all.
It's unclear what advertisers are looking for when they bid on keywords; there's no transparency in this regard.
It's hard to know how much time Ezoic takes away from managing your site's content due to required tasks such as running manual changes in the CMS.
Rating of Ezoic
★★★★★
Ezoic Ad network
 Ezoic is a great ad network for publishers who are looking for a simple way to increase their ad revenue. The platform is easy to use and offers a wide range of features, including multiple ad sizes, mobile optimization, and support for both text and display ads. While the platform doesn't offer as many features as some of its competitors, it's a great option for those who are just getting started with ad monetization.
Final Thoughts
If you're looking for a good ad network that will give you a good return on investment, then AdMaven is a great option. They have a low minimum payout, which makes it easy to get started, and they offer a wide range of ad types to choose from.
However, if you're looking for an ad network that offers more control over your ad placements and earnings, then Ezoic is the better choice. They have a higher minimum payout, but they also offer more features and options for publishers. Ultimately, it's up to you to decide which ad network is best for you and your website.
Frequently Asked Questions
What is Ezoic?

Ezoic is a great Google Certified Publisher and AI platform that helps publishers improve their websites. The main activity is focused on website optimization and advertising optimization.
---
---