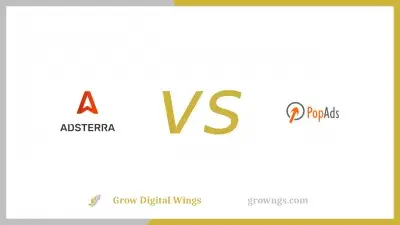 ---
---
Advertising has long become commonplace for a modern person and it is no secret to anyone that it is not only possible, but even necessary to earn good money. At the moment, there is a wide variety of services and websites for advertising and its subsequent monetization. However, some of them are worse, some are better, and some are relevant and diverse in the world of the advertising business, and some are no longer. This article will conduct a detailed comparison of two advertising content placement services: Adsterra and PopAds.
Adsterra is a network actively operated by advertisers since 2013. In a very short period of time, Adsterra managed to get very good recommendations thanks to its user-friendly interface and monetization system.
The network cooperates with more than 190 countries of the world and has a reliable verified payment system. Among the various ad placement formats that the platform offers to its clients, there are such as:
Pop-under;
Browser;
Flashbacks;
Native advertising;
Banner advertising;
Video pre-rolls.
Pop-under
One of the most modern and popular types of advertising. This is the type of ads that implies hiding ads behind an open information tab so that it remains out of sight for the user until he closes the tab. Providing the ability to post this type of advertising content is what the program mainly specializes in.
Browser
A type of so-called voluntary advertising. This means that in order to receive advertising mailings, the user must follow the corresponding link and subscribe to it.
Native advertising
Advertising, which is superimposed on certain content, merging with it and becoming a structural part.
Banner
A very common form of advertising. Available in a wide variety of formats, depending on the wishes and needs of each user. The platform provides the following banner formats:
160 × 300;
160 × 600;
300 × 250;
320 × 50;
468 × 60;
728 × 90;
800 × 44.
Video pre-rolls
An equally common type of advertising, however, is very annoying for users. Preroll is a video that appears before the start of the content on the video file. Advertising of this type is extremely intrusive and most of all pisses off users by the fact that it can "crawl out" at the most inopportune moment, for example, in the middle of a video, preventing them from fully enjoying the content.
The platform also offers customers a variety of self-service systems, so that each user can easily manage their advertising campaigns on their own. The main advantages of the platform are:
extreme ease of use, user-friendliness of the interface, a wide range of tools, thanks to which each user will be able to customize the operation of the platform at his own discretion, focusing exclusively on his taste and comfort;
difficulties in setting, as a rule, do not arise, because the user can independently set restrictions, adjust rates and set parameters depending on preferences;
the ability to control performances.
If a user wants to register on AdSterra and start using the services provided, then he just needs to follow a few simple steps for this:
choose one of the roles offered during registration: advertiser or publisher; then go through a small, easy questionnaire;
then you need to go to the welcome page in order to fully familiarize yourself with the ad formats, models, and payment methods offered by the platform;
then you need to familiarize yourself with your personal account and make changes, if they are required;
create an advertising company by setting the parameters necessary for work;
do a follow-up check to make sure everything is working as it should.
To make payments and payments, you can use:
The minimum withdrawal amount of the earned funds will entirely depend on the payment methods, which can be found in the detailed information on the platform.
PopAds is known as a very old advertising company in the world market. If AdSterra was introduced into wide use for advertisers in 2013, then PopAds has been around for eleven years, that is, since 2010. The platform quickly gained wide popularity and began to be actively used by advertisers and publishers in more than 100 countries around the world. The network is also ranked in the global ranking of advertising websites and has an extensive inventory as well as extensive payment options. PopAds is a great option for those who want to collect and then profitably sell traffic using one or another of the methods that are presented on the site.
Registration on the platform is famous for its speed and ease, taking literally two minutes from the user. In order to be registered, you just need:
choose the role of publisher or advertiser;
then fill in 10 standard registration fields.
After registration, you need to go to your personal account, from where you can already start working. In total, three accounts will be provided for further activities, into which the personal account will be divided:
advertiser;
publisher;
manager.
Depending on the type of employment, you need to activate and show user activity in a particular sector.
PopAds has a ton of great targeting options; The exchange allows you to launch almost any offer in its network, from adult to 1Click subscriptions. For these reasons and more, PopAds is a popular choice for overseas affiliates and, most importantly, great for beginners in affiliate marketing. But PopAds traffic is generated very aggressively, most (almost all) PopAds publishers are in only a few select niches.
It is important to understand that most publishers only use PopAds to make money from their sites when they have no other choice.
What can be really tricky for the user is the technical setup. The biggest drawback of the platform, which can scare off many potential customers, is the lack of support for tracking conversions. Here, of course, there is a plus in that you can absolutely not worry about setting up, but you lose the opportunity to see your conversions, which interferes with work and is a big disadvantage when carrying out activities on the network.
Adsterra vs. PopAds
Adsterra and PopAds are currently the most advanced programs for making money on traffic and sales of advertising content. However, which of them will bring more income? It is quite difficult to say this, because the two networks specialize in traffic, that is, on the views of certain content by Internet users. However, Adsterra is a fully customizable platform, which allows each user to set their own platform options based on their preferences, which suits many customers. PopAds is much easier to use and just a couple of minutes is enough to register in the network system, however, the system is completely autonomous, depriving the user of setting up anything on his own, and also not allowing him to control his conversions, which is the main disadvantage of the platform. Adsterra is a newer and more modern platform than  PopAds,   and also works with almost twice as many countries in the global market as a competitor.
Based on this, we can say that in comparing Adsterra versus  PopAds,   Adsterra has much more advantages than competitor  PopAds,   but it all depends on the client's preferences.
PopAds review
---
---
---