Optimizing websites and increasing the visibility of your ads are effective methods of monetizing your online content. There are numerous services available to assist you in monetizing your blogs and content or in making your website stand out in the rankings of top search engine results.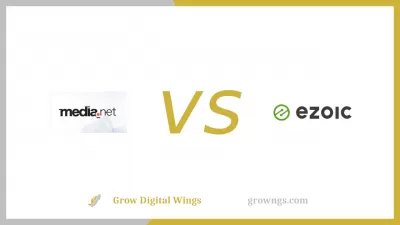 ---
---
Media net vs Ezoic
Optimizing websites and increasing the visibility of your ads are effective methods of monetizing your online content. There are numerous services available to assist you in monetizing your blogs and content or in making your website stand out in the rankings of top search engine results.
Pay-per-click, mobile ads, or increasing leads and engagements can all be used to drive sales. Profitable websites enable you to earn money passively and consistently. Choosing the right AdSense alternative platform for your  website monetization   model can provide you with an additional revenue stream.
This article will introduce you to two excellent  website monetization   platforms and compare them so you can decide which one to use, and ultimately increase and turn your RPM into EPMV.
Media.net vs Ezoic: Which is better?
Media.net is a contextual advertising network that creates cutting-edge products for both publishers and marketers (read our Media.net review). It offers the full range of advertising and traffic monetization solutions, has a diverse clientele across the globe, and has one of the industry's most complete ad tech portfolios. It stands as the major competitor of Google Adsense nowadays and has been going through exponential growth over the past few years.
They capitalize on the utilization of the contextual element of your blogs and content. The ads on your website will be specific to the niche you cater and they will pay you for every click on each ad. It is one of the highest-paying contextualized advertising platforms, paying $5 per 1000 impressions. They create algorithms that provide a more effective means of targeting the correct customers and run programmatic advertising based on the user's online behavior. If your website or content is about dropshipping, the ads will be about dropshipping.
Pros of using Media.net
Non-intrusive Ads
The native ads on your website will not disrupt the user experience and they match the layout and design of the website. These ads are intended to reach a certain audience and are displayed at the appropriate time and location. Different Ads Blocking software allows these ads to pass through as content is carefully considered and researched with a clear focus on communicating the brand's message.
No Offensive Content
Media.net does not allow any profanity, alcohol, violence, gambling, discrimination, or sexual content. Moreover, they do not support organizations advocating for hate speech, stolen intellectual property, or selling fake products and tobacco. If your website contains any one of these, Media.net will automatically reject it.
Optimized Mobile Ads
It is critical that ads appear great on mobile devices which is why Media.net ads are mobile responsive according to the screen size of the device. Also, they can be easily customized.
Relevant Ads
Media.net has modified its system to only present consumers with contextual ads that are related to the content of their websites which make these ads deliver better results. This makes the users trust these ads and are more likely to interact with them and click on them, improving the relationship between the company and the audience.
Huge Marketplace
Media.net has one of the biggest advertisement budget pools because it collaborates with Yahoo! and Bing. Publishers on Media.net are more likely to profit from relevant visitors due to the higher quality demand offered by the site.
Pros and Cons of using Media.net
Non-intrusive Ads
No Offensive Content
Optimized Mobile Ads
Relevant Ads
Huge Marketplace
They pay you for the second click from those who visit your page.
It does not update your earnings in real-time as it takes 24 hours to view your RPM.
Demands the majority of traffic from top-tier nations. It requests the majority of traffic from nations such as the US, Canada, the UK, and others so publishers outside might find it unfair as they will earn less.
★★★★⋆
Media.net Website monetization
 Media.net is an exceptional platform and this makes it one of the best Google Adsense alternatives. The rating is 4.5 out of 5.
Ezoic is an extensive platform that enables publishers to assess their advertising and website design in order to improve traffic and revenue (read our Ezoic review). One of their areas of expertise is using automated site testing to make it simpler for visitors to browse and find content. Publishers can use Ezoic to do a variety of things, such as automating visitor segmentation, speeding up their websites, increasing security, and adopting the newest mobile web technology.
These essentially maximize their ad revenue generation with Ezoic. Every visitor who visits your website receives a unique and personalized ad experience from  Ezoic,   ensuring that users enjoy their time on your website. Without negatively impacting site traffic, you can raise ad revenue while also improving user experience.
Pros of using Ezoic
Integration of AI
Web publishers can access a machine learning system that can quickly automate intelligent activities that will help them provide their consumers with better experiences and it gives them access to the power of Big Data. This is one of its cutting-edge features along with Automated Audience Segmentation, Automated Ad Placement Testing, and Page Layout Experiment reviews. All of these provide any site with long-term, sustainable revenue streams, and UX improvements.
Extensive Analytics for Big Data
Ezoic makes use of powerful data science models created specifically for SEO to make it simple for websites to test and apply improved title tags. Big Data enables you to monitor how your income changes over time and what aspects of your website are popular with visitors (read our  big data analytics   review . You will comprehend how updates and content affect search engine results and audience behavior, and you will compute the ROI of SEO.
Outstanding Customer Support
It is simple to get in touch with the team and address any problem. Ezoic assigns account managers who proactively advise modifications to boost sales. They publish a weekly newsletter with suggestions for boosting SEO and income (read how to boost SEO with long tail keywords).
Low Payment Threshold
Unlike Media.net which requires $100 for you to get paid, the minimum revenue threshold for payout is $20.
Ezoic premium program for publishers
For publishers that are sticking long enough with them and are proving that their websites are worth an extra care, they might be invited to a private probram call  Ezoic premium   (read an  Ezoic premium   review) in which their sales team will negotiate higher paying ads with hand-picker premium advertisers, usually large brands.
Pros and Cons of using Ezoic
Integration of AI
Extensive Analytics for Big Data
Outstanding Customer Support
Low Payment Threshold
 Ezoic premium   program
The process of integrating your site for artificial intelligence to evaluate it well can take some time and patience.
The interface is not very user-friendly.
Other plugins, particularly caching plugins, can frequently cause conflict with the Ezoic WP plugin and lead to reporting issues.
★★★★⋆
Ezoic Website monetization
 Using Ezoic will immediately increase your revenue and their site speed technology called LEAP will enhance your website's page speed which can tremendously help with the Google Rankings. The rating is 4.7 out of 5 for a remarkable monetization platform.
In conclusion: Media.net or Ezoic?
We sincerely hope that this article's insightful comparison of Media net vs. Ezoic has helped you make a decision regarding which platform would enable your website to operate more effectively.
---
---