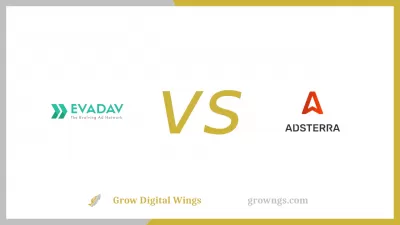 ---
---
If you're looking to maximize your  website monetization   strategy, then you should weigh in on these two advertising networks: EvaDav vs Adsterra.
You should consider the benefits and drawbacks of joining either of these two ad networks: EvaDav vs  AdSterra,   and decide those against your own publishing requirements, the main source of traffic, and content niches.
As a publisher who wants to maximize your ad revenue, you need to ensure that you join the right ad network that can give the best results for your traffic and content. To do that, you need to fill your website with the right amount of ads, get the right ad format, and where to place the ads. Consider these factors of the two ad networks to determine which best suits your website.
The size of the ad network
The publisher content
The type and quality of the ads
The payment
EvaDav is an advertising platform that was established in 2016 and is rapidly growing (read our full EvaDav review). The ad network now has over 2 billion daily ad impressions. Its user-friendly dashboard for publishers to control what type of ads are allowed on the publishers' websites.
EvaDav Size of Ad Network
EvaDav serves 2 billion ad impressions daily, and 2.6 million ad campaigns from 49 thousand advertisers. For publishers, these numbers should reassure publishers that there are always ads to be shown on the publishers' website so that the maximum ad revenues can be earned.
EvaDav Publisher Content Requirements
EvaDav does not have a minimum traffic requirement for publishers and accepts publishers from around the world. In terms of content, EvaDav does not specify what content they prohibit, as illegal content is forbidden which goes without saying. EvaDav does accept advertisers from casinos, cryptos, and dating verticals which are considered grey areas, hence, it is possible that they also accept publishers who have these types of content which Google Adsense does not accept.
What is interesting to note is that they also accept publishers running on free web hosting platforms such as Blogspot.
EvaDav Type and quality of the ads
The quality of traffic in Evadav Ad Network is beyond doubt. Firstly, in order to add your site to the advertising network, you need to meet a whole list of requirements, any trash will not work here. Secondly, Evadav strictly moderates advertising campaigns.
It is also not allowed to advertise unlicensed software. The advertisement must correspond to the declared product. That is, Evadav filter trash from both publishers and advertisers.
To ensure that there are no inappropriate ads EvaDav does monitor the ad campaigns The ad network does accept advertisers from grey verticals, as described in the section above. The ad network serves several types of ad formats: push notifications, native ads, in-page ads, and pop-under ads, and the company provides a volume breakdown of these ad formats:
Native Ads - 10 million ad impressions
Push Notification Ads -EvaDav has 1.5 billion daily ad impressions
In-Page Ads EvaDav has 1 billion daily ad impressions
Popunder Ads - 50 million daily impressions
In terms of pricing, advertising networks pay low for CPC (cost per click), and CPMs (cost per thousand impressions) typically in pennies (more precisely in cents, from $0.01 - $0.05). Although they may be low in value, these types of ads typically are easier to convert and for publishers to earn. In contrast, pricing based on CPAs (cost per action) in which the target audience clicks on the ad and performs an action (signup or download) pays higher. CPA offers can pay in the range of $50-$100 per action for the audience in tier-1 countries (high-income countries such as the US, UK, Canada, and Germany). However, CPA offers are the least likely to convert.
As a publisher, you should decide which pricing model best suits your website.
EvaDav Payments
EvaDav pays its publishers via PayPal, ePayments, Skrill, and Paxum, at a minimum limit of $25 of weekly payments. Wire transfer payments require a minimum threshold of $1,000.
EvaDav Pros and Cons
EvaDav is a newbie-friendly platform
No set minimum traffic
All geolocations
Limited Ad Formats
Limited Pricing models for the ads
EVADAV RATINGS - 4 STARS.
★★★★☆
Evadav Web Monetization
 A 4-star rating for its user-friendly, newbie-friendly dashboard and growing volume of ad impressions.
Adsterra is a self-service advertising network with artificial intelligence (AI) capability to serve ads to websites, social media sites, and Android apps (read our full AdSterra review). The network has 1 billion daily ad impressions.
Adsterra Network Size
When comparing EvaDav vs  AdSterra,   although Adsterra started in 2013 which is a few years earlier than EvaDav, Adsterra has only half of EvaDav's ad inventory. It serves ads across the world.
Adsterra Publisher Content Requirements
Adsterra does not prohibit publishers from content niches except for illegal content. Just like EvaDav, Adsterra also accepts advertisers in the grey verticals of gambling and so on. Adsterra does not have a minimum amount of traffic requirement for publishers to join their network.
Adsterra Type and Quality of the Ads
Adsterra has several advantages over EvaDav in terms of the quality of ads. Adsterra has three levels of security for the ads shown by their network, from their auto in-house detection, third-party detection, and human verification. Adsterra has an anti-Adblock solution for their ads, which means that visitors with adblocking browsers and software, can still see the ads on the website they are visiting. This gives website publishers additional revenues as 27% of internet users in North America use adblocking software.
Adsterra has more ad formats than EvaDav: social bar, popunder, in-page push, native banners, banners, and video ads. Social media marketers on platforms such as Facebook, Pinterest, Instagram, TikTok, or Snapchat, can monetize based on smart links.
Adsterra offers multiple pricing models which include CPA, CPC, CPM, CPI (cost per install), and CPL (cost per lead)
Adsterra Payments
Adsterra pays publishers twice per month. They pay via Paxum and Webmoney at a minimum threshold of $5 and $100 on Paypal.
Adsterra Pros and Cons
Lowest payment threshold of $5 via Paxum and Webmoney
Adblocking bypass software
Three levels of ad security to ensure ad quality
Mobile traffic can monetize with CPI
Lower ad inventory than EvaDav
Less user-friendly interface for Publishers
ADSTERRA RATINGS - 3.5 STARS
★★★⋆☆
AdSterra Web Monetization
 Adsterra deserves a 3.5-star rating for its ability to provide monetization methods to social media marketers who don't have a website, and for websites with large mobile traffic to monetize via CPI. They also have good anti-adblocking software for their ads to be shown to visitors who install these adblocks, which increases publishers' earning
Summary: Which Is Best For Your Website - Evadav Vs Adsterra?
Even though Adsterra has additional capabilities (such as its anti-adblock), more ad formats, and pricing models, the fact that EvaDav has more ad inventory, makes EvaDav the %%better AdSterra alternative%% in this comparison.
---
---
---