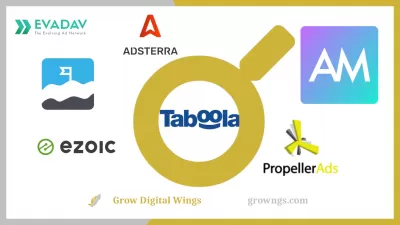 ---
---
Hello there guys! In today's article, we will dive deeper into Taboola to take a closer look at some of the best alternatives for Taboola that can help publishers monetize their websites. Apart from that, we will also explore why these alternatives are better than Taboola and why you should use them instead. So, without further ado, let's jump right into the article!
Taboola claims that they are the world's leading discovery and native advertising platform that aims to help people discover the latest and most interesting news. However, the reality is that Taboola is simply a click-bait platform that has been specifically designed to grab your attention and interest so that they would be able to earn more for clicks on multiple stories than what the advertisers paid for the initial ad. Keep in mind that most of the stories are completely fake or misleading. For instance, some of the notable Taboola story headlines that get billions of clicks include Hunter Biden pictures on a laptop showing a history of child molestation, Alex Trebek's family cried when they say how much his net worth was when he died and This cat gave birth to 11 puppies and scientist are shocked.
Taboola pros and cons
Their official website looks beautiful
Simple sign-up process
Previous customers complained that their credit card was automatically charged (over $1000) as soon as they completed the sign-up process and no clicks were sent to their website
The monetization level is weak as they are known to utilize bot traffic on their network
Most of the stories are either fake or misleading
Might tarnish your brand's reputation with spammy content that would give a horrible experience to your readers
Taboola in Summary
★☆☆☆☆
Taboola Ads
 In a nutshell, it all comes down to profit and the quality of user experience, and Taboola definitely failed in keeping your users happy because logically speaking, no one loves spammy content. On top of that, the idea of having your credit card charged automatically after the sign-up process is not something that most people want.
Frankly speaking, for publishers, especially for beginners, Taboola Ad network is quite a complex product. Starting with starting budgets, ending with moderation difficulties, bans, etc. But for experienced players who were able to find their niche, it is a little easier and after all the procedures you will get the opportunity to scale campaigns.
Hence, I would give Taboola a rating of 1 out of 5 stars.
What are the Best Taboola Alternatives for Web Publishers to Monetize Their Websites and Why Are They Better?
To answer that question, let's take a look at each Taboola alternative listed down below to find out why you should be using them instead.
Founded in 2010, Ezoic was initially a solution for digital publishers that are searching for ways to earn more money by optimizing the user experience of their website. Ezoic can be considered as one of the best alternatives that you should try as they do offer 30 days without commission for new users. Ezoic functions as an ad testing tool that helps you to search for the best spots for your ads (read our full Ezoic review).
One of the unique things about Ezoic is that, unlike other ad platforms, Ezoic utilizes artificial intelligence to perform hundreds of ad layout tests. In other words, Ezoic will help you to grow your revenue as high as it possibly could. Apart from that, you would also be able to get access to complete reporting and analytics. The user dashboard provided is compact with useful information and statistics that will help you to discover everything that you need about your visitors.
Ezoic Pros and Cons
Increase your revenue by using ad testing powered by artificial intelligence
Comprehensive analytics and reporting provide you with useful insights
Ezoic allows you to use anchor and sticky ads
You have full control over your ads to allow you to configure each ad on your site
Excellent quality of customer service
The minimum traffic requirement is 10,000 monthly session
Ezoic Summary
Overall, I would give Ezoic a rating of 4.9 out of 5 stars.
★★★★⋆
Ezoic Taboola alternative
 Ezoic can be considered as one of the best performings ad platforms that helps you to grow your revenue over time however just like any other ad platform Ezoic also has its disadvantages as well. One of them is that the minimum traffic requirement needs to be at least 10,000 monthly sessions which means that you will need to grow your audience first before you can sign up.
PropellerAds provides its user with video, display, native, and mobile ads together with affiliate services. With over 8 years of experience and working with more than 150 thousand publishers, PropellerAds stated that they provide the best  CPM rates   in the market currently. Besides that, they also have developed their own algorithms that allow improved matching of users and advertisers (read our full PropellerAds review).
This is to ensure that the ads displayed to the users would match their interests and overall background. Next, PropellerAds also acts as a self-serve platform for advertisers that they can utilize to create and design their very own ad campaigns. On top of that, it's incredibly easy to get started with PropellerAds and it allows publishers to create and paste their own ad codes for customization.
PropellerAds Pros and Cons
Provides high-quality clean ads and filters out any ads with malware
Global coverage which means that non-English content can get advertisers to show ads in a native language to a specific audience
Fully compatible with AdSense
Features the AdBlock Bypass that helps publisher to replace standard display ads with non-intrusive ads (i.e native ads)
Low payment threshold (lowered to only $5)
Lower revenue for non-English website
PropellerAds Summary
Overall, I would rate PropellerAds 4.7 out of 5 stars.
★★★★⋆
ropellerAds Taboola alternative
 PropellerAds is an amazing ad network however it might need to advertise its services to reach out to more new publishers as it seems like it's being overwhelmed by other ad networks like Google AdSense which is rising in features and popularity. Despite some of its disadvantages, PropellerAds provides a hassle-free application process, lower payment threshold and real-time reporting is something that needs to be taken into account as well.
AdSterra was initially launched in 2013 and it can be considered an excellent monetization platform for publishers thanks to its smart solutions and flexibility. Besides that, they also claimed that they provide 100% fill rates as more than 20,000 campaigns are running at the same time on AdSterra. They are also hosting more than 12,000 advertisers, has more than 28,000 partners, and provide ads in 248 geographies (read our full AdSterra review).
Next, Adsterra is a fresh and vibrant network for publishers that want to earn money by placing ads on their blogs or websites. On top of that, it also makes it easier for publishers to gain a maximum level of effective CPM with their simple organic traffic solutions while at the same time helping advertisers to grow their ROI.
AdSterra Pros and Cons
Flexibility in terms of traffic that can be monetized
Support multiple languages
Provides a flexible referral program that allows publishers to earn additional 5%
Strong level of security as it features the three levels of fraud protection
No exchanges or traffic manipulation is allowed
Simple tracking and API integration
The minimum payout is quite high for some payment methods like wire and non-wire transfers
AdSterra Summary
Due to its no payment delay policy, I would give AdSterra a rating of 4.5 out of 5 stars.
★★★★⋆
AdSterra Taboola alternative
 In a nutshell, AdSterra provides plenty of benefits for publishers to grow their revenue such as the flexible referral program, multiple ad formats, and cost models, as well as the availability of managed and self-serve services.
EvaDav is known as a client-oriented native advertising network that provides a cutting-edge solution to publishers as well as advertisers that are integrated into one platform. It also provides an excellent performance for the advertisers that needs exposure to their brands and embraces some of the most prospective markets of advertising formats which are  push notifications   and native advertising (read our full EvaDav review).
The EvaDav advertising network also focuses on providing a wide range of monetization options and advertising campaign customization. This platform is suitable for mainstream traffic as it provides around-the-clock customer support and multiple payment options. Some of the payment methods provided by EvaDav include wire transfer, bank card, PayPal, WebMoney, Skrill, Paxum, Payoneer, Bitcoin, and Capitalist.
EvaDav Pros and Cons
Payment will be done on a weekly basis
Includes an anti-ad blocking functionality
Provides multiple payment options that you may use
Competitive CPM rate
Live chat for rapid customer support is not available
EvaDav Summary
Hence, I would give EvaDav a rating of 4.6 out of 5 stars.
★★★★⋆
EvaDav Taboola alternative
 The EvaDav advertising network would usually be used with pop-up ads, direct link ads, and push ads. Aside from supporting multiple payment methods, EvaDav also provides a competitive price rate for Tier-1 services. On top of that, EvaDav provides other convenient functions such as tags, back URLs, and direct links.
HilltopAds helps to match publishers and advertisers to provide benefits for both parties. This company has plenty of experience as it has served more than 12 billion traffic worldwide. It's primarily a CPM network that offers direct deals with accurate targeting options to ensure the best experience for advertisers and users. Apart from that, it also features a self-service platform that allows publishers to track the performance of their inventory for many types of placements (read our full EvaDav review).
It can be considered as one of the fastest approval ad networks that offer Net-7 payment terms with a threshold of only $50. The publishers may choose to get paid either via ePayment, PayPal, Bitcoin, wire transfer, Paxum, Epay Services or Web Money. Publishers can expect to receive push notifications, native ads, display ads, and video ads with Hilltop Ads.
EvaDav Pros and Cons
High  CPM rates   specifically on mobile devices
The payment will be made on a weekly basis
Reliable customer support is available via email, phone, and Skype
Features an anti-ad blocking system
Beginner-friendly
Fast approval
It currently accepts many types of websites
A self-service panel is not provided which means that any changes to a specific campaign require approval from the manager
EvaDav Summary
I would give HilltopAds a rating of 4.7 out of 5 stars.
★★★★⋆
EvDav Taboola alternative
 With a reliably high CPM, the ad network successfully outperforms many of its competitors in one of the most important aspects. Next, the referral program also enables additional earnings in the form of 5% from each new publisher's revenue. In a case where you need some issues to be resolved, you may always contact customer support via Skype, email, or phone depending on your preferences.
AdMaven is a well-known ad-tech platform that provides monetization and advertising solutions for publishers and advertisers. It helps publishers to improve their overall revenue and maximize yields while it also helps advertisers to ensure that their conversion rate and CPM stay high. AdMaven allows publishers to monetize their inventory with multiple ad formats such as banners, pop-ups, sliders, lightbox ads, new tab options, and interstitial ads (read our full AdMaven review).
This would enable publishers to minimize their business risk and diversify their revenue portfolio. One of the key features of AdMaven includes an exclusive monetization opportunity for any type of impression and users, on any device, all around the world. On top of that, it's also combined with effective CPM which returns a higher level of revenue for publishers.
AdMaven Pros and Cons
AdMaven provides protections for your websites by filtering out any malware or inappropriate ads
Provides accurate reports with full transparency for an excellent analysis
Over 2 billion impressions around the world
Original user experience with high-quality ads and minimal intrusiveness level
Ads are easy to be implemented regardless of whether you use full-screen ads or native push notification
Helps publishers to obtain good impression rates by using advanced technology employment
Not recognized as a Google Certified Publishing Partner
AdMaven Summary
Hence, I would give a rating of 4.8 out of 5 stars.
★★★★⋆
AdMaven Taboola alternative
 AdMaven may functions perfectly well with other pop-under ad types. It has decent CPMs which is better compared to other ad network earnings. Despite that there are some drawbacks like the lack of visual reporting and customer service, the overall recommendation is that AdMaven is an ideal choice for any online publishers that are searching to add new revenue streams from their website or blogs.
Frequently Asked Questions
What are the main disadvantages of Taboola Ad network operation?

Taboola Ad has a weak level of monetization due to the use of bot traffic in its network, most of the stories are either fake or misleading, and there is also the possibility of automatic debiting of funds from cards after registration.

What is the essence of Taboola ad network work?

Taboola is simply a clickbait platform that has been specifically designed to capture your attention and interest so they can earn more per clicks across multiple stories than what advertisers paid for the original ads. Be aware that most of the stories are completely fake or misleading.
---
---
---